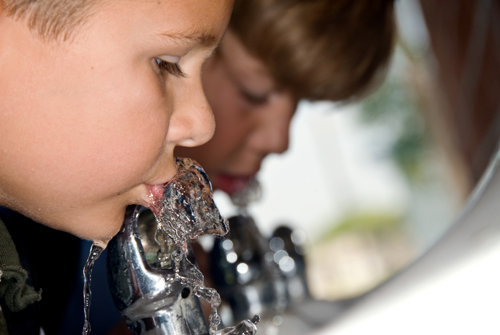 Keeping kids hydrated is not only essential for their health it also facilitates their performance in the classroom.
With this in mind, schools need to consider the steps they can take to encourage healthy hydration for students
For children who are struggling at school with fatigue, irritability, confusion, headaches, lack of concentration or even nausea, the solution may be as simple as a glass of water. Keeping properly hydrated by drinking more water can alleviate all these symptoms, and it has a host of other health benefits for children, too.
"Hydration is essential for most of our bodies' chemical reactions. If you're not sufficiently hydrated, those reactions can't occur properly," says Julia Lyon, a dietitian with the Agencies for Nutrition Action.
The human body is composed of 55 per cent to 75 per cent water, and that proportion is higher for children than adults, Lyon says.
"Water accounts for larger a proportion of children's bodies, which increases their risk of dehydration. Young children are especially at risk as they rely on caregivers to access drinks and often don't recognise thirst."
Additionally, many children have not yet developed the healthy habit of drinking water regularly throughout the day, before they feel thirsty.
"Kids can be really dehydrated before they actually recognise the symptoms, and just a three per cent loss of water can result in dehydration," Lyon says.
In addition to promoting healthy mental function in the classroom, a wide range of health benefits make drinking water to stay hydrated an essential health message for schools to promote to children.
According to the Kidney Health New Zealand website, water is essential for digestion, nutrient absorption and elimination, aids circulation, helps to control the body's temperature, lubricates and cushions joints, keeps the skin healthy and helps remove toxins from the body.
New Zealand schools are mandated to promote 'everyday' food and beverages such as water to their students under clause (ii) of National Administration Guideline (NAG) 5.
Jenny Stewart, programme coordinator for the Heart Foundation, says there is considerable evidence that suggests reducing the consumption of sugar-sweetened beverages reduces obesity and cardiovascular risk.
"Schools need to take action to increase children's water consumption by ensuring clean, fresh water is easily available to students and the benefits of water are promoted," she says.
Stewart says ensuring the availability of drinking water to all students and staff members is an important element of the Heart Foundation's free Ministry of Health funded Healthy Heart Award for schools programme –Tohu Manawa ora Kura.
The programme provides resources and support for schools to build an environment that promotes nutrition and physical activity, and teaches children lifelong healthy habits.
"Some schools opt to legislate drinking water through their nutrition policy, banning all fizzy drinks and becoming 'water only schools'," Stewart says. "Schools can also reinforce this message through student health team initiatives that promote the benefits of drinking water to students and make water the 'cool' beverage of choice."
Of particular importance is ensuring that students maintain proper hydration when they are active.
The Ministry of Health's Food and Nutrition Guidelines for Healthy Children Aged 2–12 Years notes the particular importance of encouraging children to drink water when they are physically active, as they often are at school.
The guidelines state that "children should be reminded to drink because a loss of as little as three per cent of body water could result in exhaustion and dehydration or, less dramatically, cause a child to become tired and less effective during activity. The American College of Sports Medicine recommends that children should drink 15 minutes before exercising, and at 20 minute intervals throughout the exercise period, especially if the climate is hot or dry and windy. Drinking should be encouraged in those children who fail to do so during and following exercise."
For schools, the most basic way to encourage students to stay hydrated is to ensure their access to fresh, cold water by supplying taps and fountains. After that, says Lyon, it's about reminding them to have a drink and teaching them why water is so important.
"Remind them to bring along their drink bottles, especially to sports," she says. "Remind them to have a drink, and incorporate messages on the benefits of drinking water into the class environment."
To access more information for your school, contact Jenny Stewart from the Heart Foundation on 0800 863 375, or check out Kidney Health New Zealand, www.nzkidneyfoundation.co.nz.