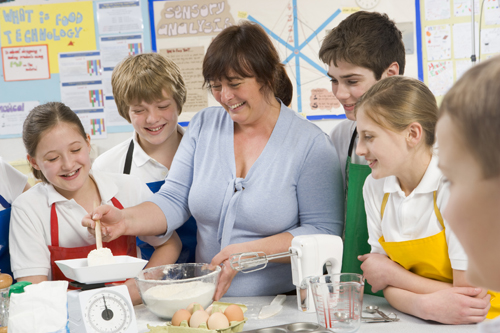 It is common knowledge that obesity figures in New Zealand are on the rise, particularly amongst our young people.
The most recent figures released by the Ministry of Health show that one in five children (aged 0-14) are overweight and one in 12 is obese. These figures increase dramatically for those aged 15 and over, with one in three overweight and one in four obese.
Schools around the country are doing their bit to emphasise the benefits of healthy eating. Tuck shops and canteens are cutting down on the availability of, or even banning altogether, 'junk' foods including pies, chips, sausage rolls, chocolate bars and fizzy drinks, and replacing them with healthier options such as sandwiches, wraps and fruit salad.
Schools are also signing on to the Heart Foundation's, Healthy Heart Award for Schools scheme – Tohu Manawa Ora Kura – a programme that encourages schools to promote healthy nutrition and lifestyles to the whole school community. Others are introducing water-only days and banning students from leaving school grounds at lunchtimes, forcing them to bring lunch with them or purchase healthy items from the school canteen.
But, while all this is a good start, it doesn't help to solve the problem of how to teach students to prepare and cook healthy, wholesome food when at home, rather than going straight for the takeaways and ready meals.
This is where modern home economics can play a significant role and some sectors are calling for the subject to become compulsory junior high school classes.
Yvonne Townsend, head of technology at Lynfield College and Home Economics and Technology Teachers' Association of New Zealand (HETTANZ) president says it is becoming extremely important to teach students to prepare and cook healthy meals as the art is not being passed down at home.
"Both parents are often out working so kids are not being taught the basic cooking skills. Once upon a time we watched our mothers and grandmothers in the kitchen and picked up cooking tips from them but that just doesn't happen today," she says.
"A key benefit of home economics classes is that it doesn't matter what level it's at, you are teaching students to prepare good, nutritious meals from scratch. As a society we need to make good food choices and we need to learn to cook to make those healthy lifestyle choices."
This is something that nutrition education consultant and former home economics teacher Glenda Gourley agrees with. "Teenagers make at least 10 food choices everyday and there is a great need to teach them about healthy eating and cooking skills," she says.
To help teach these skills Gourley and her daughter Claire have developed two websites ( one for parents/teachers and one for teens), a cookbook (Who's Cooking Tonight ), a raft of YouTube videos and an e-book (It's My Turn to Cook Tonight) to encourage teenagers into the kitchen. "The strategy is all about showing kids having fun in the kitchen and engaging with food," she says. "We've also translated nutritional guidelines and information into 'teenspeak' so that kids can really relate to it."
The resources can be used by parents and students, but have also been designed to be used by home economics teachers in the classroom. "It goes back to the need to teach children to cook," says Gourley. "There are lots of working mothers who aren't home all the time so we've got to make sure those messages are being passed on and one of the easiest way to do that is in the classroom."
Modern home economics classes students learn to prepare and cook meals with regard to their personal wellbeing, with an emphasis on making meals for their families. The subject also looks at current food issues, such as global consumerism, and complements the health curriculum by looking at individual nutrition needs.
And with the rate of obesity expected to rise over the next 20 years it is becoming increasingly important to teach students about their nutrition needs.
"In the US the life span of kids today is 10 years shorter than their parents and it's all down to food choices," says Townsend. "Unless people understand the importance of cooking we will have a country of obese people."
For further information on Glenda Gourley's mission to get teenagers cooking see www.itsmyturntocooktonight.com and www.teachchildrentocook.com