News
Property
Industry Voices
Protect students with shade solutions
Options aplenty: schools have lots to choose from when looking to install new shade structures thanks to the stunning new commercial designs on offer. So, where to begin?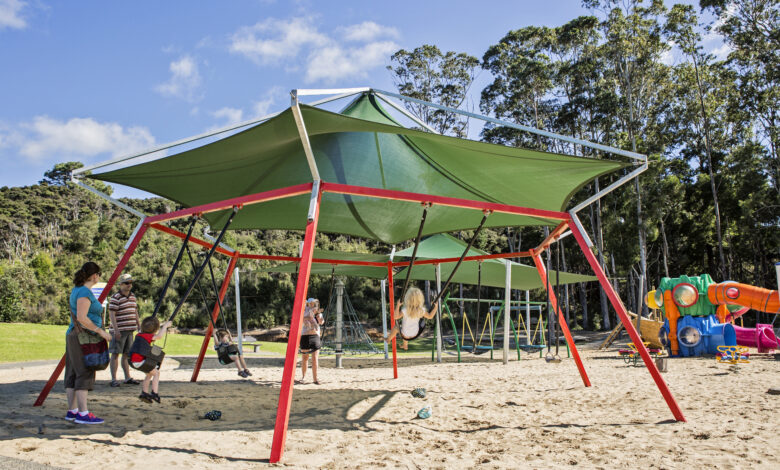 Warmth is a key consideration. The more use the shade structure will have in winter, the more important it is that it generates warm shade.
First, assess how permanent your new shade structure needs to be.
Next, ask about different materials, tints, and other options available that will provide the level of warmth you need.
The latest print issue of School News magazine is available for free here.
More temporary solutions that are flexible and easily stored are ideal ways to facilitate sports events, carnivals, stalls, and other community and leisure events. Gazebos and marquees are ideal options here and are highly customisable, integrating logos, slogans, and school colours. They provide shade while maximising space and can travel with sports teams to external venues for weather protection and school spirit.
More permanent shade solutions can extend classrooms and provide year-round shelter for students to eat at lunchtime. These are ideal solutions for schools with growing enrolments, EOTC goals, or simply want to improve existing architectural design. Canopies and verandas can accomplish these goals by providing multi-functional outdoor learning spaces. If a proposed permanent shade structure is also part of a roof replacement project, the Ministry may classify it as a priority 2 project.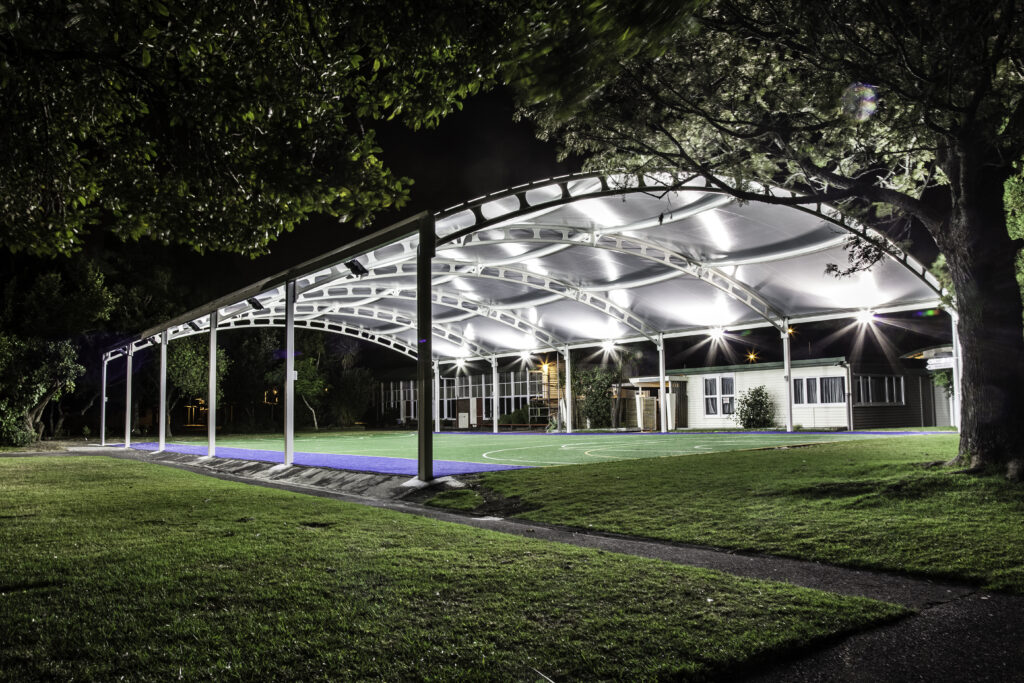 Finally, schools should also consider the proximity of nearby trees and playground equipment to minimise climb-ability, asking suppliers for design suggestions. Shade sails are another type of shade structure, which are open-sided and have a fabric top-cover; they can be installed quickly and are popularly seen on playgrounds, so it's important they are designed to deter climbing.
Industry insights: shade solutions that shine
Speaking with us from Archgola, Katrina Evans said that enrolment increases have prompted enquiries from schools "building new classrooms and looking at shade options as part of this build".
"Schools are increasingly interested in outdoor learning spaces that are out of the sun and provide an open plan style learning environment where kids can be inside or out.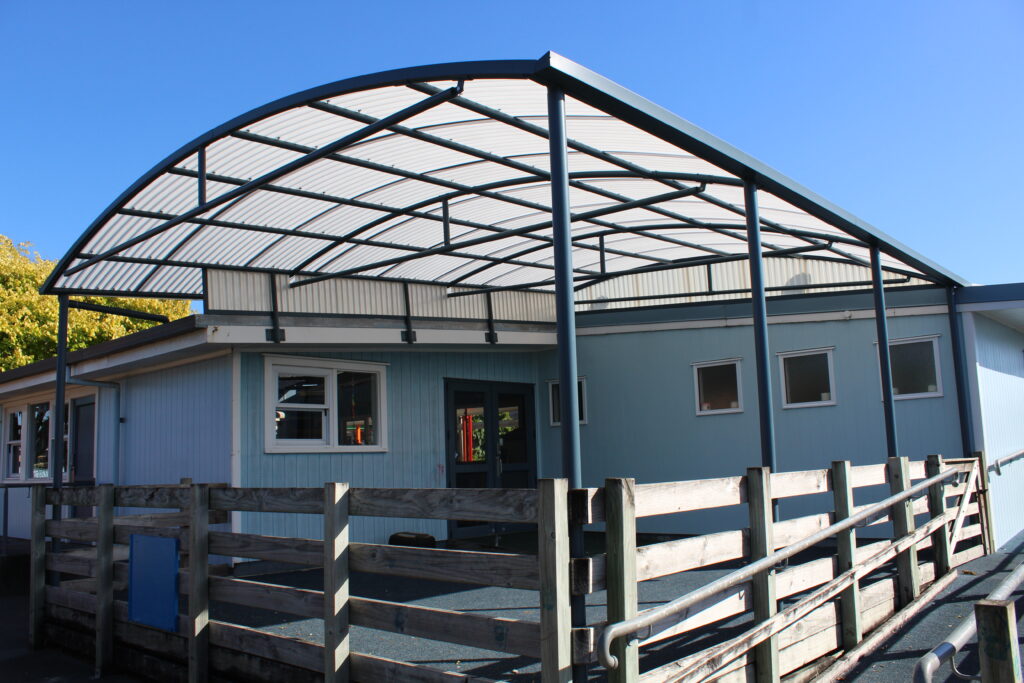 "When planning a permanent shade solution, it is important to select an experienced, certified company who offers a comprehensive design process and uses high quality materials. These elements are essential to ensure that the finished structure meets your needs, withstands the wide range of weather conditions we are now more regularly experiencing in New Zealand and provide high level of UV protection."
In addition, schools are also "installing canopies as replacements for the traditional shade sail, with schools seeking something more permanent for the kids to eat their lunch under," according to Evans. "Often schools prefer to have canopies installed in the school holidays, so make sure you allow plenty of time to complete planning and approval process to achieve this."
For schools looking to extend learning spaces using shade structures and canopies, they should start this process by "talking with other schools and sports clubs about the shelter options they have chosen and how the area is working for them".
"Then, arrange for an on-site consultation with a solutions provider to discuss your ideas. From there, measurements can be taken to begin the design and quotation process. Once you have established the total area to cover, you then consider roof shape options. This may be arched (giving you the widest span between support poles), gullwing (a double arch for very wide areas), or a flat profile. This decision will affect the number of posts required to support the canopy."
In terms of colour and customisation, Evans says: "Some schools choose to match roofing or joinery colours, others a bright contrasting colour. Finally, a roof tint can be chosen to provide cooler or warmer shade."
According to Nick Suckling, General Manager at Shade Systems: "Schools have been looking for ways to not only provide great cover and shelter for sports and outdoor play, but something that can also double as an outdoor gathering space during these pandemic times and even be rented out to the community as an extra revenue stream. A covered outdoor learning area (COLA) canopy has proved to be an extremely popular solution for these needs as it provides protection from sun and rain."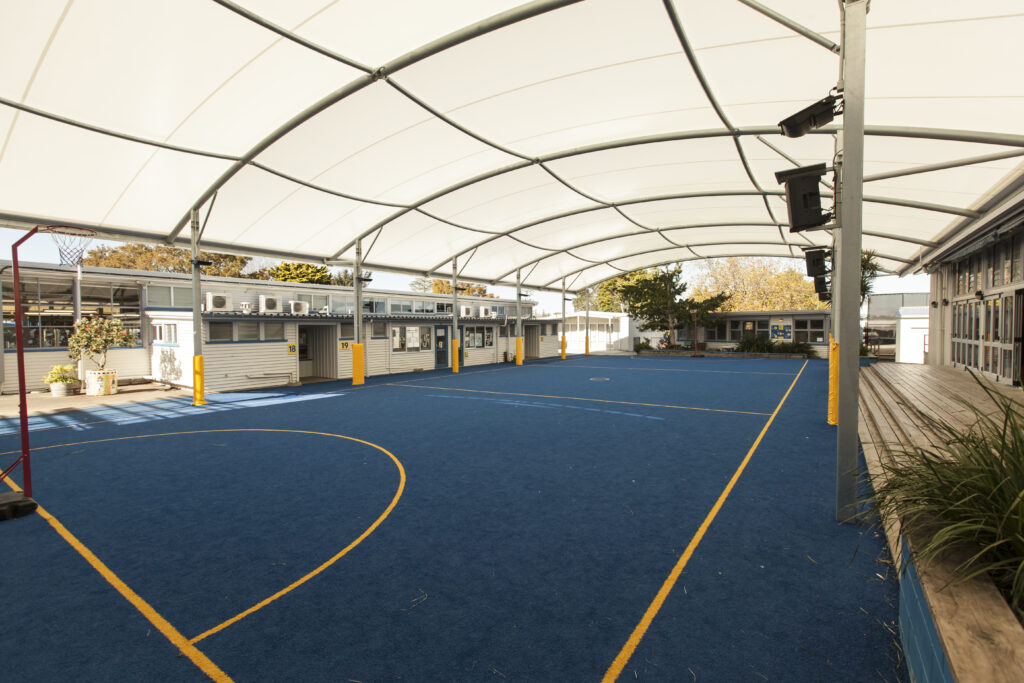 Additionally: "As more schools get artificial turf courts, we have noticed an increased interest in canopies that cover the entire court area. Artificial turf can get extremely hot in summer and covering it with a canopy keeps it cool through the hottest days. Shade sails have always been a popular choice over playgrounds and play equipment and are also proving popular for schools that need shade in a hurry before the end of this summer as the process is a lot faster than a larger structure such as COLA."
In terms of customisation, he says schools should ask: "Will your structure be close to a road? Do you want sides to prevent balls from escaping? Do you need it to be usable at night time and need custom lights installed?
"When planning for a shade structure, it is also good to consider the maintenance and upkeep for your structure. Just like any part of the school, your canopy will need to be cleaned and checked periodically so talk to your designer and consultant about what will be required later down the track. Try to anticipate what your school might need in five, 10 and 20 years' time if you are considering a large structure like a COLA canopy as they are made to last the distance, so you won't be replacing them anytime soon.
His biggest recommendation is "to get in touch with other schools and observe students using the structures to consider what things you like about them and what things you might want to do differently".
For schools considering a printed gazebo, Up She Goes Gazebo representative Grant Morris recommends "insisting on a 300gm/600 denier roof that has been UV treated for New Zealand conditions, as this will protect it against the damaging sun rays which are common in Aotearoa".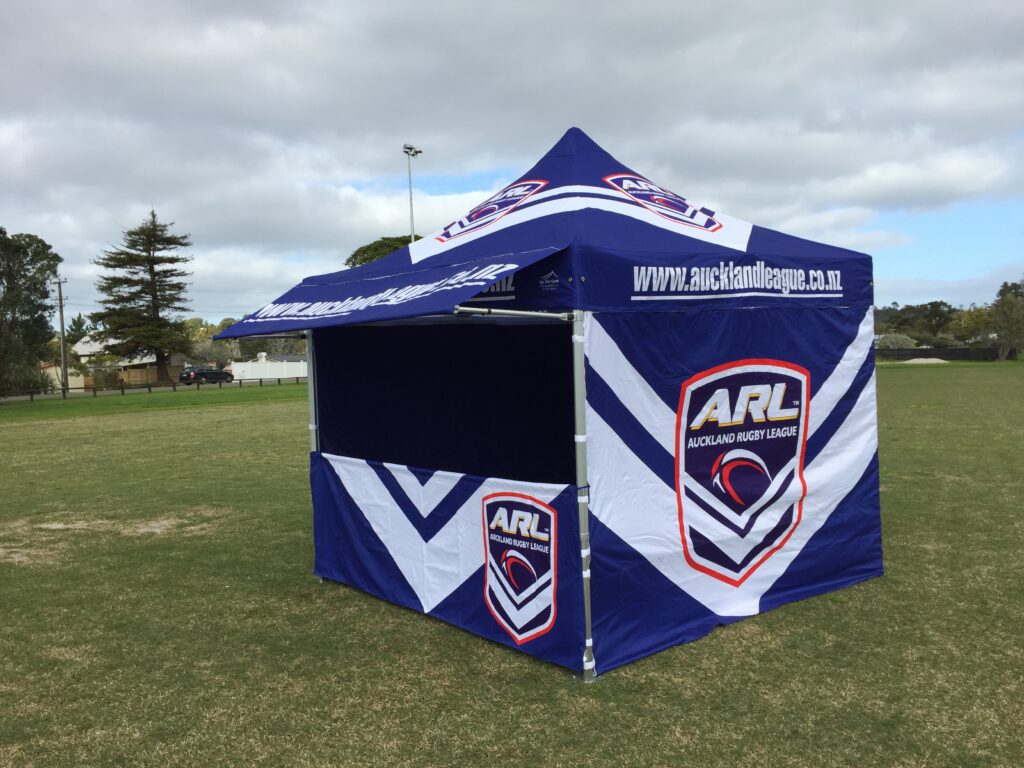 Schools generally get their school's name and logo printed on the four sides of the gazebo and also on the valance area in school colours. Sides can also be a nice add on to protect against the wind. These gazebos are ideal for use at sport day events as an easy-to-spot sunshade area and a safe place to store children's bags and school equipment.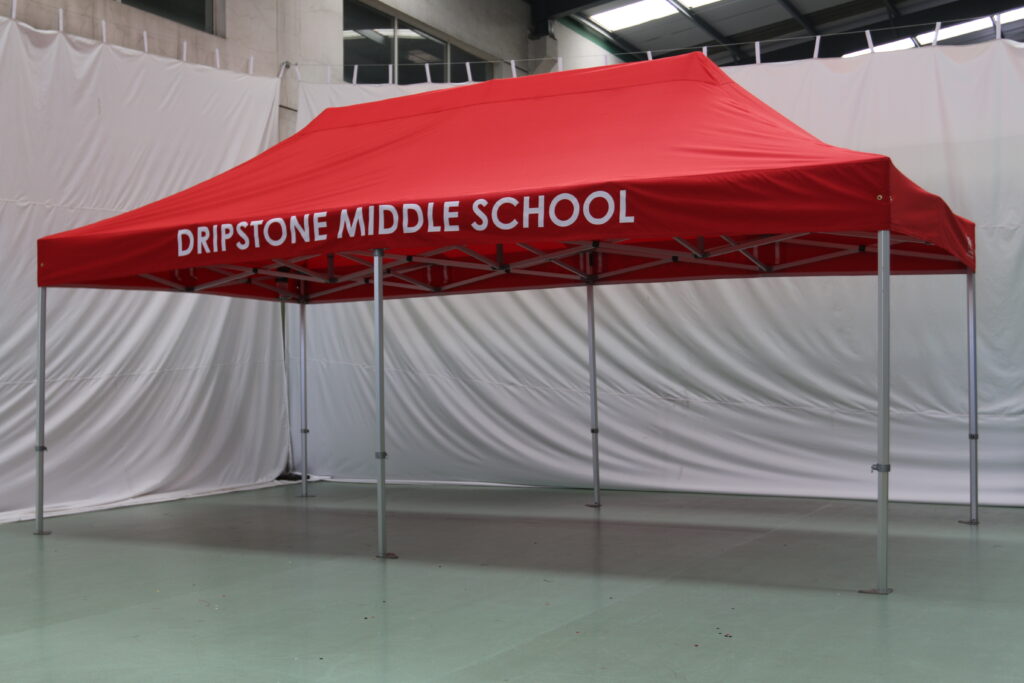 The two types of gazebos available in the marketplace are steel and aluminium, he explains: "The cheaper grades are made of steel and generally get damaged if they get blown over during excessive winds. The other types available are made using aluminium frames (50mm legs), cast aluminium joints, stainless steel cross bar connectors, thick aluminium feet and re-enforced cross frames.
These frames carry a 10-year warranty and are packed in a heavy duty 1200 denier with heavy duty wheels for ease of handling. The main aluminium type gazebo used by schools is the 6m x 3m size, but the smaller 3m x 4.5m and 3m x 3m gazebos are also available.