Education
Education student unearths old-school teaching practices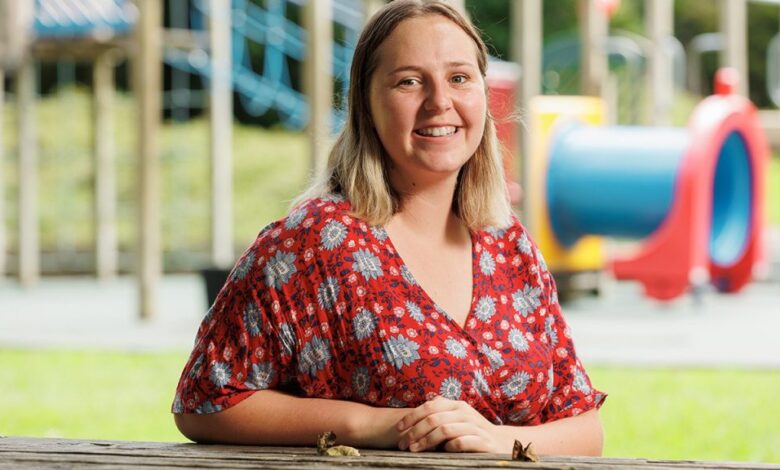 Friendly teachers, praise rather than punishment, play-based learning, high-quality music teaching and a focus on useful life skills don't come so readily to mind when imagining schooling in centuries past. But that's exactly what University of Auckland summer scholar Katie Lilburne discovered during her recent project to find out what children in Aotearoa learnt as far back as the 1877 Education Act.
A third-year Bachelor of Education student (primary), Katie says her broad brief was to create an overview and timeline of the various New Zealand curricula from 1877 to the early 1990s, from as many regions as possible.
"I felt a bit like Indiana Jones off on a quest," she says. After contacting archive offices, libraries, museums, historical villages, schools and universities, she realised her ten weeks were completely booked, with a road trip that would take her from Auckland to Invercargill.
"Each province has its own rich history that affected how children were taught and raised. For example, the Scottish settlers brought their own curriculum to the south and seemed to have a lot of resources, whereas northern areas struggled more."
She sifted through piles of papers, letters and books and narrowed them down to around 700 documents to be scanned and uploaded to the University's collection, for the benefit of all future scholars. The documents are to be named the Lilburne Archive in Katie's honour, as a reflection of the resource's extraordinary scope and value.
As a student teacher about to begin her final year, Katie says it was fascinating to compare what she'd been taught at school with what was previously thought important for children to know.
"One major change was the practical basis of schooling. Early lessons were designed specifically to develop real life skills for their roles and responsibilities after they finished school, and they were sharply divided by gender."
These included maths lessons based on tallying up cash books, social studies lessons on the political system and voting, economics lessons on mortgages, interest rates and taxes, agriculture lessons on seed raising and animal rearing and, for girls, home craft lessons on laundry, needlework and how to decorate a home.
"Some may seem old-fashioned now," she says "but in one student's exercise book from the 1960s, I found myself learning how mortgages and interest rates work – something that has never been explained to me once in my 25 years."
In one student's exercise book from the 1960s, I found myself learning how mortgages and interest rates work – something that has never been explained to me once in my 25 years.
She says working through the documents exposed the knowledge gaps in her own generation as a result of the broad 2007 curriculum.
"It has led me to reflect on what modern life skills we need now; things such as nurturing plants from seed, and growing food to prepare and eat. They're as important now as then, and I intend to find out more about them to include in my own lesson plans."
While core subjects such as reading, writing, maths and science have remained cornerstones of the curriculum over decades, other subjects have become obsolete.
"Typing, once a specialised subject that allowed women, in particular, to gain more job opportunities, is not taught at all. It makes you wonder how many subjects in the next 50 years won't be needed because of advancements in technology."
In the very first curriculum after the 1877 Act, which brought in free, compulsory and secular education, there was a strong emphasis on drawing, French and music, and fiercely competitive school choirs.
"As a student of French and piano myself, this interested me. I found many references to musical instruments being hard to come by and never having enough art supplies, like brushes and chisels for carving, in rural areas especially."
Māori children attended village primary schools, under the control of the 'Native Department', which were transferred to the Department of Education in 1877. These remained distinct from Pākehā schools until 1969, when the last 108 were transferred to the control of education boards.
Lilburne also found clear requests from teachers and students to teach and learn more te reo Māori from the early 1980s.
"Imagine, if we'd really started that far back, where we'd be today with the language?"
History was all English or European, even in native schools.
"Nothing from their own culture … they were expected to assimilate the colonising culture."
Despite the secular requirement that came about to avoid favouring one religion over another, religious education was pushed and pushed," Lilburne says.
"I found lots of petitions to the Ministry of Education to include religious teaching in the curriculum."
She also discovered that newspaper articles from as far back as the early 1900s reflected perennial concerns.
"There was a big issue with 'new maths' and the fact that parents couldn't help their children with it, or concerns about reading levels not being high enough; you could copy and paste this content to a paper now and no one would know the difference."
In terms of teaching styles, she found references as early as the 1870s to teachers who weren't fond of the cane and preferred 'praise therapy' instead.
"There were also students who referred to teachers as their friends, and government and teacher training publications that encouraged play-based learning.
"There are core values and ideas that are being taught today that don't seem to have changed much in 145 years."
Katie Lilburne is the recipient of the University of Auckland's $1,000 inaugural 'Old A's' Summer Scholar Prize from the Faculty of Education and Social Work. The prize recognises excellence from a faculty summer research scholar who aspires to a career in teaching.