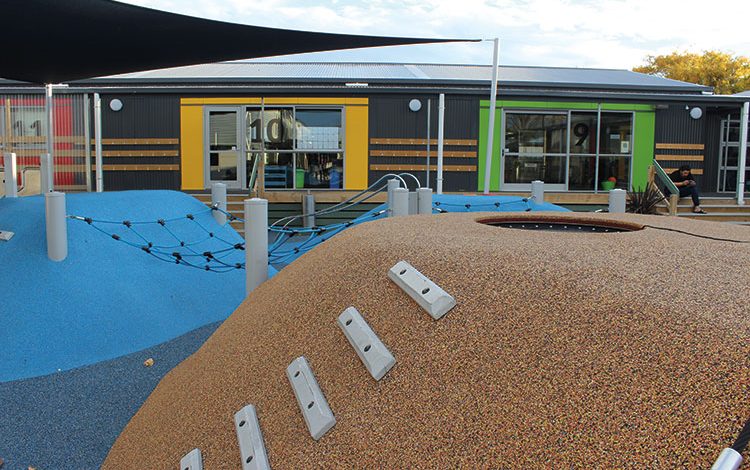 Somerfield School has a brilliant new play space design, which maximises limited space to successfully achieve the activities and excitement of a much larger play area…
When Somerfield school decided to create a play space in a small area between classrooms, one might be skeptical, but the result was brilliant. With the entire area basically becoming a cluster of mounds, playground designer Tina Dyer and her team at ParkCentral worked with Peter Beets of Playworks Construction to drastically increase the play surface area.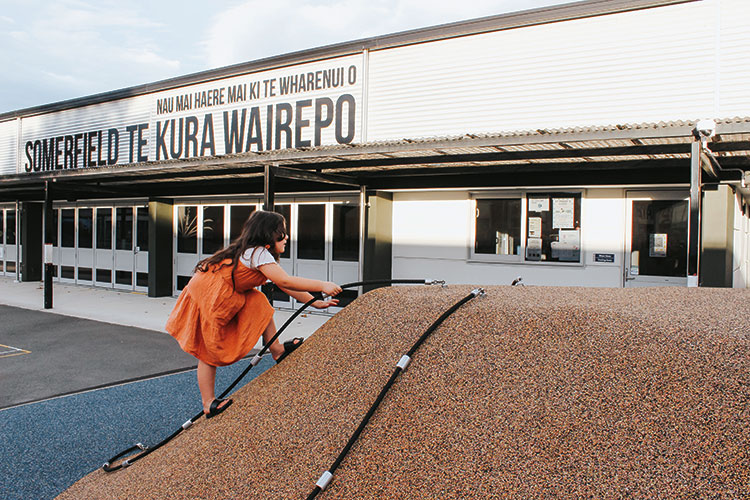 PlaytopNZ's Andy McDonald, whose team installed the wet pour safety surfacing, was really impressed by the use of space: "By creating these mounds, you have children in tunnels and children can also be playing above the tunnels. The sides of the mounds have rope climbing, step climbing and a trampoline at the top. These mounds have really created much more activity than what could have been achieved otherwise."
"All safety surfacing products,wood chip, turf and wet pour willalways have their place and a combination of all three makes for a great sensory space," says Andy, "but with this area surrounded by classrooms, I think the wetpour really achieved a clean, tidy, seamless non-slip space.
"We love a challenge with the design work getting more and more detailed," says Andy, "but when there is a lot going on in a small space like Somerfield School, some clean colour changes is all you need or there's just too much visually going on. Somerfield is a great example of 'less is more' when it comes to design and colour choices with the wet pour safety surfacing."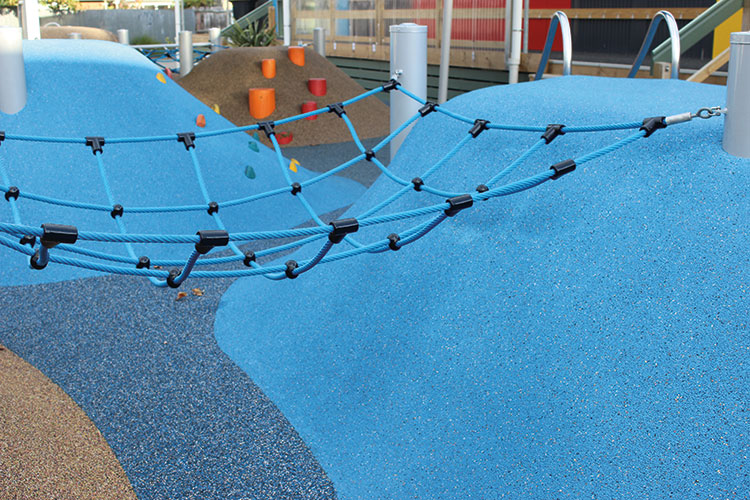 Somerfield also used a lot of the Playtop with Nike Grind range of safety surfacing, which is exclusive in New Zealand to PlaytopNZ and has 28 pairs of used sports shoes or equivalent manufacture waste in every square meter.
"Our Nike Grind range is getting more and more popular with designers and schools putting more and more emphasis on recycling, and this is a perfect opportunity to make a more sustainable choice."
Andy's advice with surfacing is to always ask for test certificates. Playtop is extensively tested with test certificates for critical fall height requirements, permeability, toxicology, ignition, migration, microplastics, indentation and much more.
"It just seems like rubber but it's not that simple," says Andy. "Rubber mulch, for example, we wanted to supply but can't as it doesn't pass ignition and toxicology tests, so by our standards is a no–no. You just have to be so careful as, after all, these are children's playgrounds so health and safety is paramount."
Another piece of advice from Andy is that if you're going to use an architect or playground designer, use somebody independent from the supply and installation of playgrounds and playground surfacing.
"You want to get several quotes, not be locked into certain suppliers.
"If a concept design is free, there will be a catch, so you're much better off paying for a design and for that design to be your intellectual property to use as you please.
"Also, involve the kids. There are so many bright kids with great ideas. To finish off, Andy says: "It's pretty cool to have a business where you're part of creating safe and enjoyable play spaces for children that will last for many years."
Andy says, "Everything should be about the kids," and with eight-year-old son, Steele, and two-year-old daughter, River, he has the perfect critics for his work!