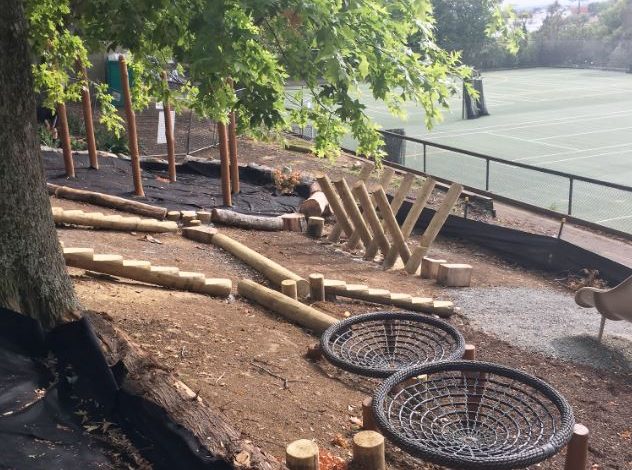 King's School in Remuera is located on a spacious, sloping site with beautiful mature trees and vibrant mix of historic and contemporary buildings.
As well as the manicured gardens and sports fields, the 700 boys (aged between 4 and 13) who attend the school are fortunate to have a wonderful, steeply sloped woodland with huge mature trees; a perfect canvas for imaginative and creative play.
After its existing adventure playground was found not to meet health and safety standards, playspace experts and landscape architects from Boffa Miskell were brought on board to design a sustainable adventure trail for students.
Tasked with meeting both health and safety standards and student expectations of fun, the design consultancy team set about re-invigorating the school's outdoor learning area underneath existing trees by re-imagining it as a 'wildplay' experience.
Large-scale play elements were connected via an adventure trail with timber steppers, stilts, natural logs, and balance elements. The trail also leads to a large spider web net, which can serve as a hangout spot to take a break from the activity throughout the playspace, or to watch the action on the tennis courts below.
Headmaster Tony Sissons said: "The school is delighted with the end-product. Working with Boffa Miskell throughout the project from start to finish proved to be the right decision. Their ability to listen and add from their experience has created an environment where our boys can develop their resilience and enjoy the educational benefits of play."
According to project lead Aynsley Cisaria: "This playspace was designed on the premise that young boys thrive when they experience a sense of adventure, excitement and perceived risk in their play.
"We wanted to build and expand on the imaginative play already happening on the ground and invite the boys 'up into the trees' with a challenging aerial rope course, tree hut tower and slide."
The King's School Parents and Friends Association undertook nearly two years of fundraising for the project; and the school was also mindful of the benefits – both financial and environmental – gained by using existing natural resources and recycling materials from their previous playground.
The nature play adventure trail is almost entirely constructed from an oak tree that had died and was felled, large Pohutukawa branches that had to be removed, and recycled poles cut down into timber steppers.
Where required, rubber padding underfoot is Nike Grind Rubber; made up of 70 percent recycled Nike shoes (there are about 20 shoes per square metre).
The 'wildplay' space will be completed in time for the 2021 school year, and Aynsley told us she is looking forward to seeing the reaction of those who helped bring the project to fruition, and of the boys themselves. "It's about encouraging young men to be brave, take risks in their play choices and experience the thrill of achievement as they discover new skills… and have a whole lot of fun in the process!"