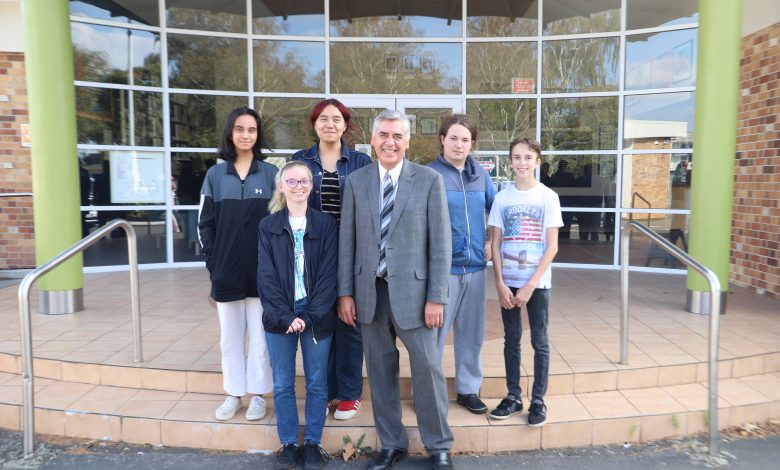 As I enter my 15th year as a principal and my 10th year as the principal of Fairfield College, the significance of relationships and the building of professional trust continues to be reinforced.
This was made even more apparent in 2020. Yes, leading and managing amid the challenges of COVID-19 reinforced the importance of relationships, but it was also the strength of these relationships that enabled us to shine a light on a practice that, up until this point, had existed unchallenged and unchecked. The practice that I refer to is our grouping of students by ability through streaming and setting.
The document, 'He awa ara rau. A journey of many paths', in combination with a posting on the Waikato-Tainui website under the title, Imagining an equitable Aotearoa, were significant levers in causing me to critically reflect on Fairfield College's streaming and setting practices. It was from Waikato-Tainui's website that I accessed the article, 'Time to raise the gaze', which raised further questions, as did my participation in Waikato University's Poutama Pounamu Blended Learning Programme.
I vividly recall writing in the margins of 'Time to raise the gaze: Can I afford to ignore this?' Similarly, the thoughts of the Iwi's General Manager of Matauranga/Education and Pathways, Raewyn Mahara, caused me to reflect even further:
"Our current education system works for some but not all. So many of our rangatahi get locked out of learning opportunities, and this breaches their rangatiratanga and the ability to determine their own paths.
"We see it all the time in schools across Aotearoa where our Maaori and Pasifika tamariki are being told 'you can't do it', as teachers stream them into low expectation classes with no emphasis on achievement. This old fashioned and damaging policy is hurting our rangatahi and limiting their opportunities and it is dividing our communities."
Developing a genuine partnership with iwi and mana whenua remains a school priority. The iwi's thoughts about streaming had been made patently clear. If I were to ignore this, could it not be perceived as our wanting to develop this partnership through a lens of authority where we knew what was best?
It was at this stage, that I commenced a deeper literature search about the positives and the negatives of streaming in New Zealand English medium secondary schools. This is a literature search that is ongoing. It does however appear that, from a New Zealand perspective, this is an emerging area of research.
A 2014 small scale study based in Christchurch by Hornby and Witte showed that 14 of the 15 participant English medium secondary schools implemented a system of between-class ability grouping. Moreover, it suggested that research on between-class ability grouping did not appear to inform the between-class ability grouping practices of most of the schools in the sample. Hattie's research argued that streaming has an insignificant impact on student achievement (effect size 0.11). He further argues that one of the most negative impacts of streaming is the profound and negative influence that it has on achieving equity.
On September 14, 2020, I convened a meeting with school curriculum leaders and deans to discuss concerns about Fairfield College's streaming and setting practices. Like other secondary schools, we grouped students by ability in Mathematics, Science, and English at Year 11.
At this meeting we discussed a number of data sets, which showed that the number of Māori students in our top set Year 11 subjects did not correlate with the total number of Year 11 Māori students. These patterns were exacerbated at Year 12 and Year 13. What did such patterns say about our commitment to Te Tiriti o Waitangi and equity?
The following set of graphs shows that 51 percent of our Year 11 2020 cohort were of Māori ethnicity, yet they made up only 32 percent of our top band mathematics class. This pattern was repeated in English and Science.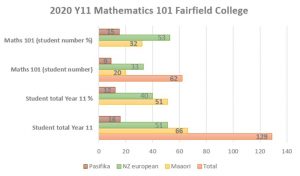 The discussions that took place at this meeting were a pivotal step towards our decision to considerably reconfigure our streaming and setting practices. This was followed by meetings with the Board of Trustees, students, and whanau. At each of these levels, there were concerns raised about the recommended 2021 refiguring steps.
One of these steps was to eliminate the setting practice at Year 11 for Mathematics, Science and English. The main concern was that this would compromise the educational outcomes of those students that were previously placed in the top set classes. Although research in this area is highly contested, a central theme that emerged was that the achievement of average or high ability students in an ability grouped environment was no different to their peers in an environment where students were not grouped by ability. The small gains that may be made were being outweighed by the negative impacts that were taking place for students in lower set classes, according to a review by researcher Ning Rui.
With the support of our Board, staff, students, and whanau we have reconfigured our Year 11 setting practices. Most of our Year 11 students are now in the same programmes for Mathematics, Science, and English. We acknowledge that changing setting structure by itself will not produce the improved and more equitable outcomes we are seeking. This needs to be supported by teacher professional learning and the continuous development of educationally powerful connections. It is a start. A type of whaakaoreoretanga, or an awakening. We look forward to the challenging journey ahead.
By Richard Crawford, Principal, Fairfield College, Hamilton
References
Hattie, J. (2015). Professor Hattie on ability grouping [Video]. YouTube. https://www.youtube.com/watch?v=m6czhy6kPpc&t=12s
Hornby, G., & Witte, C. (2014). Ability grouping in New Zealand high schools: Are practices evidence-based? Preventing School Failure, 58(2), 90-95. https://doi.org/10.1080/1045988X.2013.782531
Johnston, O., & Wildy, H. (2016). The effects of streaming in the secondary school on learning outcomes for Australian students: A review of the international literature. The Australian journal of education, 60(1), 42-59. https://doi.org/10.1177/0004944115626522
Rui, N. (2009). Four decades of research on the effects of detracking reform: Where do we stand?—A systematic review of the evidence. J Evid Based Med, 2(3), 164-183. https://doi.org/10.1111/j.1756-5391.2009.01032.x
Victoria, K. (2020). Time to raise the gaze. Karaka, 85, 18-20.
Waikato Tainui. (2020). Imagining an equitable Aotearoa. https://waikatotainui.com/media_hub-post/imagining-an-equitable-aotearoa/
Waikato-Tainui, Southern Initiative TSI, Te Rūnanga o Ngāi Tahu. (2019). He awa ara rau. A journey of many paths. http://www.maorifutures.co.nz/wp-content/uploads/2020/08/He-Awa-Ara-Rau-A-Journey-of-Many-Paths-Nov-2019.pdf