News
Juggling innovative ways to help students learn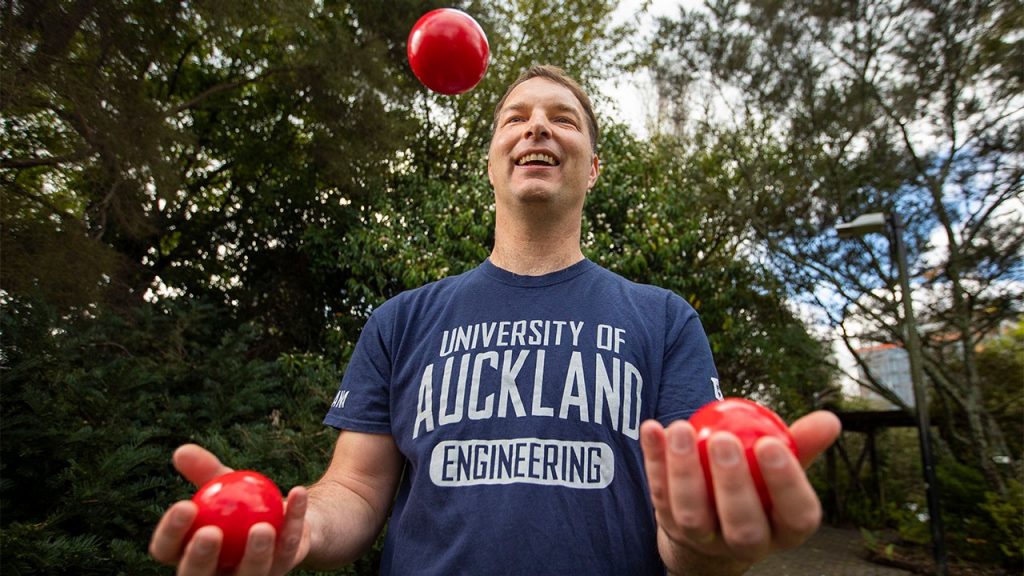 A Professional Teaching Fellow in the Department of Engineering Science at the University of Auckland's Faculty of Engineering, Mr Bier has been awarded a National Tertiary Teaching Excellence Award.
He is involved in every aspect of teaching within the University, even if that means going back to class himself.
"Our Physics Department introduced a 'flipped-classroom' environment and I really wanted to know how that worked so I enrolled in a stage one physics course learning alongside other students."
In his own classes, including stage one lectures with more than 500 students, he introduces an element of performance, using a wide range of props including juggling balls and clubs and an umbrella to demonstrate the complex mathematics-based principles of engineering.
"By bringing dynamism, energy and enthusiasm to my teaching and blending real-world examples and active learning, I can create a highly engaging learning environment," he says.
"My goal is to take students from where they are, to where they need to be."
An essential feature of Mr Bier's teaching is that he tends to avoid more orthodox lecture delivery methods such as Powerpoint in favour of a "messy" approach, with problems worked out live, right in front of students.
"Engineering is about problem-solving in the real world and engineers don't solve problems by using Powerpoint slides, they sketch diagrams and work through equations by hand or with the help of sophisticated software."
One of his strongest beliefs is that students need good guidance as they make the transition from secondary school to tertiary study. He helps promote secondary students' interest in STEM via a nationwide search for the country's top young engineers via the NZ Engineering Science Competition which attracts around 200 teams each year.
He also takes an active role in training university stage one clinic tutors, designs online diagnostic quizzes for rapid feedback and uses real-world stories that he hopes will resonate with students to help them adjust.
"Good teachers foster a love for a subject and a life-long love of learning and ultimately everything I do is focused on achieving that."