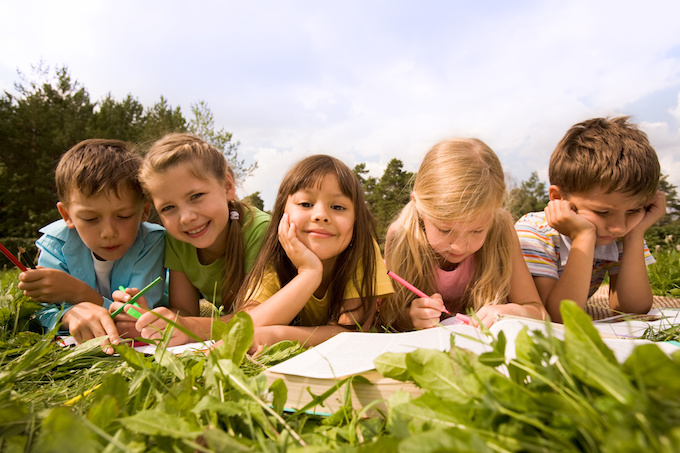 An innovative, future-focused learning environment is coming to New Zealand and will be nestled alongside Egmont National Park in Oakura, Taranaki.
Green School New Zealand is planning to open in February 2020, bringing with it a community-integrated, entrepreneurial way of learning designed to bring excitement into the classroom and empower students to lead the way in sustainability.
The curriculum and school ethos will follow those of Green School Bali, a non-profit, private and international school, established in 2008 by John and Cynthia Hardy.
The non-profit New Zealand school will be founded by Taranaki couple Michael and Rachel Perrett, who experienced first-hand the success Green School Bali had on their own children's learning.
"We've watched our own children, and many others, come alive with confidence, awareness, happiness and presence, which has given us a deep desire to provide an opportunity for more children to experience this wonderful way of learning, right here in our home country," says Rachel.
The school plans to cater for years 1 to 13, and will be constructed on a 121-acre farm in Oakura, alongside one of the oldest Māori settlements in New Zealand, Koru Pa.
Leading Green School New Zealand will be Head of School, Chris Edwards.
Edwards is currently the Head of College at UWC South East Asia in Singapore, one of the largest, premium international schools in the world. The Oxford University graduate has spent time teaching around the world, particularly in the United Kingdom as Head of Bromsgrove, one of the UK's largest independent schools.
Edwards says as well as mastering the core competencies of maths and literacy, student-guided, hands-on projects will promote entrepreneurial thinking, environmental education, practical skills, and the arts.
"Green School deals with 21st century challenges. The world today is not the world of my youth. No one is learned anymore: everyone must be learning.
"Green School will empower children to be life-long learners who are collaborating, communicating and taking risks within a curriculum focusing on sustainable impact.
Edwards says Green School is both visionary and essential to the world we live in.
"A world changing this quickly needs young people to enjoy their learning in a radical, relevant environment that fosters the skills and qualities necessary for solving the environmental and social issues that our planet faces.
"The education systems that have got us this far will no longer take us to where we need to be. Let us keep and cherish the best of traditional curriculum and methodology, but also acknowledge the siren call of the future and respond with courage, imagination and innovation. Green School offers that response."
As well as offering an education programme for students, there will also be learning opportunities for educators and the wider community.
Designing the school is world-renowned Atelier One, known for its architectural and engineering work on the London Olympics Opening Ceremony in 2012, U2's World Tour stage design, and the award-winning Conservatories & Super Trees at Gardens by the Bay in Singapore.
The campus is primarily being built from sustainable, earth-friendly materials. Locally grown pine will be used throughout, along with recycled pipes from the oil and gas industry, to prop up the masts of the suspended structure.
As well as classrooms and meeting rooms, there will be permaculture gardens, community and well-being spaces, co-working and learning environments, as well as a Green Camp for visitors.
New Plymouth mayor, Neil Holdom, says he wholeheartedly supports the establishment of Green School New Zealand in Taranaki.
"New Zealand has a long history of innovation and leadership and what the world needs now are more environmental entrepreneurs tackling the problems brought on by a rapidly growing population, unable or unwilling to mitigate its impact on our planet.
"As a parent of three children, married to a teacher with a Masters in Education, specialising in working with gifted and talented children, as well as those with special needs, it is my view that our current model of education will need to evolve significantly to effectively prepare our young people for the future."
Holdom says the Green School model has the potential to blaze a new trail in New Zealand's education sector.
"Our government has set some ambitious goals for New Zealand's future. New Plymouth District Council has set some ambitious goals for our district's future, and these goals will not be achieved by sticking to traditional attitudes and approaches. We need to support the Green School NZ team and help them transform their vision into reality in Taranaki, as a gift to our children."
The school is being developed under the guidance of a global team sitting across four countries, who have collectively opened 1526 schools in 52 countries.
Green School New Zealand is planning to open in February 2020 with approximately 85 students.