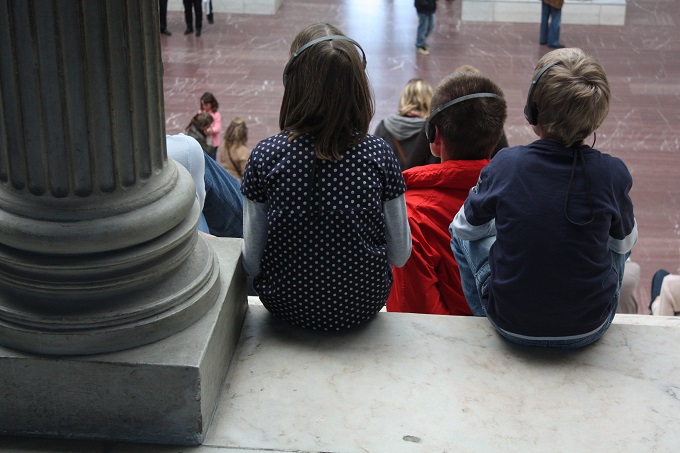 Auckland War Memorial Museum, in collaboration with School Kit, has received further funding for creating additional Discovery Kits based around the exhibition Are We There Yet? Women and Equality in in Aotearoa, currently on display at Auckland Museum.
The additional funds build upon the success of the development and delivery of the first 500 discovery kits, which were delivered predominantly to Auckland classes in July 2018.
This funding will enable Auckland Museum to deliver an additional 500 discovery kits to classrooms nationwide, reaching more people and engaging school children both offsite and online. Onsite 242 schools and early childhood centres visited Auckland Museum last year to engage in learning experiences outside of the class room.
Delivered to teachers who register, these kits are free of charge and provide in-classroom learning for Year 7+ students. The first roll out resulted in 16,000 students from 500 classrooms across Aotearoa engaging with and interviewing women from their own communities. The culmination of this activity is the creation of an exhibition that highlights the stories of eight women within their communities – empowering students to create their own Are we there yet? Women and Equality in Aotearoa exhibition.
Each kit is a valuable resource for years to come for teachers and creates a learning experience that celebrates, interrogates and champions what gender equality in New Zealand has looked like, what it is now and what it could be. Contained in the kit are authentic reproductions of objects from the Are We There Yet? exhibition (a suffragette sash, an 80's protest pin). Every teacher that registers will also receive 32 'Draw a Scientist' cards and eight Figure.NZ 'Data Sentence' cards, as well as vinyl decals and logos to help curate their own exhibition. To support teachers and learning, a specific website has been created to support these Discovery Kits.
Claire Lanyon, Learning Manager, Auckland War Memorial Museum says, "The response so far has been inspiring, we are so pleased to receive further funding to engage more students. We are proud to be able to share the knowledge of Auckland Museum outside its walls and into schools."
Kylie Power, Co-Founder, School Kits says "Working with Auckland Museum for the second time on creating a free Discovery Kit resource for teachers is a great way to be able to reach students with new content. The team at School Kit are looking forward to seeing the engagement from schools and their exhibitions from November this year until April 2019."
For more information and to register for a Discovery Kit visit HERE