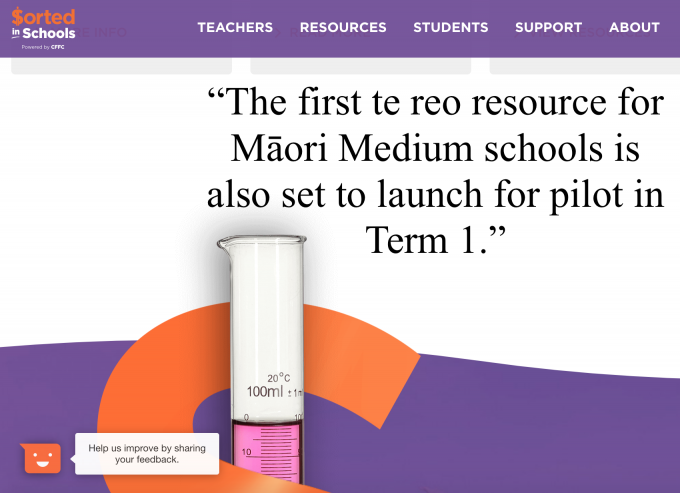 Porirua College is helping in a nationwide trial of the first financial capability learning resources to be directly linked to The New Zealand Curriculum.
One student said: "The lessons we're having now in Year 9 are giving us a headstart for the future," says the 14-year-old. "By the time I'm in Year 13 I'll have a dream, and know how I can reach it."
Called Sorted in Schools and funded by the government through the Commission for Financial Capability (CFFC), more than 30,000 Year 9-10 students in 111 schools throughout New Zealand are trialling the first lessons this term. They're learning about budgeting, saving, debt and other money issues as part of usual subjects such as English, Technology and Maths.
Feedback from the pilot schools, including 13 kura, will refine the lessons before they are made available to all secondary schools from Term 1, 2019. The first te reo resource for Māori Medium schools is also set to launch for pilot in Term 1.
Over the next three years Sorted in Schools will be rolled out to all students from Years 9-13.
The Head of the CFFC, Retirement Commissioner Diane Maxwell, says the aim of Sorted in Schools is to equip students with skills in financial capability at an age when they're vulnerable to falling into debt through access to credit and loans. Research by the CFFC showed that 85% of students have their own money to spend independently, and while almost all agreed that saving was important, few regularly planned their spending. Eighty two percent said they wanted to learn about money at school.
"The aim is for young New Zealanders to leave school ready to navigate savings and debt, to understand their rights and be confident about engaging with lenders," says Diane Maxwell. "Good money decisions have a momentum, and so do bad ones; we want our young people to benefit from good early decisions across a lifetime."
Sorted in Schools will also provide professional development courses for teachers through the CFFC's Workplace Education team in a way that benefits teachers in their own lives, with a view to reinforcing their classroom teaching.
Porirua College Principal Ragne Maxwell (no relation to the Commissioner) says when the opportunity arose for the school to be part of shaping and trialling the Sorted in Schools programme, she grabbed it with both hands.
"It's great to see the Ministry of Education backing a programme that is so flexible – we can adapt it to be relevant to our own community, and choose from its many parts to incorporate into whatever subject we are teaching," says Ragne Maxwell.
Diane Maxwell says the CFFC has worked closely with the Ministry of Education, NZQA, the Tertiary Education Commission and the Ministry of Business, Innovation and Employment to ensure Sorted in Schools aligns with New Zealand education policy and is linked to the curriculum. Education resource experts CORE Education were brought in to work with the organisations and teachers in designing the lessons, which are digital and interactive in line with modern teaching.
As for Pualele and her classmates, they're just enjoying the games and activities that cloak financial learning in fun.
"When I grow up I'll know all about money, and be able to help my family," says Pualele. "I'll be able to plan my future."