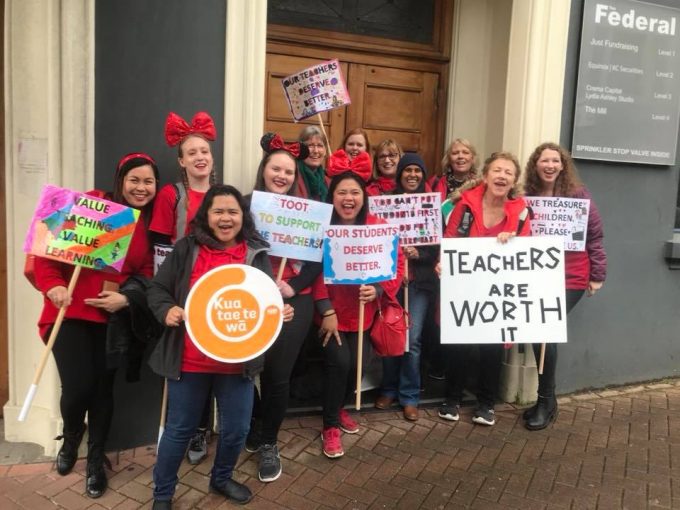 21 days and counting for the education sector, as hope for a settlement following strike action persists, and public support continues to build.
Principals were in negotiations this morning (Monday), while teachers' negotiations have been scheduled for Thursday.
Teachers' lead negotiator Liam Rutherford said: "We have been through extensive negotiations, clocking up 10 days of talks for teachers, and another 10 days of talks for principals."
Principals' lead negotiator Louise Green said they continued to strive for a negotiated outcome, although the lack of a new offer since June had taken its toll on the morale of the negotiating teams.
"We are hopeful for some improvement this week. Public support for teachers has been overwhelming, giving the Government all the permission it needs to address the teacher shortage crisis, improve support for children with additional learning needs and improve class ratios."
"Our members were heartened to hear from the Prime Minister last week, and we are hoping her involvement will make a positive difference in the negotiation room this week," said Ms Green.
There had been some incorrect remarks made about the union leaving the negotiating table, Liam Rutherford said.
"We have never left the bargaining process. There were even informal meetings on the Monday and Tuesday before the strike. We have attended mediation, and this week have negotiations booked for both principals and teachers," said Mr Rutherford.
Meanwhile, it has been reported in the media last week that a 14 percent pay offer was on the table.
"We want to be clear about this – for 85 percent of teachers the offer is only just over 2 percent a year – which is not dissimilar to a cost of living increase.
"A larger increase has been offered to beginning teachers but would only bring their starting salary to above the average median."