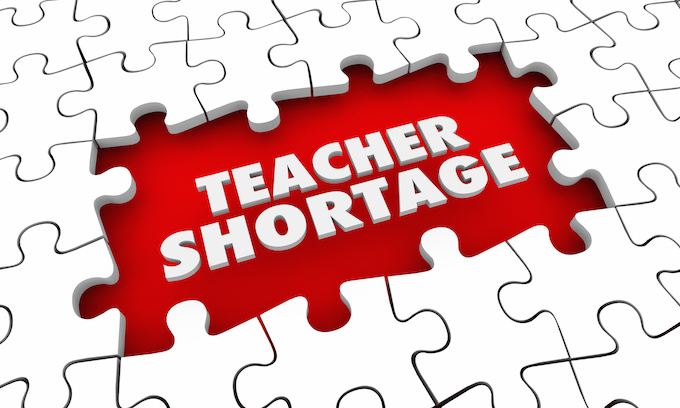 Responding to the NZEI Te Riu Roa president's claim that the teacher shortage is "swiftly moving from a crisis to a disaster", the Ministry's deputy secretary of early learning and student achievement, said that NZEI's claim "surprised" her and that measures have been put in place to "meet population growth".
NZEI's projections, which were provided by the Ministry of Education, show that the number of primary school students is set to increase by 40,000 between 2017 and 2030.
"At the current rate of churn, we are swiftly moving from a crisis to a disaster," said NZEI President Lynda Stuart.
"Student numbers for teacher training have plunged by 40% in the past five years, a bubble of baby boomers is nearing retirement, and the huge workload and low pay is pushing many out of the profession within a few years of graduating. And that's before we factor in an extra 40,000 children," she said.
NZEI calculated the shortage using ministry figures showing 513,657 primary students in 2017, projected to increase to 553,590 by 2030 – an additional 39,933 children in the next 12 years.
Exact numbers of the required FTE teachers are difficult to calculate precisely because there are differing teacher-student ratios at different year levels. However, at a ratio of 1:26, an extra 1535 teachers will be needed and at a ratio of 1:22, an extra 1815 teachers are needed.
As part of current collective agreement negotiations, NZEI is calling for a reduction in class sizes for students in years 4 to 8, which are currently funded at a ratio of one teacher for every 29 students. Teachers want this ratio reduced to 1:25 to allow more one-to-one teaching time.
Ms Stuart said it was time for the Government to act on the growing consensus for investing in education, improving teacher numbers and teacher pay.
"Our public opinion polling continues to show strong support for taxpayer dollars being spent on education, and the public supports a significant pay increase for educators. And now with the National Party's u-turn on school policy, including class size and teacher pay, there is simply no opposition to addressing the crisis in education.
"The Government has hamstrung itself by its own [budget responsibility] rules at the cost of the nation's children. We are saying it is time for the Government to act."
"The current Government now has bipartisan support to take bold moves to turn the teaching crisis around and once again make teaching a viable career choice," she said.
Deputy Secretary of Early Learning and Student Achievement Ellen MacGregor-Reid retorted: "We are aware of the projections that's why in Budget 2018, $370 million was set aside to fund 1500 more teacher places by 2021 to meet population growth.
"Addressing teacher supply is a priority. Last year the Education Minister announced a $9.5 million teacher supply package to address immediate pressures by supporting more graduates into permanent teaching positions, supporting experienced teachers back into the profession and recruiting new graduates into teaching. A further $20 million was provided in Budget 2018 to continue to fund these initiatives over the next four years."
In collective agreement negotiations, principals and teachers had asked for more time to teach and lead, more support for children with additional learning needs and a pay jolt to stem the teacher shortage.
Instead, according to NZEI, the vast majority of teachers (about 86%) are being offered a pay rise ranging from about 2.2-2.6% a year for three years, and just 12 minutes extra a week of time to work individually with children or plan and assess learning.
The offer was far from the 16% over two years that members had identified as being necessary to address recruitment and retention issues that had grown during the term of the previous National government. The request to fund a Special Education Needs Coordinator (SENCO) in every school to assist children with additional learning needs was also ignored.
"To attract people to the teaching profession we have proposed increasing salaries for new teachers in the current bargaining round," says Ms MacGregor-Reid
"We have offered a cumulative increase of 14.7 percent for graduates with a teaching degree ($47,980 to $55,030) over three years and a 14.2 percent cumulative increase for graduates with a subject degree and graduate teaching diploma ($49,588 to $56, 638) over three years.
"That means the starting salary for qualified teachers would be $50,280, increasing to $55,030 in 2020.
"We're also working with the sector to develop a workforce strategy, which includes improving recruitment and retention – the first education workforce strategy in 30 years."
On new schools and the current crisis, NZEI stated:
The Government has announced it is going to build 12 more schools in Auckland – 10 of those primary schools – but they may be ghost schools unless the crisis in teaching is addressed.
In Auckland alone, the Ministry has said that there will be 38,000 more primary and secondary students by 2030.
Wellington principals are reporting difficulty in filling teacher roles.
Maidstone Intermediate principal Mary O'Regan says that she had only just filled a position at the Upper Hutt School for Term 3 – which started last week – by having a job share position.
"I had the job ad up for five weeks, and only two overseas applicants without work visas applied."
She said the number of teachers applying for jobs had plummeted.
Principal at Berhampore Primary School in Wellington, Mark Potter concurs.
"Three to four years ago we got about 20-30 applicants and now we get a handful."
A 12-month fixed-term position he recently advertised only attracted five applicants but "fortunately one of them was suitable."
"A lot of Wellington principals are saying the same thing. There used to be a lot more beginner teachers applying and now they seem to be going off into other careers when they finish their teacher training.
"There are also fewer mid-career teachers. Some of those want to stay in teaching but want to work 2-3 days a week because they know the stress and workload that comes with senior roles."
On increasing the teacher supply, the MoE stated:
To increase teacher supply we have:
Funded 890 teacher education refresher places to remove cost barriers so that teachers can return to teaching faster.
Paid 137 overseas relocation grants making it easier for New Zealand teachers to return home.
Expanded the Auckland Beginner Teachers programme to 60 places in 2018 with another 60 places available in 2019.
Increased the number of new teachers training through Teach First NZ to 80 in both 2018 and 2019.
Expanded the Voluntary Bonding Scheme to encourage new teachers to work in decile 2 and 3 Auckland schools, and nationwide in identified subjects and Māori Medium Kura. Around 300 teachers who started their role in 2018 will be eligible.