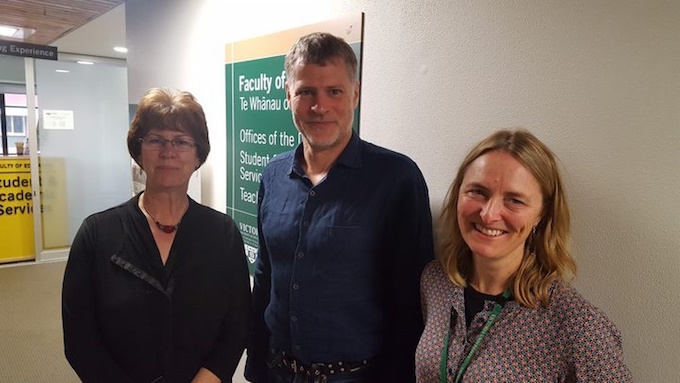 18 academics from Victoria University are worried suggestions from an advisory group for the government's review of NCEA will make the qualification worse, not better.
In a joint letter the researchers argued against giving students NCEA credits for literacy and numeracy, recommended independent marking of students' internal assessments, and advised against introducing 20-credit projects to the NCEA.
They said they agreed with some of the government advisory group's suggestions such as abolishing exam fees and redesigning achievement standards so they were worth more credits and covered more knowledge.
But one of the researchers, Michael Johnston, said the academics were worried students would learn less specialist subject knowledge if the government introduced project work and a focus on literacy and numeracy at level one of the qualification.
Dr Johnston said that would leave many students ill-prepared for further study and work.
"It's really important to have a core of disciplinary knowledge that all students have access to and we're really worried that especially students that are already marginalised in some sense, that is especially students in low-decile schools, may miss out on access to that knowledge," he said.
Dr Johnston said minimum standards for literacy and numeracy were important, but they should be a hurdle for entry to the NCEA rather than part of the qualification itself.
"We think it's really important that literacy and numeracy are requirements for NCEA and that that requirement is suitably rigourous that the right signals are sent to the school system about teaching literacy and numeracy," he said.
"However, to have half of the level one qualification allocated to skills that really they ought to have acquired already by the time they get there, we think is putting the wrong emphasis on the qualification."
Dr Johnston also suggested that the Qualifications Authority should mark all internal assessments in order to reduce teachers' workload.
"There's no real advantage to either teachers or students in teachers' grading that work through the year and in fact I think it has been proven that there are disadvantages to it because it does focus students on credit counting."
A senior lecturer at Victoria, Bronwyn Wood, said the advisory group's call for the introduction of 20-credit projects at all levels of the NCEA was ill-advised.
She said research showed it was difficult for teachers to oversee such projects and ensure students were engaged in worthwhile learning.
"What we found is there's a huge potential for these projects to become very thin learning unless you have teachers that really hold students to account," she said.
Dr Wood said the NCEA review needed to deal with the problem of schools avoiding difficult standards in order to keep their pass rates high.
"Even principals we know have said to teachers 'we don't want you submitting students in that achievement standard because you get failure, we want 95 percent, 100 percent pass rates in our school for its reputation and I want you next year not to submit students in that'," she said.
The associate dean of Victoria University's School of Education, Sue Cherrington, said the review also needed to find ways of eliminating behaviour such as withdrawing from difficult courses, that was not helpful for students when they left school.
"You can't withdraw from part of your training in a vocational course. It's a strategy that doesn't set students up well for success regardless of where they go after they leave school," she said.
The academics said they wanted to improve the NCEA, not return to the old exam-based qualifications.
Author: John Gerritsen, Education Correspondent, RNZ via Scoop Media.