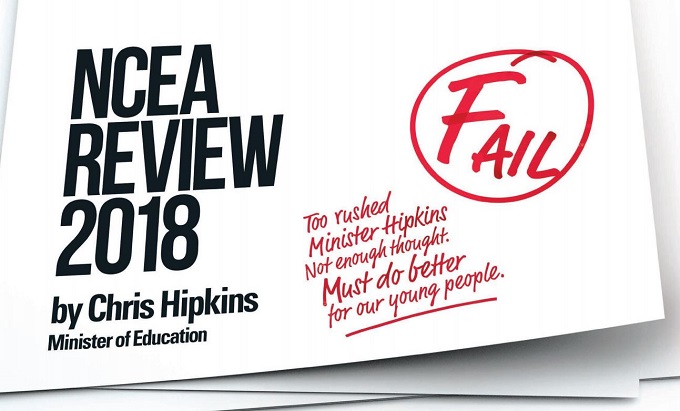 Nearly forty secondary school Principals have formed a coalition to challenge the Minister of Education, Chris Hipkin's review of NCEA.
They published full-page advertisements in the national Sunday newspapers marking the Minister of Education's review a "Fail" – and damning the process as rushed, flawed and without proper consultation.
"Too rushed, Minister Hipkins, not enough thought. Must do better for our young people," the advertisement says. The list of nearly 40 Principals represents over 45,000 students and the schools are from the private, integrated and state sectors, with the decile 1 – 10 schools united about one thing – they expect a better process.
They have stated: "We are a coalition of Principals passionate about our young people and their secondary school education. We want the best possible education for the next generation – including a New Zealand qualification framework accessible to all students."
"We agree a review of NCEA is necessary because the framework can be improved to better prepare our young people for the challenges ahead. However, the review is flawed and we will not stand idle on the sidelines watching a fraught process pass us by."
A coalition spokesperson Massey High School Principal, Glen Denham, says the breakaway group of Principals came together this past week out of sheer frustration with the process put in place by Minister Hipkins – and the action they say needs to be swift. Whilst the Principals in the coalition are currently Auckland based, momentum is growing quickly and they are encouraging any Principal from around the country to join the action so they too can help effect change.
"These Principals are incensed and want the situation urgently addressed. The process is wrong, the Minister is bulldozing this through and it is our young people who will pay the ultimate price," Mr Denham said.
"The timeframe is too short. The Government has allowed only sixteen weeks to review a national educational qualification for the next thirty years. Five weeks of the process has passed, and still Principals have not been consulted, rather they have been asked to act as ambassadors for a proposal they have had no input into. The process appears to be disingenuous.
We are the guardians of young people's secondary education – we know what is important – and our collective input is essential.
"Why would the Ministerial Advisory Group of seven have only one principal?"
Mr Denham said the group was seeking a "review of the review".
"We want the Government to rewind, reorder, and reprioritise," he said. "Let's start with fixing what is broken – starting with quality teacher supply, and work from there. If we don't have a supply of quality teachers NCEA in any form is unsustainable."
"Done properly – the review gives New Zealand an opportunity to be a world leader in secondary school education." We owe it to our young people to it well. This process needs to be graded Excellence rather than Not Achieved."