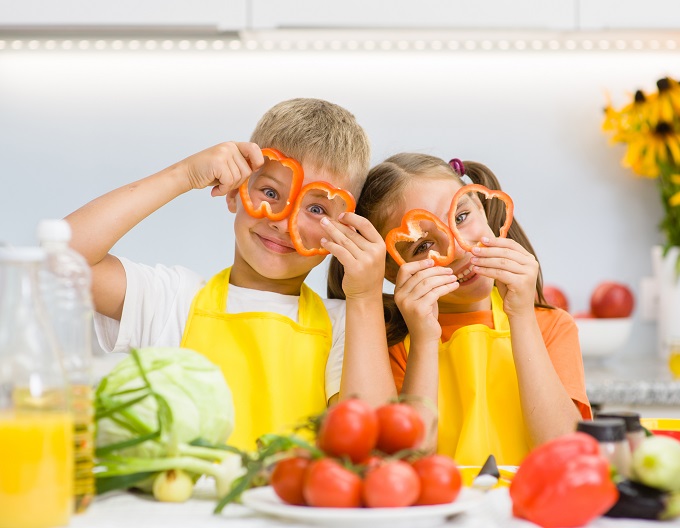 The challenge is on for pairs of year five and year six school pupils to grate, slice, cook, create and plate a vegetable-based meal from 'root to tip'. There's still time to enter a team!
Entries for the competition are still open and will now close on June 12.
What will the kids be doing?
Children must source their produce locally from family, community or school gardens, and turn it into a creative, delicious two-course meal, which will be judged by an expert panel for taste and minimising the amount of food wasted.
[pro_ad_display_adzone id="4703″ align="left"]
The pupils will be asked to put their best foot forward in the regional heats. The judges will be looking for how well they incorporate the Root to Tip theme of using as much of the fruit and vegetable as possible, their use of seasonal produce, creative use of ingredients to prepare a dish in under two hours and producing minimum waste (all waste will be weighed).
Last year's competition-winners were Otis Swallow and Noah Cobby from Diamond Harbour School. Their winning dish consisted of an entrée of roasted baby carrots with carrot top, walnut and parsley pesto, and a potato and basil pizza with pumpkin base served with fresh ricotta cheese and ground pumpkin seeds for the main.
Finalists and winners
Following the regional heats, the national final will be held in early August in Wellington where the Root to Tip competition winning pair will be announced. The winning pupils will each receive a $1,000 NoticeSaver account with RaboDirect, plus one-year free membership to the Garden to Table programme for their school and a range of other kitchen items.
After the competition's success in Christchurch last year, Root to Tip has now been extended nationwide, giving Kiwi kids from all over the country the chance to be crowned the ultimate Root to Tip winners.
Dynamic duos from schools all around New Zealand have been steadily entering their dishes for this year's competition, and for many it is their first time entering.
A word from the competition judge:
Al Brown, Head Judge of the Competition, says there's been a huge amount of interest in this competition with a twist, which tackles the serious issue of food wastage too.
"I'm really excited to be involved in supporting some of New Zealand's budding talent in the kitchen. I can't wait to see what's plated up at the regional heats, and I'll look forward to tasting the winning dishes from each region come national finals time in August!"
When asked what his piece of advice is for those going head to head in the regional heats, he says it's all in the competition's name.
"Using as much of the produce as possible in each meal, literally from 'root to tip', is what our judges will be looking for. The food's got to be great to eat, and simple enough to cook really well in a competition environment too. And extra points for creativity!"
Regional heats will take place on the 22-24th June, where entries from each region (Northland, Auckland, Waikato, BOP, Hawkes Bay, Taranaki, Manawatu, Wellington, Nelson/Marlborough, Christchurch, Otago, Southland) go head-to-head in front of specially selected local judges for a chance to be part of the finals later in the year.
Root to Tip Competition 2018 is run by Garden to Table, with the support of RaboDirect.
Root to Tip Competition regional heats schedule
| | | | |
| --- | --- | --- | --- |
| Region | City | Venue | Date |
| Northland | Whangarei | Northtec | Saturday 23 June |
| Auckland | Auckland | AUT | Friday 22 June |
| Waikato | Hamilton | Wintec | Saturday 23 June |
| BOP | Tauranga | Toi-ohomai Institute of Techonology | Friday 22 June |
| Hawkes Bay | Havelock North | Havelock North Intermediate | Saturday 23 June |
| Taranaki | New Plymouth | WITT | Saturday 23 June |
| Manawatu | Foxton | Manawatu College | Sunday 24 June |
| Wellington | Wellington City | Weltec | Friday 22 June |
| Nelson/Marlborough | Nelson | NMIT | Saturday 23 June |
| Canterbury | Christchurch | Haeata Campus | Friday 22 June |
| Otago | Dunedin | Balmacewan School | Saturday 23 June |
| Southland | Invercargill | The Pantry, Koha Kai | Friday 22 June |