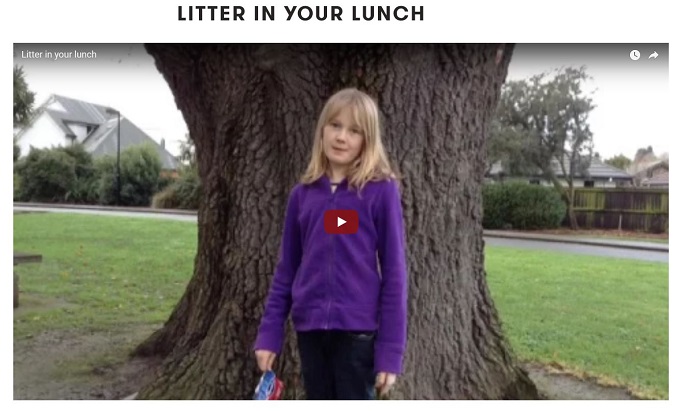 Three Christchurch intermediate students internationally recognised for video-graphic journalism in Young Reporters for the Environment (YRE) Litter Less international competition.
The winning submission, by Molly McKinstry, Tessa Marshall and Romane Wesener from Ao Tawhiti Unlimited Discovery school, was one of almost two hundred entries received, from over 30 countries. Their video, on the effects of plastic on the environment, received 1st prize for the 11 – 14 year old video category of the competition.
The goal of the YRE Litter Less Programme is to reduce litter and affect long-term behaviour change among young people aged 11-18 years. It aims to empower young people to take a stand on environmental issues they feel strongly about and to give them a platform to articulate these issues through the media of writing, photography or video.
The Young Reporters for the Environment (YRE) International Jury meeting for the 2018 YRE competition successfully took place on the 31st of May at the Foundation for Environmental Education (FEE) head office in Copenhagen, Denmark. For more information and full results, view the FEE international press release here.
In addition to Tessa, Molly and Romane's win, two New Zealand students have been selected through the YRE Programme for international scholarships this year.
Joanna Tao, a previous YRE winner is one of two students from the Asia-Pacific region to be selected to attend the 2018 University Scholars Symposium (UCLC), to be held at the UN Conference Center in Bangkok, Thailand. Humanitarian Affairs Asia and the United Nations Development Program (UNDP) will host the 9th University Scholars Leadership Symposium (USLS) 2018 in Thailand from the 1st to the 7th August of 2018. The theme of the Symposium is "Inspiring Confidence, Inspire Change". It is expected about 1,200 emerging world leaders from more than 70 countries will participate in this event, where leaders of industry will encourage delegates to bring social change within their communities.
In 2016 Joanna won First Prize in the NZ YRE Writing 15-18 Year Competition whilst attending St Dominic's Catholic College. Currently Joanna is a first year Urban Planning student studying at The University of Auckland and in 2017 was the coordinator for Green Jam Youth. Joanna is also involved with NZAEE (New Zealand Association for Environmental Education), Generation Zero and Fossil Fuel Free UOA. To read more about Joanna's upcoming scholarship, click here.
Joshua Richardson, a 2016 winner of the YRE Litter Less National Competition, won a scholarship to attend a UNESCO Forum in Portugal in March. The forum brought together 43 young people from 24 countries all over the world. Joshua (18), the sole representative from Oceania, worked with other young environmentalists over four days where they honed their environmental journalism skills and were trained to be Environmental Youth Ambassadors in their respective countries.
The Education for Sustainable Development (ESD) leadership capacity building course / Young Reporters for the Environment (YRE) Mission was organised in cooperation between UNESCO and Foundation for Environmental Education (FEE). The aim of the course is to empower participants to be inspired by ESD related issues and to be engaged in raising awareness among people to take action towards building more sustainable, just, and resilient communities.
Attending the forum has increased Joshua's passion for protecting New Zealand's environment.
"I want to get more involved in educating others on environmental issues. I feel that this experience has given me more power to make environmental change and I am keen to work with others to bring about that change".
To read more about Joshua's experience, click here.
Keep New Zealand Beautiful (KNZB) run the YRE Programme in New Zealand. YRE is an environmental journalism programme for schools aimed at students 11-18 years. KNZB nominated both Joanna and Joshua for their fully funded scholarship. Past YRE students have been given the opportunity to apply for YRE funded scholarships, usually up until the time they reach age 30.
KNZB Education Manager, Christine White is excited that two scholarships have been offered to New Zealand students within the YRE network in just 6 months.
"Both Joshua and Joanna have developed a strong passion for environmental awareness and action since their involvement in YRE and we are proud to see them representing New Zealand at an international level. These opportunities will enable them to bring about positive change by building on their existing skills as youth leaders and champions for the environment".
Students participating in this year's YRE competition have until 17 August to get their entries in for a chance to win a place in the NZ National Winners Workshop as well as other great prizes. All first place winners in each category will automatically be entered in next year's International competition.