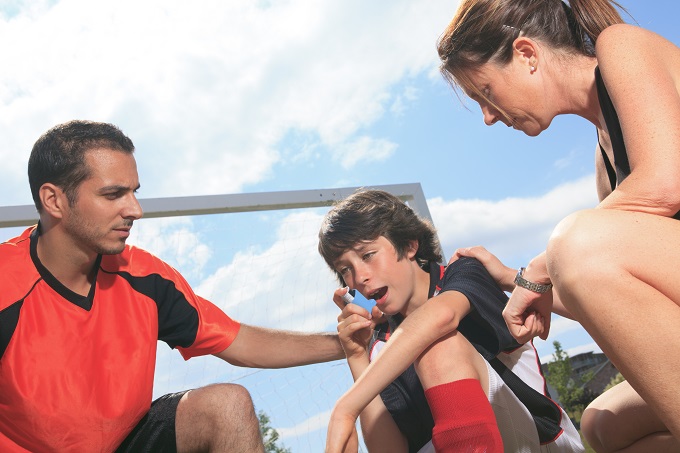 One in seven children, and one in nine adults, have asthma in New Zealand. It's also estimated that 586,000 school days are lost each year due to asthma related symptoms in children.
World Asthma Day was yesterday, and Asthma and Respiratory Foundation NZ is marking it with the launch of a new, free online 'Teachers' Asthma Toolkit'.
The Asthma and Respiratory Foundation NZ has been working alongside 'Cognition Education Group' in order to launch this new online tool. The 'Teachers' Asthma Toolkit' is accessed via this interactive website.
Letitia O'Dwyer, CEO of Asthma and Respiratory Foundation NZ, comments: "There just hasn't been the right tools to help and assist the teaching profession with the increasing numbers of pupils with asthma. How should you respond in school to an asthma emergency? What are the common school triggers? What are the correct processes and procedures? How can we teach our children about this? It's unfair to expect teachers to know what to do without that support and knowledge. Now we can provide this."
Teresa Demetriou, Head of Education and Research at Asthma and Respiratory Foundation NZ, who has been leading the project, comments: "It's great to see all the work finally come together to create this fantastic online tool for teachers. It's up to us in the medical profession to provide simple, easy to use resources that could well save lives."
"The new toolkit launching on World Asthma Day is an online tool that is accessed via an interactive website. It's a quick and easy way for teachers to learn all the necessary information about asthma. It includes video clips, animations, classroom resources and child friendly activities. We know it's important as statistics show that there will be at least four children in a class of 30 students with asthma," adds, Teresa Demetriou.
The new 'Teachers' Asthma Toolkit' will cover how asthma affects education, what asthma is, what are the common triggers at school, how asthma is treated and what to do in an emergency. The toolkit takes an integrated approach so it can be used as part of a teacher learning experience about asthma and the basis for staff meeting discussion; but can be incorporated into the classroom if teachers desire. It can be used across the board in pre-schools, primary and secondary schools, although the main focus has been on children aged 11 years and under, where asthma levels are the highest.
As part of World Asthma Day the Asthma and Respiratory Foundation NZ has also been running a national awareness and fund-raising campaign, inviting schools from across the country to take part in fun and educational activities utilising balloons, which are a simple and effective way to help educate about breathing.
Over 90 schools have signed up to support the campaign. In addition, Asthma and Respiratory Foundation NZ is organising a tour of the South Island this autumn to 80 schools with its 'Sailor the Puffer Fish' asthma educational tour. On World Asthma Day the show will be in the Nelson / Marlborough area, before moving onto Christchurch and the lower South Island.
The national schools campaign has attracted much interest for World Asthma Day; with the school that raises the most funds winning a visit from Erin Simpson, a well-known children's celebrity from television shows such as Sticky TV, What Now and the Erin Simpson Show as well as winning a range of books for their school library from Scholastic.