News
School kids spend Easter with Prime Minister Jacinda Ardern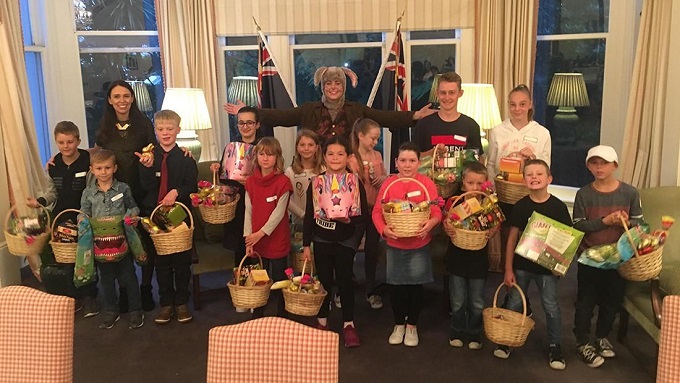 A group of impressive Kiwi kids were nominated to visit Premier House for an Easter egg hunt with Prime Minister Jacinda Ardern, in collaboration with The Breeze radio station.
The 14 children were selected from hundreds of entries submitted to The Breeze and come from all over New Zealand. Each of them has done something special that led to their being nominated.
Taylah Jones, aged 10 from Auckland
Why was Taylah nominated?
Taylah has created a positive behaviour programme that has been implemented at her school, Laingholm Primary. Details about Taylah's Hang Out programme can be found at www.conaryverve.com/foundation. Taylah is also on the student council (third year) and her major goal this year is to win the school's leadership trophy for which she has been nominated twice.
Emma Mischewski, aged 8 from Tauranga
Why was Emma nominated?
Emma has launched a mission to provide care packs for homeless people, children entering the foster system, women and children entering women's refuges, and other needy folks. Emma was only seven when she started this project in May 2017 and her 'Big Ambitious Goal' was to make and distribute 100 packs. Within five months, Emma made and distributed 300 packs and is still going strong. Emma is supported by her whanau, her church as well as a number of local businesses, agencies, and individuals. However, this is very much Emma's mahi.
Ashton Moys, aged 8 from Hamilton
Why was Ashton nominated?
Ashton is a caring young man who has made friends with an elderly lady who lives cross the road. Ashton has developed a special bond with his neighbour and he visits her almost every day after school to keep her company because she's lived alone since her husband passed away. Ashton draws pictures for her and gives her flowers from the garden.
Logan Jellyman, aged 6 from Whanganui
Why was Logan nominated?
Logan's younger brother became very sick last year and Logan had to quickly learn to adjust as his family coped with their difficult circumstances. His mum and dad suffered a great deal having a very sick little boy and ongoing medical appointments meant Logan was away from his mum and dad for long periods of time. Logan loves his little brother and has been an inspiration to all the children in his class.
JD, aged 10 from Wellington
Why was JD nominated?
JD has shown strength and perseverance and continues to encourage his mum and make her happy. From opening the car door to helping carry groceries to cooking breakfast, his mum Kellie says: "JD really is a gem. His manners when he speaks to people at the shops or out and about has people beaming. JD truly is one in trillion and being able to win this for him would be a little thank you from me to JD."
Elizabeth Page, aged 9 from Wellington
Why was Elizabeth nominated?
Elizabeth's twin sister Isabella has a rare brain condition which has meant she is non-verbal and suffers from epilepsy. Elizabeth is a great sister to Isabella and her big brother Richard and she also helps her parents by supporting Isabella and spending time with her. In addition Elizabeth is caring towards the children at school and often takes those who need a friend under her wing.
Cypress Fergusson, aged 8 from Wellington
Why was Cypress nominated?
Cypress' brother has a form of autism and the condition and its treatment take a toll on the whole family. With dad working Monday to Friday and sometimes weekends, mum stays home to look after the kids but the reality of Cypress' brother's condition means a lot of the attention is given his way and pulls mum away from Cypress which can sometimes make her feel left out. Cypress looks up to Jacinda Ardern and this experience will be a real treat.
Max Walker, aged 10 from Wellington
Why was Max nominated?
Max loves to read and draw his own comics, and is clever and funny. He is also an active member of the Wellington branch of Heart Kids NZ. During his life he has had three open heart surgeries and dealt with them all with amazing courage. Last year he helped to raise money for Heart Kids by participating in the street collection day and also by speaking in front of his entire school during a fundraising day, to explain how much Heart Kids NZ has supported him and his parents throughout his life. His classmates subsequently held a bake sale to help raise more money. Through his fundraising efforts, Max was able to contribute to the costs of his attendance at Heart Kids camp – an annual camp held for Heart Kids who are often not well enough to go to their own school camps. On the morning that he was supposed to be flying to Auckland with the other Wellington Heart Kids, Max was in Wellington Hospital having emergency laser surgery on an acute glaucoma. He missed the camp, has some permanent damage to his eyesight but continues to soldier on.
Andrea Awdish Kyorkies, aged 10 from Wellington
Why was Andrea nominated?
Andrea had a tough year last year when her dad passed away from cancer. Her friend Charlotte, who put Andrea forward said "this experience would brighten up her year and would be something to remember".
Hayden Rose, aged 14 from Nelson
Why was Hayden nominated?
During 2015-2016 Hayden was a student at Broadgreen Intermediate where he had worked alongside Mr Woods, the school's music teacher who worked on school productions and other various school events. Sadly, Mr Woods died suddenly last year and Broadgreen Intermediate did not have anyone who knew how to operate the sound/lighting system. Hayden was the last student that Mr Woods taught so Hayden volunteered and assisted his former intermediate school with shows while attending Nayland College. Hayden also created his own radio station and is on the Nelson City Youth Council representing Nayland College.
Paige Bowman, aged 14 from Christchurch
Why was Paige nominated?
Paige was nominated by her sister who says "Paige is the kindest person I know because she always does really nice things to help other people and I want her to have something nice as well". When Paige was 11 she fundraised $150 for the Salvation Army and she also got her classmates to donate canned food which she collected and took to the Salvation Army along with the funds she raised.
Jaydon Patterson, aged 6 from Dunedin
Why was Jaydon nominated?
Jaydon has a visually impaired parent who says "This boy has shown me things through his eyes that I can't see. While we are out in public when I am using my cane Jaydon will grab my cane and walk beside me moving my cane in the right direction so I don't harm myself in any way."
Jorja Day, aged 9 from Hawke's Bay
Why was Jorja nominated?
Jorja loves to run and for the past two years she has done the Junior Tough Guy and Gal. Both years she has fundraised for Cure Kids and in the first year she raised over $400 and last year over $550. Both years being awarded a prize for being a top fundraiser.
Christopher Mitchell, aged 9 from Manawatu
Why was Christopher nominated?
Christopher was nominated because "he's an amazing kid" who is extremely helpful with his sister and who has had a rough start to the year with a new school in a new town and his nana passed away recently.