Education
Te Akau ki Papamoa – where everyone is winning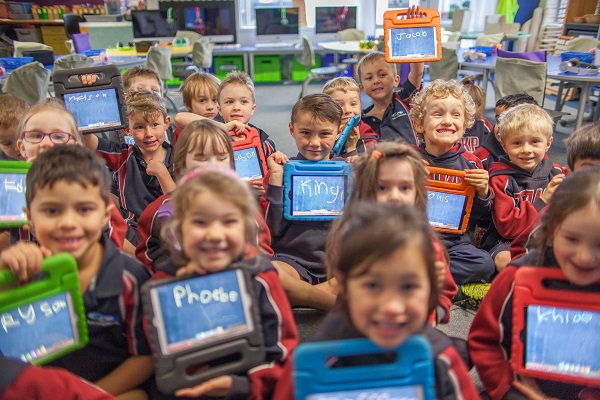 From the outside, Te Akau ki Papamoa is indistinguishable from most other state primary schools in New Zealand. It's once you step in the door, that the magic happens…
I first heard of Te Akau ki Papamoa in reference to Apple education. It's an Apple Distinguished School (ADS), one of only three in New Zealand, and that piqued my curiosity mostly because I'd never heard of such a thing.
According to Apple, an ADS is "a centre of leadership and educational excellence that demonstrates our vision of exemplary learning environments". Apple products are used to "inspire student creativity, collaboration, and critical thinking, and leadership cultivates environments in which students are excited about learning".
It turns out that Te Akau ki Papamoa was doing all this long before they heard the term Apple Distinguished School. They were busy getting on with teaching local kids when Apple representatives visited and pointed out that the school's innovative work met the criteria for ADS status, a global award that recognises the application of technology to improve student achievement. The school applied – and the rest is history.
However, after a day at the school, it is clear to me that the magic lies not with the technology, but with the stellar leadership team guided by principal Bruce Jepsen. He's a big bear of a man, bursting with energy and enthusiasm, all the more remarkable given his journey with the school. In a nutshell, it's been one hell of a ride from bankruptcy and wide-scale underachievement to excellence at an international level.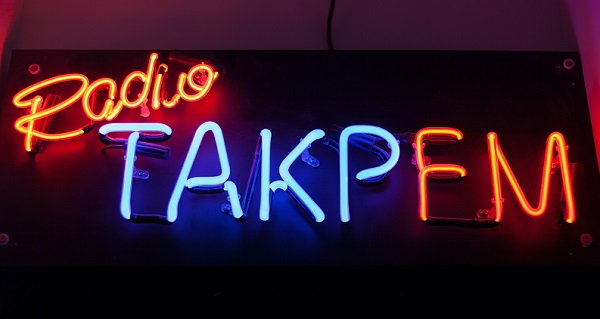 As we head to his office, a sign lights up over a closed door next to reception: the school radio station is on air. Cultural leader Tane Bennett is at the controls, ready to deliver a te reo lesson. The clock ticks towards broadcast time and Bennett's screen is flooded with messages from the students tuning in – "I'm listening!" "I'm excited!" "I am happy it's te reo time" they tell him via their iPads. Bennett reaches for his guitar and leads the children through waiata before getting stuck into today's language lesson. "Kei te pēhea te ahua o Tāwhirimatea? What's the weather doing?"he asks. Children phone in from their classrooms, eager to share their te reo on air.
Bennett joined the school seven years ago after answering an ad for an assistant principal passionate about lifting Māori achievement. "I'd never seen an ad like that before and I've never seen one since," he says.
At that time, Jepsen was digging the school out of crisis. He'd been hired to effect change at a school that was broke and in which 90 per cent of the students were underachieving. "We had a toxic culture and I had to get very brave, we had to go through a lot of crap."
Jepsen knew that prioritising Māori learners – 40 per cent of the roll – was essential. "For far too long Māori have been a disproportionate group of underachievers in our country and I don't accept that. What would we say if 60 per cent of Pakeha children were not achieving? I don't believe we would accept that."
When Bennett joined the team, he observed a sense of uncertainty amongst students and parents in identifying themselves as Māori. "They wouldn't fill out the ethnicity question on the enrolment form. Schools had failed them in the past and they weren't proud of who they were. I'd have to explain that children have to be strong in their identity and feel good in who they are before they can learn. Children with high self-esteem achieve while children with low self-esteem are hard work in the classroom.
"We work hard to make connections. When a new child enrols, I'll ask them where they're from, then I'll go to my map which has all iwi marked on it and match them up with ten children from the same area. It gives them an instant connection, they feel as though they belong. We call it, know me before you teach me."
Next Bennett harnessed the use of the radio station. "At first we were only using it to play songs across the school, but with Māori Language Week coming we decided to broadcast the days of the week in te reo. The teachers loved it because the pressure wasn't on them to get the pronunciation right, and everyone was learning through listening and speaking."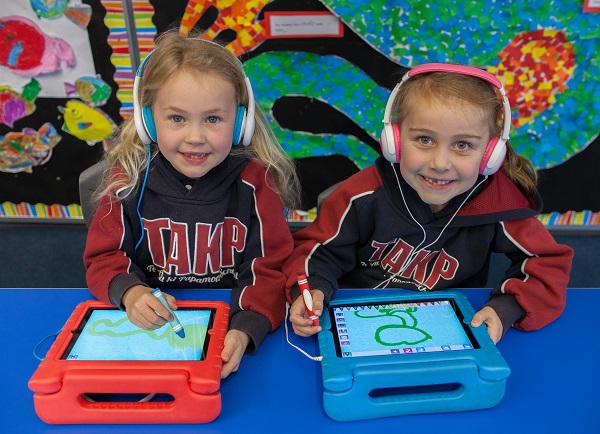 In time, broadcasts from 107.6FM became lengthier and more frequent, and te reo became normalised within the school. In 2014, Te Akau won the education award from Te Taura Whiri I te Reo Māori /Māori Language Commission for use of te reo in a mainstream setting. All 688 students are involved in a kapa haka group.
Bennett says this is just the beginning. "One day, I'd like our children to be able to speak Māori at the shops, to order a latte in Māori. In the meantime, I'd like our teachers to gain accreditation for teaching and learning te reo in the same way we have gained accreditation as Apple teachers."
All Te Akau teachers are Apple teachers, and all digital equipment is fully funded by the school with every child being issued with an iPad on their first day. Programs and educational apps are made in-house by teachers and personalised to suit individual student's needs.
The school's digital programme has stepped up a notch since the appointment of assistant principal and IT whizz, Paula Jamieson. One of Te Akau's five Apple Distinguished Educators (there are only 27 in New Zealand), Jamieson is such a frequent contributor to iTunes U that her multi touch books are fast-tracked, appearing on site within 24 hours of submission.
Jepsen says that the moderate learner has a far greater engagement and access to the curriculum through the use of technologies. "We understood this when we started the programme, but we didn't expect that we'd have double the output of physical writing with a pen than pre 1:1 digital or that the quality of the writing would be double."
Ten years into Jepsen's leadership, Te Akau ki Papamoa is a very different school to the one he inherited. In fact, achievement levels have been reversed – 90 per cent of students perform at levels at or above expectation, an extraordinary upswing.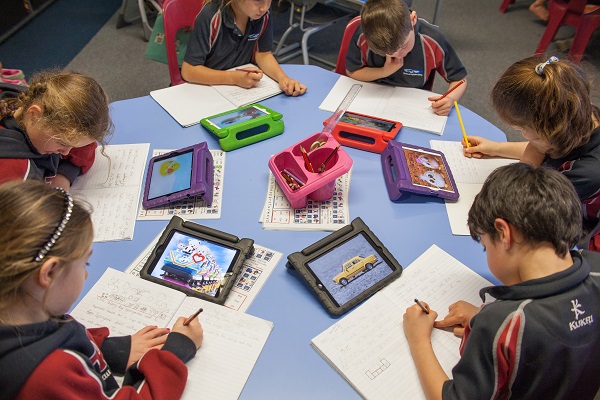 The previously leaky buildings are shipshape, the books are in order and the respect between children and teachers is palpable. It's the quietest school in which I've ever set foot and there's a vibe of professionalism akin to that of a slick business operation – welcoming and highly efficient, not a moment to be wasted.
With engagement and achievement nailed, Te Akau is ready for new goals. "I think we're going to see a far greater use of our maker space and our science curriculum, and more focus on developing thinking skill sets," says Jepsen.
"Bruce is a visionary leader," says maker space leader Jamieson. "He has huge faith in the staff, leading alongside and not from the top. The culture here is fantastic, there's nowhere I'd rather work."
The roll has doubled since Jepsen's arrival, in part because of the huge population growth in Papamoa but also because Te Akau is now a school of choice. And although the decile has risen from three to seven, the ethnic composition is unchanged; 45 per cent New Zealand European, 40 per cent Maori, six per cent Indian.
"Historically people would look either side of us, but now they want their children here," says deputy principal Sharron Adams-Davis. "We have the highest attendance rates across the region; our learners want to be here."
I can well believe it. Heck, I'm not a kid or a teacher, but I wanted to go again the next day. I would have stayed longer but the well-being bell rang at 5pm and no-one is allowed to stay any later.
Two features of Te Akau strike me as quintessentially Kiwi: a pathway leading from the playground to the white sands of Papamoa Beach, and the huge mural above the stage in the hall. Created by senior students, the mural depicts the school's vision, Leading me to lead my learning. The central panel is the waka, the vehicle of learning in which learners, kaiako, whānau, trustees and community are paddling together. The school's history, heritage and locality are all referenced in the pictorial pepeha.
Says Jepsen: "When our learners know who they are and where they come from, they feel connected – and that's when we can unleash their potential."
Te Akau ki Papamoa is a decile seven, English medium primary school in Tauranga, years one to six, with a current roll of 688.