News
Storylines tour takes in 19,000 young readers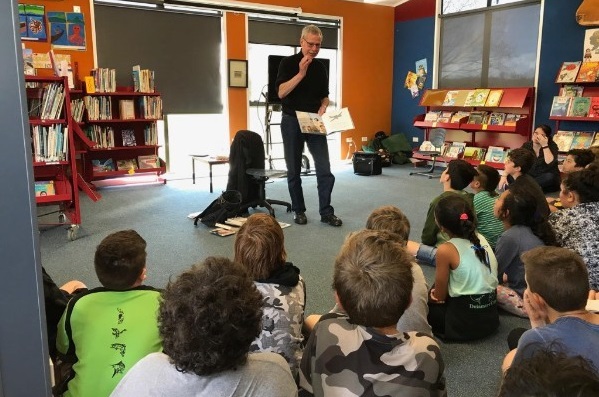 Organisers of the new-look Storylines National Festival say the tour has been a resounding success with more than 19,000 students from Northland to Invercargill visited by leading authors and illustrators.
In the past, Storylines has been a series of family festival days in main cities, but this year it took the form of a story tour through schools and libraries in six regions. Teams of around five writers and illustrators visited in Northland, South Auckland, Waikato, Bay of Plenty, Palmerston North, Marlborough and Southland. Each team spent five days touring the region, visiting anywhere from 22 to 51 schools, early education centres and libraries. Evening events for adults were also included.
The writers included Melinda Syzmanik, Tim Tipene, David Hill, Stacy Gregg, Darryn Joseph, Des Hunt and Fifi Colston, along with leading illustrators Gavin Bishop, Scott Tulloch and Vasanti Unka.
"The feedback from children and teachers has been phenomenal," says Storylines executive officer Gillian Wess.
A typical response by schools came from a Nelson teacher who wrote, "The Storylines Story Bus Tour roared into the Tasman District this week and provided us with four amazing, prize-winning authors of children's or young adults' books. Thanks to the Storylines Trust for providing such an inspirational day to many young readers and would-be storytellers."
In 2018 the Storylines National Festival Story Tour will be back on the road in 2018.