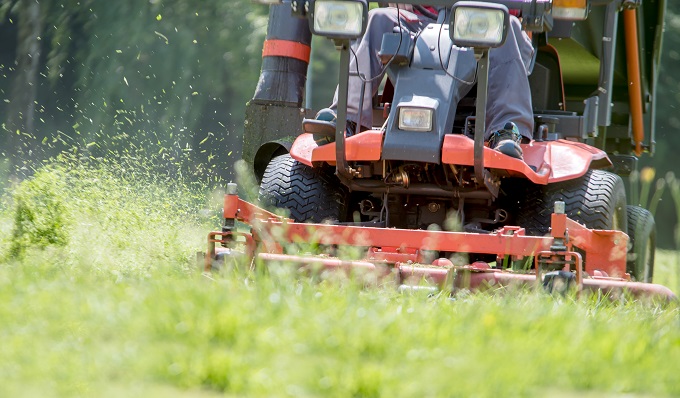 Getting the right mower for your school will depend on the size of the playing fields – and the school's budget, but there are some simple pointers you can use to make the process easier.
Ride on mowers
There are so many ride-on mowers on the market that choosing one is up there with buying a new car.
Catch, side discharge or mulch?
The first decision is whether to choose a mower with a catch, side discharge or mulcher. As a rule, catching will give you the cleanest finish, while side discharge leaves a slightly messier finish but keeps mowing time down. Mulching can achieve both objectives, a great finish and no messy clippings, but must be done in the correct conditions.
For the best mulching results, choose a mulching mower over a mulching attachments as these shred the clippings more effectively. Mulching works well if you mow often and want a pristine lawn. The finely chopped grass clippings fertilise the lawn and help make it more drought resistant.
Flat or hills?
If the school's fields are flat, any ride on is suitable. But many school fields contain slopes and hills in which case the ride on will need to have a low centre of gravity to ensure it doesn't tip.
Another consideration is the length of the grass that requires mowing. Spring and autumn growth can cause grass to take off and a lightweight ride-on mower won't cope well with a heavy load. Long grass can cause the cutting deck to block up or even strain components or a belt to breaking point. A more heavy duty machine is a better investment for these conditions.
Engine
It's important to ensure that the size of the engine is right for the job. If you choose a mower with an engine that's too small for the job, you won't get a long life out of it.
The brand of engine is important, too. Choose a brand which can be easily serviced and for which replacement parts are readily available so any downtime can be kept to a minimum.
Horsepower (hp) can be deceiving. Shaft drive mowers that are zero turn will use power more efficiently than their competition giving you better fuel efficiency. Also consider whether the engine is rated at net (or 'critical') horsepower, or gross horsepower, as this differs by brand and can lead to overrated hp figures.
What's the torque about?
Ride-on mowers have ratings for horsepower, displacement and torque. Horsepower is what makes the machine move forward and accelerate under normal conditions. If you have hills, or you want to tow a trailer full of heavy stones, you'll need more horsepower. Torque is a force, the power generated by the engine that gives a machine its 'grunt' to turn the blades, and to keep turning them under stresses like long, wet grass. The higher the torque, the better the performance under strain.
If your lawn is flat, your speed consistent and the lawn will be mowed regularly, you don't need to pay for as much horsepower or torque as someone whose lawn is steep or who is going to be mowing rougher areas of lawn.
Which brand?
Grass is different around the world. What works well on an English lawn or an American field may struggle with the short, often wet grass of New Zealand. Choosing a mower with a long history in New Zealand will mean that it's been designed for or been adapted for Kiwi conditions.
Transmission
A ride on mower with hydrostatic transmission is much easier to operate than a lawn tractor with manual transmission. Mower users are able to change directions even in many challenging corners or tight spaces, and the mowers function well in both wet and dry conditions. On the other hand, hydrostatic mowers can be as much as double the cost of normal gear-driven mowers.
Tractors
As you can imagine, there is also a vast array of choices for tractors here in Godzone. And again, the right tractor for your school will depend on what you're wanting to do with it.
Clinton Russell, director of Truck & Tractor Services in Rotorua, offers the following advice:
"Tractors are great for big lawns, you can attach a big mower and do the job much more quickly than with a ride-on mower. So if your school's got rugby fields, you'll find a tractor much more efficient. A school tractor will need turf tyres rather than big lugs which will damage the grass.
"A tractor will also give you a lot more flexibility than a mower; you can spread fertiliser, use spikes to aerate the soil, use a front-end loader to dig up the garden, and tow a trailer to chuck rubbish into as you go.
"The main thing is to have someone nearby who is capable of servicing and maintaining the brand you choose. They can be very expensive to maintain if you let things get out of hand. We advise a full service every 250 hours of use or every 12 months, whichever comes first."