News
Teachers flag student vision problems missed by health checks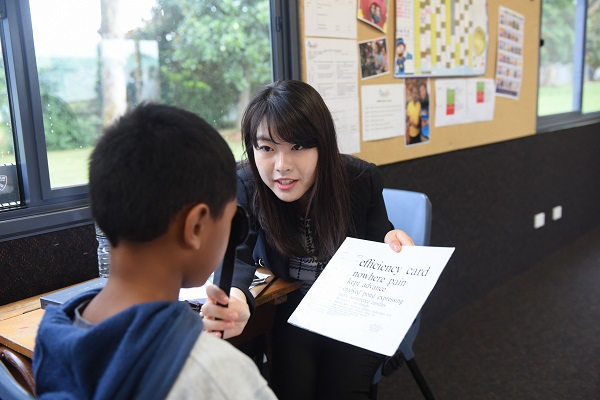 Teachers play a crucial role in identifying poor vision problems amongst students because of gaps in the healthcare system, say researchers from Massey University.
The gaps have come to light in a recent study to examine changes in the learning outcomes of school students with previously undiagnosed vision conditions which had now been treated. Noticeable changes in their academic, social and physical performance were evident and that had raised a number of questions about why the children's vision problems had not been detected sooner.
The research followed the work of the Essilor Vision Foundation, a local charity which found more than 30 per cent of the 3,000 low decile school students screened by volunteer optometrists had a previously undetected vision issue.
Study co-author Dr Julia Budd says the existing 'before school' vision check screens for amblyopia (lazy eye), distance acuity and strabismus (squint) but does not check for mild to moderate hyperopia (farsightedness) or near distance acuity.
"This means that common refractive errors of mild to moderate hyperopia with or without astigmatism (blurred vision) or myopia (nearsightedness) are not identified despite these issues being recognised as leading to poor school performance and behaviour," she says.
Dr Budd says questions were also raised about the type of tests and frequency of the vision screening being undertaken.
Her co-author Alison Kearney says teachers play a major role in identifying poor vision problems, encouraging the use of glasses and evaluating the improvement better vision has on academic performance and social interactions.
While some students had unconsciously found ways to compensate for their poor vision including moving to desks which were closer to the board, more research was needed.
"We need to give schools the tools to help identify the behavioural signals associated with eyesight issues and introduce systems which help us track these students through their education to ensure their condition is monitored overtime," she says.
Foundation optometrist Heather Laird says it's disconcerting to know that the majority of these conditions are treatable and addressing them would have a profound impact of the lives of some of our most vulnerable young people.
"Our eyesight plays a key role in our social, academic and physical development. It is saddening to hear that there are potentially hundreds of thousands of Kiwi kids in their formative education years who are having to manage each day with an eye condition that is easily treatable.
"The charity's goal is to for every child in need to be screened and treated before it negatively impacts their development or the condition worsens."