News
Schools and youth recognised for courage and community work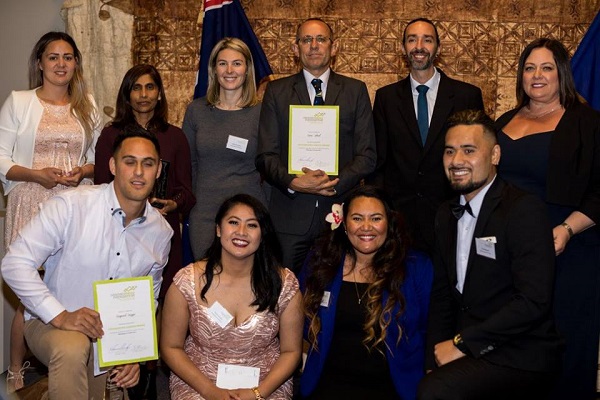 An group of 15 young New Zealanders have been honoured for their courage, determination and community contribution, as part of the Graeme Dingle Foundation's 2017 Excellence Awards.
The evening acknowledged the significant accomplishments of young Kiwis, many who have climbed big mountains to build resilience and self-belief in their lives. It was also a celebration of more than 24,000 students, their mentors, leaders and volunteers who have been involved in the foundation's various youth development programmes over the previous 12 months – including Kiwi Can, Stars, Career Navigator and Project K.
The foundation's namesake, mountaineer and outdoor education pioneer, Sir Graeme Dingle, says the awards are an important opportunity to showcase inspiring young people who exemplify the goals and values of the foundation.
"Our goal, is to transform young lives forever, with a vision that all young people can be confident contributors to New Zealand. By the year 2025, our mission is to have helped 50,000 young people in our programmes each year.
"The awards highlight not only some of the circumstances and harsh realities a lot of our Kiwi kids face, but most importantly, celebrates their courage and resilience to be able to come out the other side.
"It's these young people who will serve as role models to those in similar situations, helping us to challenge others to change their perceptions of what they think they can achieve. And for that, they absolutely deserve recognition. We could not be more proud of each and every one of our winners."
This year's Sir Edmund Hillary Youth Achievement Award winner went to 19-year-old Jessica Collins from Tauranga who said Project K saved her during one of the lowest and hardest times in her life.
"Before Project K my goals were to make it to my 18th birthday and not be barefoot and pregnant. I went on the youth benefit at 15 and stayed in school and passed year 13. I am now 19, studying art and Māori at Massey University and enjoying life. Every single aspect of the programme gave me the ability to do this. I honestly with my whole heart don't think I would be alive today if it wasn't for Project K."
The full list of 2017 award recipients is as follows:
Sir Edmund Hillary Youth Achievement Award
For a Graeme Dingle Foundation Project K graduate who has gone on to achieve excellence.
Jessica Collins – former Otumaetai College, Bay of Plenty
Outstanding Kiwi Can School Award
For running an impeccable Kiwi Can programme and producing wonderful results
Manurewa West Primary, Auckland
Kaeo School, Whangaroa
Kiwi Can Outstanding Leader Team Award
Presented to Kiwi Can leaders to recognise their wonderful contributions, making a difference to the lives of young people.
Raynard Haggie and Andrea Thomas, Huntley West School, Waikato
Outstanding Contribution from a Stars Peer Mentor Awards
To acknowledge the great contribution of Stars peer mentors who are making a significant difference in the lives of juniors in their school
Haydon Dickie, Hornby High School, Canterbury
Lahaina Solomon, Tokoroa High School, Waikato
Career Navigator Outstanding Achievement Award
To acknowledge outstanding progress made by a graduate of the Career Navigator programme.
Kaha Head, Fraser High School, Hamilton
Project K Excellence Awards
For graduates of Project K who have shown outstanding commitment to the programme, and made significant changes in their lives.
Yashveer Kumar, One Tree Hill College, Auckland
Kaylen Engu Key, Tangaroa College, Auckland
Ofa Lavemaau, Northcote College, Auckland
Amie Marchant, Otumoetai College, Bay of Plenty
Carta Buckley, Mt Maunganui College, Bay of Plenty
Sorcha Stempa, Sacred Heart College, Wellington
Emma Jeffery, Hornby High School, Canterbury
Outstanding Volunteer Award
Presented to a volunteer in the wider Graeme Dingle Foundation community who demonstrates their commitment and dedication to the Foundation's mission and values, through their work to support the Foundation's programmes.
Byran Theunisen, Project K mentor, Auckland