News
Te kura teacher wins scholarship for digital prowess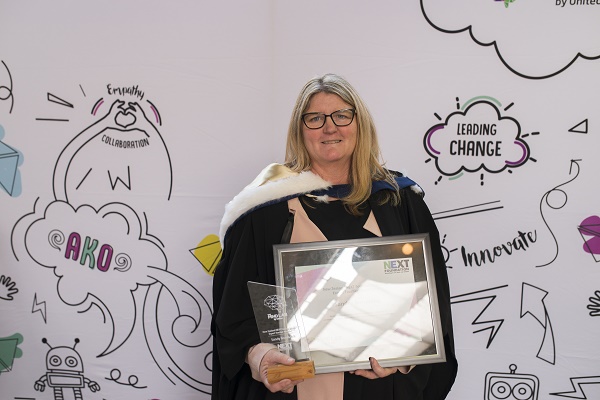 Sandy Bornholdt from Mt Manganui's Te Kura o Matapihi has been recognised as the country's top digital teacher, winning the prestigious NEXT Expert Teacher Award at The Mind Lab by Unitec's most recent graduation.
Ms Bornholdt completed The Mind Lab's Postgraduate Certificate in Applied Practice (Digital & Collaborative Learning) and alongside more than 200 fellow teachers from the July 2017 cohort.
She was awarded a $5,000 scholarship from the NEXT Foundation for her work to help children at the Māori medium school where she is based to become technologically savvy.
Runners up Janet Jones-Pooles from Christchurch's the Blind and Low Vision Education Network and Emily Bagrie from Auckland's Elim Christian College were also recognised for the unique ways they have incorporated new and emerging technologies into their classrooms.
The NEXT award celebrates a teacher's commitment to broadening their skills to help students gain the skills needed for 21st century careers. Ms Bornholdt says the postgrad programme was an "incredible opportunity to delve deeper into aspects of contemporary education".
"The tamariki at the kura I work in are incredible and deserve the best. One of our philospohies is ka turangatira ai ta tatou tamariki i roto e te ao maori me te ao whanui – to be confident, life-long learners in the Māori world as well as the wider world," she says.
Frances Valintine, founder and chair of The Mind Lab by Unitec, says the partnership with the NEXT Foundation shares a vision to provide Kiwis with the skills and confidence to embrace the opportunities of our increasing technological world. "The skills our teachers gain through our postgraduate programme empowers both the teachers themselves and their students – our future leaders – by equipping them for the jobs of the future."
Launched in 2014, the NEXT Foundation plans to invest $100 million into The Mind Lab over the next ten years. It provided 1,350 teacher scholarships in 2017 to allow public school teachers to undertake The Mind Lab's postgraduate programme.