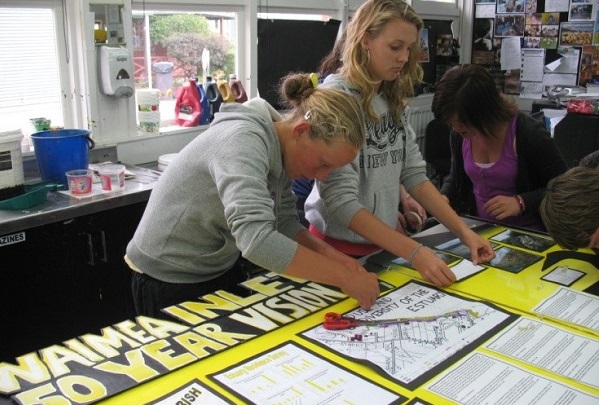 How a cohort of 14 year olds kickstarted the regeneration of the South Island's largest estuarine system, and got the community committed to their 50 year plan.
Learning time outside the classroom can be used very well to facilitate education around sustainability and caring for the natural environment. This can be as simple as short visits into the school grounds and local community, or more ambitious trips to farms, factories, offices and natural settings such as a forest, beach or national park.
At Waimea College in Nelson, students engaged in an ambitious project on the sustainability of the Waimea inlet, the South Island's largest estuarine system. This was an often-overlooked feature at the college's back door, with estuaries and estuarine margins home to rare and threatened native plants and animals, as well as important populations of coastal wetland birds and migratory wading birds.
The estuary and those who played, worked and lived around it, provided and authentic outside-the-classroom context for students to engage with, and all 300 year ten students were involved.
Starting out
A 50-year vision was required, a tall order for 14-year-olds. They started with information-gathering, listening to visiting speakers who explained the issues and opportunities related to the inlet. They learned that the inlet was recognised as a nationally important example of this type of ecosystem.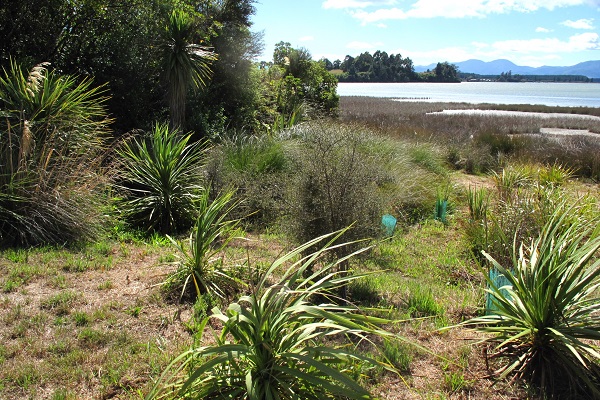 Students then chose sustainability topics they would like to explore from across a range of subject areas such as science, social studies, technology – design, wood and fabric, Māori history, media, visual arts and multimedia design. Topics that students raised included: preserving biodiversity, managing sediment and erosion, enhancing recreational opportunities, researching early Māori habitation and ascertaining stream health. Together they planned investigations and formulated questions for landowners, scientists and businesses.
Next students visited sites around the inlet and worked with the community to research issues and opportunities. They used questionnaires they had created, compiled digital records of their findings and got stuck into experiential activities.
They found out that the inlet ecosystems were under threat from:
Sedimentation owing to excess silt flowing in and building up from land clearance and modification

Pollution from sewage, industrial wastes and agricultural run-off

Invasion by introduced weed and animal pest species

Reclamation and extraction of sand, gravel and/or the land itself, which had hardened the estuarine margin. This reduced the ability of native habitats and species to migrate inland in response to future sea level rise. It also limits the opportunities to restore native vegetation communities

Fire. Students learned that fire could completely destroy ecosystems and property, and be extremely costly for those affected. For example, decades of restoration effort at Awarua wetland in Southland were destroyed when one careless match was dropped. Information signs and raising community awareness of fire risk (especially around amenity and picnic areas) are extremely important to reduce risk and can be an integral part of a well-planned restoration programme.
All of these pressures affect the extent and quality of the habitat available for native plants and animals. They also negatively affect the important role that the estuary plays in providing ecosystem services such as recreational activity (e.g. swimming) and healthy fisheries.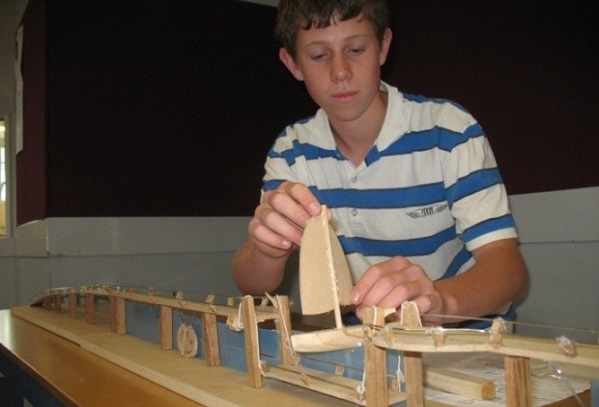 The Waimea College students had plenty of support from their community, particularly the New Zealand Fish & Game Council, Royal Forest and Bird Protection Society, the Ornithological Society, stream scientists, iwi, cycleway advocates, developers, landowners and airport management.
They tested water quality, mapped out different land uses, interviewed stakeholders, examined bio-diversity, and constructed strategies. Other activities generated from their project included designing and creating models of bridges for the proposed cycle way, making models of a future inlet, producing information brochures and videos to share with the public, and designing and printing t-shirts with an environmental theme.
What happened next
Armed with all this information, students worked together to formulate a 50-year vision for the inlet. Each of the college's four houses – Rutherford, Hillary, Cooper and Shepherd – presented their vision boards to a panel of experts comprising local councillors and conservation leaders. Students also used song, dance, speech and digital displays to share their findings and ideas.
Follow up
With so much ground work done, the school was in a strong position to sustain the initiatives with later year groups. The following year, the year ten GATE class (Gifted and Talented Education) built upon their findings to develop social action projects. Again, LEOTC was a key element – contacting inlet stakeholders, visiting sites, carrying out investigations in situ and implementing actions.
Safety and planning considerations:
Bus trips were run to several destinations around the Waimea Inlet. A parental permission slip was required and the E4E coordinator organised the safety management. EOTC experiences of this nature falls into the activity type of 'Off-site – short visits in the local community – lower risk environments, and the school's project manager organised permission slips for bus trips to destinations around the inlet.
More information about the Waimea College project around caring for the Waimea inlet can be found at TKI, Teaching Resources, and on the Department of Conservation website.