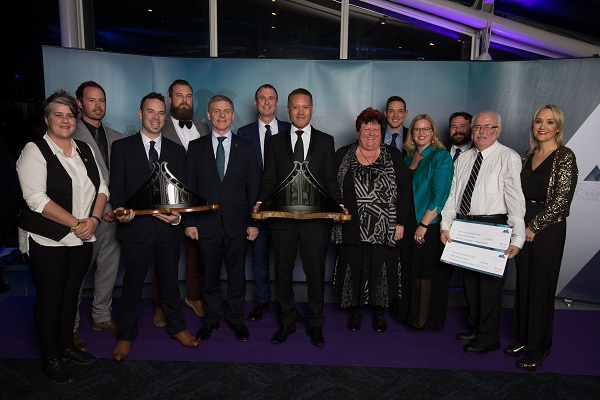 A decile one school in South Auckland is celebrating its phenomenal, eight year climb from a school on yearly reviews to taking out the Supreme Award at the Prime Minister's Education Excellence Awards.
Manurewa Intermediate's leadership team has been praised for transforming the school, a journey described by principal Iain Taylor as "bloody hard work".
Mr Taylor, who was president of the New Zealand Principals' Federation in 2016, and his team restructured in 2008 to improve the quality of teaching, upgrade the school's physical environment and instil within their students a love of learning.
Today the school is a beacon of hope for struggling schools, with learning outcomes for students significantly improved.
"Manurewa Intermediate School has radically changed the lives of all their students, and they have taken their community along with them," says education minister Nikki Kaye.
The school also won the award for Excellence in Engagement, reaping $50,000, as well as a professional development opportunity and the chance to represent New Zealand education.
Other award winners include West Auckland's Waitakere College which won the the award for Excellence in Teaching and Learning, shared jointly with Te Puna Wai Ora Invercargill Middle School.
For Waitakere College, the award is a culmination of an action plan established in 2013 following disappointing results in NCEA, 2012. Curriculum and course design were adapted to respond to student interests, including a focus on powerful learning relationships, e-learning and innovative vocational pathways, such as the Medical Science Academy. This led to a steady lift in achievement each year, particularly among Māori and Pasifika students, and above national averages.
Changes were underpinned by monitoring and forecasting of individual achievement together with mentoring and coaching for students, and through celebrating identity and success among Maori and Pasifika students.
Judges commended the college leaders for focusing on "lifting capability and unlocking potential across their talented staff".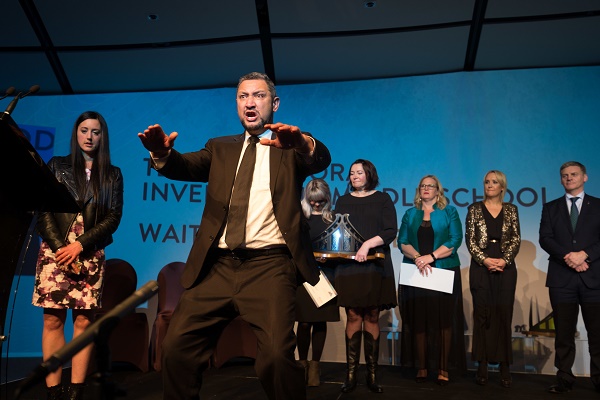 Joint winner Te Puna Wai Ora, Invercargill Middle School, was commended for its innovative oral language programme which was developed in response to a marked increase in the number of learners who were new to English language.
Teachers recognised that their existing practice did not empower students to speak and develop evaluative, critical listening skills so they formulated a plan to make big changes. Their teacher inquiry focused on developing dialogic teaching, together with talking tools and signals (talk moves) that were modelled as part of teaching practice.
The impact has been far reaching, with improvements in students' oral language, confidence, and participation that have also lifted achievement in literacy more broadly.
In a first for the awards, one school was awarded a commendation. Halswell School in Christchurch was praised for its considered shift to a new teaching style when the school had to be rebuilt following the earthquakes.
Between 2013 and 2015, teachers engaged in a professional learning programme focused on the pedagogy of the new environment. Outcomes of this approach include improved engagement and achievement among students, particularly in writing, and greater professional collaboration between teachers.
The award for Excellence in Leading was made jointly to William Colenso College, Hawkes Bay, and Te Kōhanga Reo ki Rotokawa, of Rotorua.
The Napier college was recognised for responding to a self review by transforming their programme of teaching and learning. This led to raised achievement of students, especially among Māori learners.
Involvement in Te Kotahitanga in 2010 supported a change which has transformed teachers' knowledge of culturally responsive pedagogy, te ao Māori, restorative practice, curriculum design and delivery.
Teaching practice is more responsive, engaging and inclusive, which has led to a sustained lift in student engagement and achievement in NCEA.