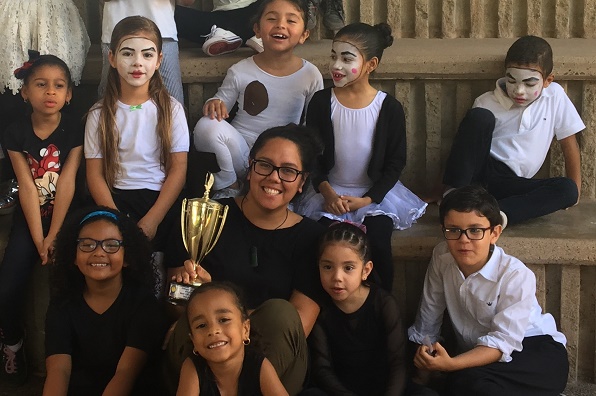 The Māui Dolphin Challenge, a WWF-New Zealand campaign, has 16 passionate young supporters following its work from 12, 000 km away in South America.
The class of 16 students, ages six and seven, from Colegio Albania in Colombia's La Guajira region, have taken up the WWF-New Zealand challenge to do something involving the number 63 to support efforts to save the last 63 Māui dolphins, the smallest and rarest marine dolphin in the world. The children's teacher, New Zealander Nicole Panoho, is helping the class to write 63 stories in both Spanish and English.
"Writing the stories in English can be difficult but the kids are really excited about the challenge, and have been asking to write stories all the time.
"A big part of my goal as a teacher is that my class can really connect with the things we learn about, and that they can communicate their ideas, opinions and feelings confidently.
"The inspiration to share the story of Māui dolphins with my students came directly from them, after they enjoyed hearing New Zealand Māori legends about Māui and completed a lesson about interconnectedness of living things.
"They understood how humans can have a positive or negative impact on the environment, and that they have a responsibility to take care of their planet. The students felt sad that there are only 63 Māui dolphins left.
Back in New Zealand, a number of schools and universities are backing the challenge. At Kohia Terrace School in Auckland, students have committed to picking up 63 pieces of rubbish for four weeks. Kohia teacher Katie Williams says, "The kids are super excited about this. We have done many activities about Māui dolphins including written reports, art work, and picking up rubbish every day and tabling it.
"At school our focus for this term is endangered and extinct animals, and we chose to study Māui dolphins – a New Zealand native and found really close to Auckland, which the children could easily relate to."
WWF-New Zealand campaigner David Tong says, "Māui dolphins are found only off the west coast of the North Island – nowhere else in the world, and they're right on the brink of extinction.
"Together we're aiming for a world where Māui dolphins are a common sight in the waters of Aotearoa New Zealand, but to achieve this goal we need help."