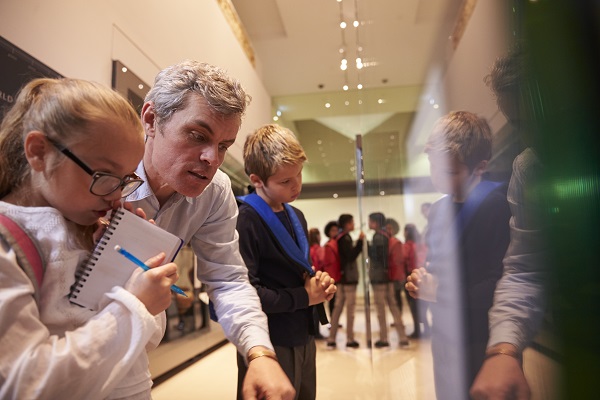 Memories of school trips stay with us long after we've left school. Not only are they an opportunity to break in routine and explore the big, wide world, they serve as a valuable bonding experience for students and staff alike.
Whether it's as simple as a walk around the local town centre or as elaborate as a night at the opera, school trips are an opportunity for students to make connections between what they have learnt in the classroom and the wider world.
In New Zealand, any curriculum-based activities that take place outside of the school are defined as Learning Experiences Outside the Classroom (LEOTC). It could be a sports trip, a school camp, or a visit to a museum or gallery. According to the Education Review Office (ERO), these experiences give students opportunities to demonstrate key competencies, particularly managing self, relating to others, and participating and contributing.
While most children have the opportunity to experience a residential school trip at least once during their school years, most LEOTC outings are day excursions. Despite the constraints of time and money, there is an awful lot that can be sandwiched into one day.
Nature
In New Zealand, we are fortunate to have a huge range of parks and reserves, and exploring the great outdoors is part of our culture. The Department of Conservation (DOC) suggests that time is key to making the most of nature trips, especially with young children. "Taking time and allowing space for play and curiosity will turn a walk into an adventure. Listen and watch the rhythms of nature.
Getting children to lie on a forest floor and listen to the sounds of nature can be a magical experience. Ask how many different bird calls they can hear, whether they can hear the creak of the trees or leaves falling. Ask open ended questions to encourage their curiosity and thinking, such as: What do you think has happened here? How are they alike? How are they different? How could we find out more?
Trips to botanic gardens will enhance learning about sustainability, while visits to zoos and aquariums bring home messages about conservation and caring for the environment.
Auckland Council facilitates school hook ups with park rangers in a local park of choice. Park rangers will introduce the park and discuss with students the importance of parks, the different types, who looks after them and who uses them.
Culture
At Te Papa, students can explore the national museum's collections using cutting edge technologies at Hīnātore, the new learning lab. Hīnātore is equipped with a virtual reality studio, studio, 3D printers, 3D scanners, touch tables, and telepresence technologies that enable learners to connect in real time with learners around the globe. Learners can explore a huge range of experiences including voyaging the Pacific in waka to creating digital art.
Opportunities to explore Maori culture include marae visits, traditional craft classes and kapa haka festivals. At Te Hana Te Ao Marama, north of Auckland, school groups can share authentic Maori experiences including a powhiri, hangi food and a night on the marae, while at Te Puia in Rotorua, students can observe cultural performances and see the mighty Pohutu geyser.
In South Auckland, the Mangere Mountain Education Centre welcomes visitors to explore its collection of artefacts, and to learn about the volcanic formation of the mountain and the life of its Maori inhabitants. All education programmes offered at the centre are aligned with the school curriculum, and have strong bicultural and environmental education elements.
Arts
Many galleries and arts centres align their programmes with the New Zealand curriculum, addressing achievement objectives for all year levels. The Corban Estate in West Auckland is one such learning centre, and provides workshops ranging from Van Gogh-inspired mixed media to kite making using traditional Maori technology, and an introduction to abstract impressionism.
In South Auckland, the Manukau Beautification Trust runs an annual event called Eye on Nature, the highlight of which is a wearable arts competition. The popularity and success of the show is such that organisers are going to run the next year's show as a standalone event. "We are also looking to open it up Auckland-wide," says operations manager Lincoln Jefferson. The highly contested event tests students' ability to design and innovate when choosing materials for their costumes – with remarkable results.
In Taranaki, schools can visit the Govett-Brewster Art Gallery and experience the work of extraordinary artist, Len Lye. There is even subsidised bus transport available to and from the gallery for selected schools.
Schools in the south can access more than 100 wide-ranging school education programmes on offer at the Dunedin Public Art Gallery. These include kiwiana, light, movement and colour, construction, sculpture and mixed media, and most can be adapted to suit any age between new entrant and senior secondary.
World War I in virtual reality at Auckland Museum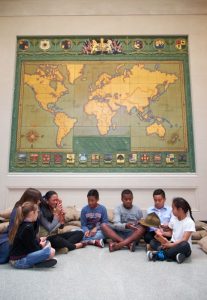 Exploring war history will become a lot more hands on when a new gallery, Pou Kanohi New Zealand at War, opens at Auckland Museum later this year. Visitors will be able to wear virtual reality goggles to see a field artillery gun at scale, and even take the controls of a WW1 aircraft in a reconnaissance mission over the trenches.
Students will also be able to explore the standard issue kit that a New Zealand soldier carried into battle, and to try on an iconic Lemon Squeezer hat and great coat.
It's a place where students can learn about New Zealand's unique story of war and to consider why, 100 years later, it still matters, says Wendy Burne for Auckland Museum.
The new gallery will complement the Museum's Pou Maumahara Memorial Discovery Centre, which opened last year, a space where students can explore the stories and collections of individuals involved in the New Zealand war experience.
Pou Kanohi New Zealand at War opens October 12, 2017, the 100th anniversary of the Battle of Passchendaele.
ROCKUP delivers the mountain to you
Would you like to help students develop self-esteem, confidence, trust, teamwork, safety awareness and positive behaviour?
ROCKUP specialises in the delivery and operation of adventure-based learning activities and outdoor safety education, and often for the cost of a bus can deliver "the mountain" to your school or camp.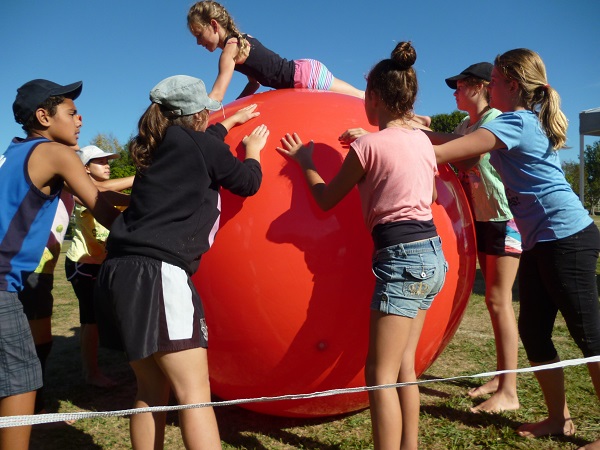 With more than 30 activities to choose from, including our 8-metre high mobile rock walls (with inbuilt auto belays), archery, clay-bird or rifle shooting, kayaks, giant earth balls, inflatable obstacle courses, dunking tanks, log jousting, giant earth balls, webs or ski-boards.
ROCKUP's rock-climbing and other programmes are very effective in creating opportunities for students to develop positive behaviour and to develop and achieve a higher range of inter-personal communication and practical skills. These programmes incorporate safety in the outdoors, buddy networking, team work and communication, goal setting, consequences for actions and strategies, rock-climbing and abseiling techniques in a safe, supportive environment.
Cliff hanging a joy – even for nervous explorers
The prospect of allowing students to dangle off a cliff edge during a school trip is not for the faint hearted board of trustees. But visitors to Taupo Bungy & Cliffhanger, where visitors can choose between a water touch bungy and an extreme swing, consistently report the experience to be enormously rewarding.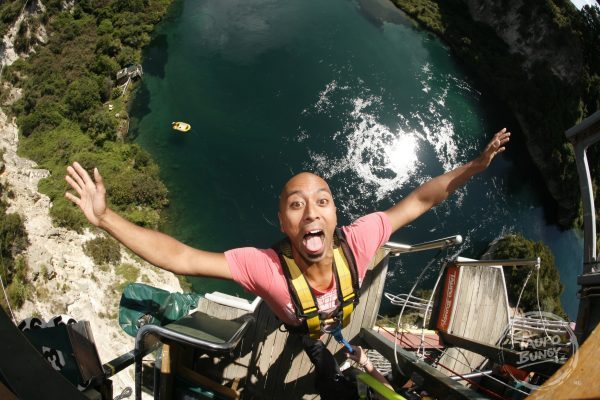 The adventure organisation hosts around 30 student groups each year, and most visitors report it to be the most exciting day of their itinerary, says spokesman Sonya Warne.
"There are lots of nervous giggles, then anxiety and concern when they are on the edge of the bungy or dangling mid-air on the swing, then huge encouragement from their peers and a feeling of pride in having faced their fear."
The company adheres to a strict code of conduct. All certifications are readily available to organisers, including Risk Assessment Management, Health & Safety Policies and Liability Insurance Certifications, and all participants are required to complete a waiver form, signed by a parent if under the age of 16 years.