Profiles
First zero net energy school reflects on lessons learned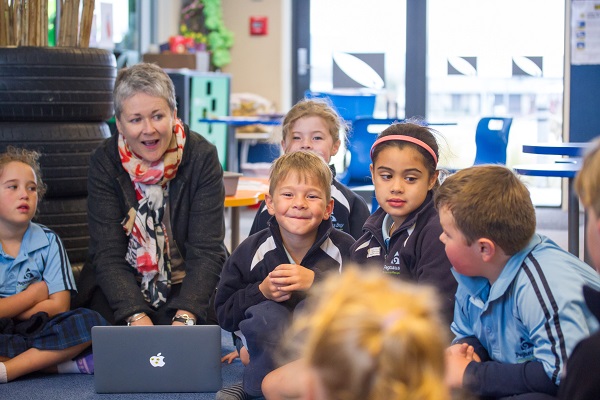 Pegasus Bay School, a full primary 25 km north of Christchurch, is a thoroughly modern institution – and the country's first 'net zero energy school'.
The first Canterbury school to be built post-earthquake, Pegasus Bay is a slick-looking collection of airy teaching spaces where students choose between collaborative or quiet areas, and use equipment powered by solar energy.
This is New Zealand's first net zero energy school with design features that include solar panels for hot water, photovoltaric panels that produce the school's electricity, lights that automatically turn down in case of sufficient natural light, temperature sensors for areas with heating, thicker insulation, better glazing, and natural ventilation strategies.
The school, which opened in May, 2014, to much fanfare from the Ministry of Education, is the result of seven years' planning and a budget of $15.6 million. However, the excitement of moving into a purpose-built modern learning environment with eco-friendly features brought with it some huge challenges for the school community.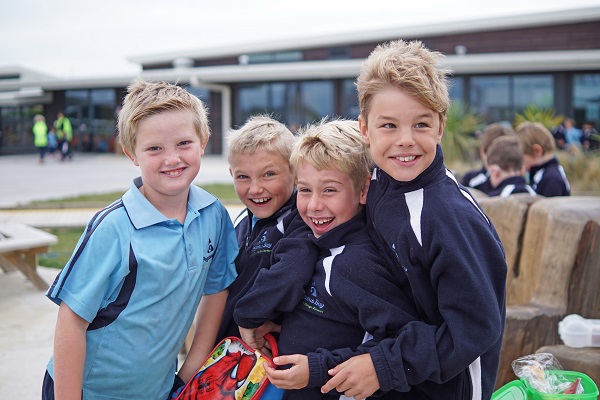 Outside interest in the school was such that the administration team was overwhelmed by requests for tours and information. "It was unbelievable," recalls principal Roger Hornblow. "The ministry helped with some extra staffing, but the time and energy put into the tours was huge. I kept saying, 'To whom much is given, much is expected' and so felt compelled to honour each tour. Being one of the first to make the shift to modern learning environments (MLE), there was very little guidance or assistance available to us in the early stages of our journey and so we made a conscious decision to offer help to schools."
Another big challenge was managing the school's rapid growth. Originally a small country school in Waikuku, the roll began to swell soon after construction started on a new town at nearby Pegasus Bay.
"When I joined Waikuku in 2007, our roll was 70. We started here with 250 and we expect to grow to well over 500 this year," says Mr Hornblow.
"Going from a staff of four teachers to nearly 40 staff in total, has been huge, let alone the pedagogical journey to maximising the potential of MLE and developing our vision and systems for collaborative teaching. We were building the plane while flying it.
"The shock of the new, coupled with the romance of the past, are two things you need to educate parents and staff through, so they can knowledgeably embrace the challenges and successes of MLE."
The physical move from a little country school to brand new premises required further adjustments. "Waikuku School was 140 years old when we left and it had an old hedge to climb in, a swimming pool and a good playground. When we arrived at Pegasus Bay, we had stunning buildings but we came to blank grounds (apart from the netball courts) and had to start from scratch because there was no ministry funding for any playground equipment. We got a grant from Mazda Foundation for a community garden then the rest was over to the Board of Trustees (BOT) and our Parent Teacher Association (PTA).
"Three years later we are still fundraising and setting up our grounds. As well as the community garden we have a big spider web, a large tyre and rope playground, and a scooter track. The junior playground is about to be installed. The expense and time spent has been huge despite trying to source so much cheaply – another hidden cost with a new school."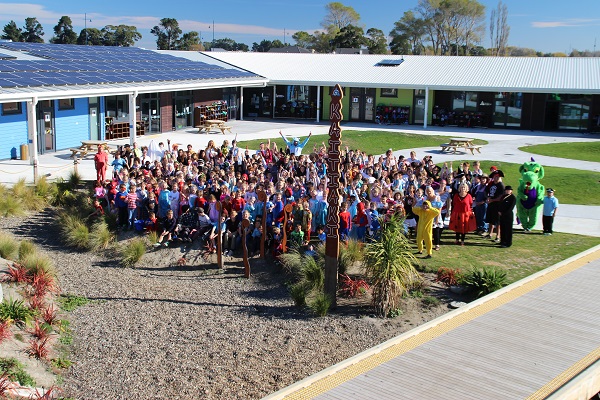 Staff are also still dealing with many property issues. "There were 80 items still on our defects list after our first 12 months. The roll continued to grow so we have been working on stage two, and have just opened two stunning learning communities (LC) for new entrants and year ones. It's meant that we could really focus on the needs of juniors, and lessons learnt from the first stage. We know we are very lucky but staff, BOT and PTA have worked incredibly hard getting us to where we are now."
Away from the new learning spaces, children run barefoot, and take frequent excursions to coastal parks, beaches and wetlands. There are optional academies including golf at nearby Pegasus Golf Course, surf lessons at the local club, and science in which children can choose to take part in a biota node project at Tūhaitara Coastal Park.
Wherever they are, whatever they are doing, students are reminded to be kaitiaki, guardians. "People say that we need to leave a better planet for our children – we say that we need to leave better and more informed children for our planet," says Mr Hornblow. "As our children progress through our school they will have hands on experiences with our community and area that ensure they have a kaitiaki mindset."
Reflecting on the school's journey so far, Mr Hornblow cites prototyping as a critical stage in moving to MLE pedagogy.
"The prototyping phase was so important and many schools leave this out. Prototyping spaces and equipment gave pupils, staff and parents time to question, adapt and have positive seeds sown. Principals and teachers need to remember that MLE is not a franchise that you just buy and install – it takes time and the right mindset. The MLE journey is as important as the destination.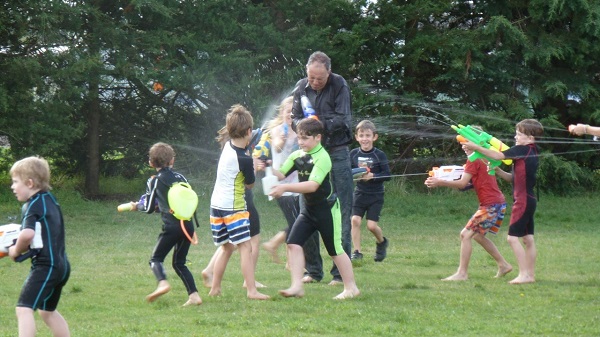 "In our pedagogical journey we have been deliberate about giving staff the professional freedom and inspiration to develop systems they feel are responsive to the needs of their students. At the end of last year, we talked about the end of 'sandpit time' and building/playing/modifying systems for planning, collaboration and assessment. Now we are at the stage of unifying the practices through lessons learnt and successes experienced. This organic way rather than top down has set us up with systems that are already showing increased levels of engagement and achievement for pupils. In saying that, MLE is not the silver bullet that education has been looking for to change the world. There are some children who struggle in MLE just as there are some children who struggle in the single cell set up. What has changed is the collaborative approach to planning, assessing and teaching, and the robustness, options and passion that this offers to students and teachers. There is so much research around the effectiveness of this approach that when schools unpack this and apply it to what is taught, how it is taught, as well as the learning environment, the results begin to happen."
Pegasus Bay School is a decile 10, state primary school for students in years 0 to 8. It is located in the Waimakariri district of Canterbury and currently has a roll of 430.