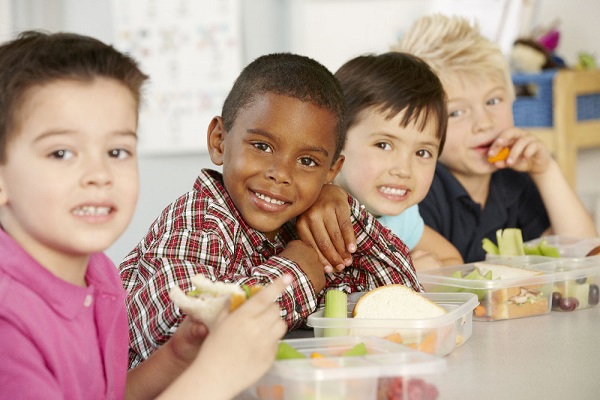 Given the increasing availability of independent lunch providers, and changes to regulations around food services, it's time to rethink how your school manages its canteen or tuckshop. Is it providing the sort of food promoted by the school's healthy eating policy? Is it profitable? And is it the core function of a school to physically provide such a service? School News looks at the choices available for canteens and tuckshops, and which model will best suit your school.
Schools with fewer than 350 students will be operating their canteens and tuckshops at a loss if they are not fully costed, says David Chapman from school food provider, Lunchonline. "They need to account for all costs and not consider the labour free, or the buildings and equipment as part of the school overheads. At the other end of the scale, a school with 800 students should be able to drive a profitable canteen operation if they meet their students' expectations on food quality, choice and service.
Johannes Tietze of Champion Tuckshops agrees. "Consider whether it's time to remove non-core services like the canteen from education and pastoral care departments, that is, get a teacher to teach and a food expert to do the food." The tuckshops are part of The Libelle Group which also provide catering services.
Mr Tietze says schools need to evaluate their food service to check whether it's 'cutting the mustard'. "If it's not, see who is out there, go to tender if required, make the choice then let the professionals do their job."
"The first decision a school needs to make is whether they need to provide a canteen/tuckshop for the benefit of the students," says Mr Chapman. "There may be compelling reasons why they should or is it just fun to have the parents involved in the weekly sausage sizzle?
"Online service providers are flexible, and keen to work with the school to provide a solution fit for purpose. They are not competing with the canteen, they are just providing greater opportunities. So if the school wishes to continue with the canteen and is keen to explore how they can improve the service and choice, then a quick visit to an online lunch provider will start the ball rolling."
It's a solution gladly taken up by Paparoa Street School in Christchurch. They have a PTA-operated canteen to provide school lunches which used to handle cash but now handles orders online only.
"We were using Lunchonline to order Pita Pit a couple of days each week and it looked like a smooth, efficient operation," says lunch coordinator Jo Dobson. "I asked them whether the school canteen could be a provider just like Pita Pit, and how it would work. Very quickly we saw the benefits of having the orders received online. We no longer had to reconcile and handle all the money twice a week, and it eliminated any errors when ordering and receiving school lunches.
"Most parents quickly moved to our new ordering system, with positive feedback on how easy the system was to use and not needing to find cash for lunch orders. It has removed a big burden from our canteen staff."
Mr Chapman says schools can also choose to contract the canteen to a parent or third party to manage, releasing the school from the pressure of profitability. "As long as the third party is charged all the costs incurred by the school and the food offering complies with the school's values, this may be a good solution."
Recent changes brought about by the Food Safety Act 2014 which came into effect on March 1 this year, are adding pressure to already tight school budgets. The new rules require school tuck shops and canteens to operate under a council or MPI-registered and audited Food Control Plan, that is, to become registered food retail premises. This is expected to have significant financial impact on the school or other tuck shop operator; an Auckland City Council fee for example is around $1,200 a year.
Online services
School canteens can improve their service offering by allowing an online ordering function. These allow parents to hop online to order their children's lunches whenever it suits them, and eliminates the need for cash handling. Some services allow regular or long-term orders to be placed, for example, to cover a period when the parent is particularly busy and wants to save time on food preparation, perhaps when there's a new baby in the house or one parent is away on business.
Online services benefit the canteen, too. They can make food to order thus reducing waste of food and time. They also receive reports which collate orders and reduce manual collection time. And they can offer much wider choices of foods including more difficult options such as gluten free and dairy free.
"With an online system such as that provided by Lunchonline, canteens can offer third party choices such as sushi, Pita Pit or Subway (just to name a few) to complement the existing range, or even give the canteen staff a break for one day," says Mr Chapman.
It also means using local food businesses who in turn provide financial support to the school either directly or indirectly through the provider.
There is also plenty of help available from the Heart Foundation's Fuelled4life team, who offer free one-on-one nutritional support for schools and canteen staff. Their staff are available to assess your food environment, identify potential areas for change, and help you implement those changes.
The Heart Foundation is also working directly with food suppliers. After noticing Kiwi families were increasingly ordering schools lunches online, the foundation launched Fuelled4life Fresh Made, which helps food suppliers offer healthier fresh-made foods. It also helps schools set up their own online lunch ordering systems. Fuelled4life Fresh Made also provides free individualised nutritional support and advice for food preparers to serve up healthier foods.
Tuckshop services
Tuckshop services are ideal for schools of 600 students or more, but can be tailored to suit smaller schools. Champion Tuckshops deliver food to 43 schools across New Zealand, a customer base of more than 50,000. The menus vary widely according to season, and to direct input from customers through surveys and group workshops.
"Our listed menu changes every season, and reflects the feedback and direct input we get from our customers through surveys and group workshops at schools around the country. This process generates our generic menu, specialty items on trial and actual retail pricing at the tuckshops. "As each school has a vast range of very individual criteria, what actually suits our customer best will vary from suburb to suburb, decile to decile, city to city and also month to month. This means our teams at schools will respond to local customer demands by tweaking, adding or subtracting items and/or ingredients to suit. All provide free fruit."
"So, the 1st XV player will come and buy two butter chicken wraps, a home baked muffin and a large, sugar free Powerade and get his free apple. The year two girl will have her previously ordered small salad with shredded chicken breast and 250ml Calciyum milk – and her free apple – delivered to the classroom."
This system also removes the headache of food service regulations from the school. "Libelle has been operating under our internal, comprehensive food safety and health & safety plan for six years and we are now in the process of registering this plan(s) with the Ministry of Primary Industries, bringing all of our current and any new school sites to compliance status immediately."