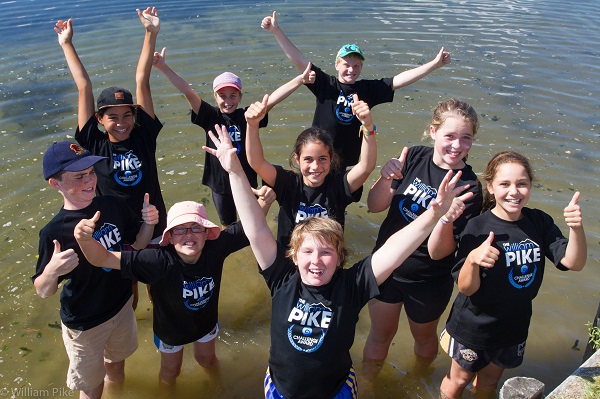 New Zealand is a fantastic venue for physical challenge. There are mountains to climb; rivers, lakes and beaches for water sports, and a vast supply of native bush to explore. And all of these provide great opportunities for extended learning.
William Pike is an advocate for learning through challenge. Mr Pike was one of two young climbers caught in a volcanic eruption on the slopes of Mount Ruapehu, on September 25, 2007. He suffered numerous life threatening injuries, and as a result, his right leg was amputated below the knee. But true to the spirit of adventure, and triumph over adversity, Mr Pike set up the William Pike Challenge Award (WPCA) to inspire the next generation of Kiwi kids to embrace outdoor adventure.
"The WPCA is all about young people embracing new challenges, enjoying the great outdoors, engaging with their community, and interacting with positive role models," he says. This programme is for students in years seven to nine, and provides schools with support, resources and motivation to establish their WPCA.
Currently, there are nearly 60 schools/groups and close to 1400 young people participating in the programme across NZ. Students participate in six outdoor activities led by the school, 20 hours of community service and the personal development of a new sport or hobby. Outdoor activities are unique to each school, they are encouraged to use their own 'backyard'.
The programme is one year long and offers students the opportunity to participate in a diverse range of activities, engage with others and experience new places. Mr Pike says the benefits for participants are powerful and wide-ranging; including improved connections between home, school, peer and community life, a heightened sense of empowerment to tackle everyday challenges, increased levels of confidence, pride and life skills, skills for basic hazard identification and survival in the outdoors, and an improved sense of focus and direction.
At the Hillary Outdoors education centres in Tongariro and on Great Barrier Island, students can access a core range of programmes, Discovery, Adventure and Leadership. The centres, named for New Zealand's greatest explorer, Sir Edmund Hillary, are set up to support teaching programmes for students in years seven to 13 – and they're all about challenge.
"Rising to physical challenge allows kids to explore beyond what they thought were their limits," says CEO Graham Seatter. "With good support they gain the confidence to try new things.
Whatever the activity, the focus is the same – achieving as a group. "It's not what about the most able kid can do, it's about what the group can achieve together. This may mean that the more able kids move to the back of the pack to help the others, maybe even carrying their packs for them," says Mr Seatter.
Hiking, biking and sea kayaking

Students learn about native bush, bird and sea life

Picton-based Wilderness Guides leads adventures in the Marlborough Sounds for hiking, biking and sea kayaking tours ranging from a few hours to multiple days, and regularly host school groups. Activities include basic kayaking and bush skills in a camp setting for primary pupils right through to multi-day walking, biking and kayaking adventures for senior students. Programmes are tailor-made to suit the school and the desired educational outcome whether that is adventure, skills or physical challenge. Their most popular programme is the Marlborough Sounds Journey – a two-day guided sea kayak tour staying at campsites followed by two days independent hiking and biking along the Queen Charlotte Track. Groups can keep their costs down by self-catering, but all budgets are catered for.

Wilderness Guides owner Juliet Gibbons says students gain in confidence by taking on new challenges, benefit physically and learn a great deal about New Zealand's native bush and sea life. "Our guides are all passionate about this area and adding value to young people's experience by sharing local history and knowledge or the unique wildlife and forest life of the Sounds is of particular importance to us."
Surfing

When the surf's up, Simon Clowes and his team are hard at work teaching kids to ride the waves. Since its inception seven years ago, the O'Neill Surf Academy NZ has trained thousands of students on northern beaches from Orewa to Tawharanui. During the past season alone, October to April, 127 school groups attended the programme and in doing so, gained awareness of how to stay safe at the beach.

Students gain awareness of beach safety

The academy caters for absolute beginners from non-swimming children in year four through to senior students who can gain NCEA credits for completing intensive training and learning to read the wind, tide, rips, currents and waves. Non-swimmers stay in waist-high water, and all students wear wetsuits to aid buoyancy.

The Beach Surf Safety Day is a popular choice for schools with students in years four to eight; children are taught to be safe and active at the beach by learning to surf. Other options range from two-hour lessons and day programmes right through to multi-day surf tours, the latter being popular particularly with international departments who like to show off New Zealand through its beach life.

Costs start at $16.50 plus GST per student.
Rock climbing, obstacle run and archery

At ROCKUP, it's all about adventure filled fun challenges. The mobile activity provider delivers all sorts of EOTC action to schools, the most popular are rock climbing, archery, pistol shooting, obstacle run with slides, giant earth balls and ski-boards. Schools can visit ROCKUP Base in Hunua, South Auckland, or have the activities delivered to their school or camp locations nationwide.

Group activities foster team building

Most programmes follow school daily routines, catering to students from year four up, multi-day options are available as are programmes for all ages of children or even faculty adults.

Prices start at $10 per head, but are dependent on the number of students booked. A minimum of 100 students is required for bookings outside of the Auckland area.

"ROCKUP is all about creating positive attitudes whilst encouraging personal challenge," says owner-operator Lynne Pearson. "Students are encouraged to set goals, strive to do their best, be a good buddy team player, and learn about the importance of surrounding themselves with positive peers."

The company uses specialised programmes that incorporate team ethics, consequence for action strategies with why rules and listening skills are important to stay safe.

"Teachers are amazed at how the students respond as they see their students actively engaged, encouraging each other, working together as a team, using their manners, following instructions, making better choices and for a lot of students the experience is life changing."