News
School News term two issue now online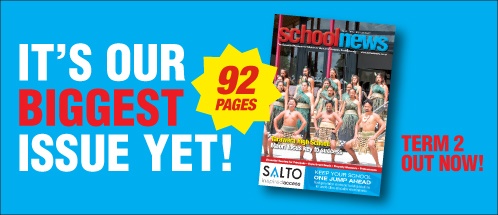 Our term two issue is now in print and it is packed with stories about the fantastic work going on in education in New Zealand.
We celebrate the success of David Aston from Glenfield College who won Teacher of the Year from a field of 44,000 at the VEX Robotics Competition in Louisville, Kentucky last month. And that of the Lynfield College robotics team who took out the Supreme Excellence Award at the same competition, making them the international champions out of 1072 competitors.
We meet principal Helen Tuhoro who is leading phenomenal change at Tarawera High School in Kawerau, Bay of Plenty. The school's NCEA 1 results are up from a worrying 36.3 per cent in 2013 to 85 per cent in 2015 – and that's just the start of the story.
At Ngaruawahia High School in the Waikato, it's a similar tale with principal Chris Jarnet at the helm. Chris called on the wider community to support the decile two school and the response has been tremendous – attendance, engagement and achievement are all on the up. Enrolments for 2016 climbed by 40 per cent, vandalism to school property has ceased, and 2000 locals attended the most recent school production.
We look at ways your school can stamp out bullying, and are excited to share the story of KiVa, an anti-bullying programme that has recently been introduced to 12 New Zealand schools. KiVa was developed in Finland and after one year of being used in 234 schools there, bullying had ended in 86 per cent of cases.
Now that the reforms to health and safety regulations are in effect, we hear from Gordon MacDonald, chief executive of WorkSafe, New Zealand, about the impact on schools and educators. Mr MacDonald's overriding message to schools is that, contrary to some news reports, it's okay to continue to let kids be kids by allowing them to take low-level risks. And our resident wellbeing expert, Ian Vickers, explains how the new Act supports educators by spelling out ways teacher wellbeing can be improved.
In fact, we find out that taking risks, particularly through physical challenge, is actually key to personal growth. "Rising to physical challenge allows kids to explore beyond what they thought were their limits," explains Graham Seatter of Hillary Outdoors education centres. It boosts their confidence, self-esteem and interpersonal skills.
Click here to read the new issue online.
Noho ora mai