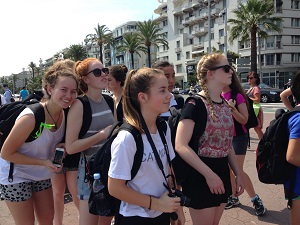 Travelling overseas to broaden our horizons, otherwise known as the 'big OE', has been an integral part of Kiwis' lives for decades, with thousands of young New Zealanders in their late teens and early 20s setting off to discover the world.
These days, though, trips are happening even earlier in life, with groups of school students enjoying first-hand experiences in faraway places as part of their educational journey.
The trips are aligned with a range of subjects, including geography, history, classics, languages, music, tourism and sport, though as the providers of the tours spoken to by School News agree, the benefits the students get from the trips are much more far-reaching than improving their subject knowledge.
As Fiona Atkinson from Travel to Learn puts it: "There's a whole world out there and the trips are such a great learning experience, in terms of a student's education and as a person. They come back so much more mature."
Programme development manager for Student Horizons Richard Gorrett says his company's ethos of challenge,
For schools wanting to send students on overseas trips, specialist educational travel companies can make the whole experience run smoothly, from helping teachers select the destination, through to organising the documentation, arranging travel, accommodation and in-country activities, even assisting with fundraising.
Travel to Learn
"Teachers come to us as it's often their first school trip and they are unsure of how to proceed, and experienced teachers come back to us having experienced their first trip with our help," Travel to Learn's Fiona Atkinson says.
"We visit the school and have face-to-face meetings with the teachers, and attend parent information evenings. We can show them sample itineraries and they are able to select the activities of most interest to them.
"They often want to know what they can do in that country, and we look at how the trip fits in with their budget and the curriculum. We work on the basis of one teacher travelling free per 10 students, although this can be adapted to the school requirements. Our trips are extremely cost-effective and we cater to all budgets."
Popular destinations that groups visit with Travel to Learn include the United States, France, Spain UK, Greece, Turkey, Malaysia, Singapore, Vietnam and South America.
"The US is very popular because it's closer than Europe and it's easier to get to," Ms Atkinson says. "For example, we organise music trips to the US with student choirs and orchestral groups performing there, and also commerce and digital technology trips.
"For all destinations, we use English-speaking guides and only use contracted guides and licensed suppliers. The guides know that these are school groups so their ideas of what they want to do are different from an adult group, and they are catered for accordingly."
The accommodation also caters specifically for groups, she says.
"We have also combined smaller groups from different schools to take advantage of group rates.
"The safety of the students while they are overseas is a priority for Travel to Learn, and we also provide sample EOTC forms for the teachers."
Travel to Learn offers ideas about fundraising, helps parents set up a fundraising committee and also provides prizes for raffles, Ms Atkinson says.
Student Horizons
Student Horizons is "passionate about providing opportunities for students to travel overseas and engage with different cultures", programme development manager Richard Gorrett says.
"We believe that overseas travel can play a significant role in the personal growth for young people. It's about raising their aspirations so that they can weigh up their goals and ambitions for the future."
Student Horizons has established its Community Partnerships Programme, which provides unique assistance to all their groups with fundraising with the aim that any student, regardless of background, is able to have the opportunity to travel overseas.
"Through the exclusive partnerships we have established with New Zealand businesses we provide fundraising options to our groups to simplify the whole process," Mr Gorrett says,
"For example, some of the students from Wairoa College (Hawkes Bay), who recently travelled to the UK and France on a rugby tour during the Rugby World Cup, had never left New Zealand before – it was an amazing experience for them. There was a lot of hard work that went into their fundraising but we knew the benefits this tour would have on the boys, the school and the wider community.
"Wherever a school wants to travel for an educational, music or sports tour, we can organise it. Using our expertise we work in partnership with school staff in putting together personalised itineraries depending on what outcomes they are looking for their students to achieve from their trip.
"Safety is the number-one priority for us. We go to great lengths with our due diligence and risk assessments, making sure that every aspect of the trip is well managed and potential risks are mitigated. For any unforeseen events that might occur we have comprehensive incident management plans in place to deal effectively with any situation."
Student Horizons also has partnerships with New Zealand organisations within the education sector and is committed to supporting these organisations; some examples include the Association of Boys' Schools of New Zealand, College Sport, Stage Challenge and the Passchendaele Society.
Members of the Student Horizons team often travel with their groups to ensure that the trips runs smoothly and so the school staff can concentrate on the supervision of the students and to maximise the experience for them, Mr Gorrett says.
Students are sometimes hosted by local families, which is another great experience for them, as they really get to know local people and destinations they travel to, he says.
Student Horizons also offers a fixed price guarantee at the time of booking to provide schools and parents with financial reassurance knowing that the trip costs will not increase.
"Our team is very passionate about the benefits that young people can gain from travelling overseas as we have travelled to various corners of the world ourselves. Our aim is to ensure the next generation have the same opportunities to develop their awareness of the wider world and to help in defining their role within it."
Defining Moments
Defining Moments is aligned with the House of Travel brand and over the last 12 years has developed a specialised programme of educational travel for students, explains owner Stephen Gillingham.
"We saw a lot of teachers getting great ideas about taking students away but having no idea how to go about it. They would develop an itinerary then go to a travel agency to organise it. We could see it wasn't working for them. They would have meetings with parents, who asked questions they couldn't answer, such as about getting cheaper airfares. But cheaper is often not necessarily better.
"That's why we decided to become specialists so we could help. After all, parents are paying the bill and it's a major investment, with trips costing $5000 or more. We were also trying to understand why some trips were successful and some weren't. We realised the biggest obstacle was time resources, especially for the teachers.
The onus on teachers has increased considerably over the last few years, so we provide support by co-ordinating with parents, senior management and getting board approval for the trips. Our message to teachers is to call on specialist providers who have the expertise and resources."
Not all teachers are open to students taking trips, or keen on being away with them for two weeks, Mr Gillingham says, so it is important to have teachers who are willing to be involved in the planning and to give up their holidays.
"Planning and co-ordinating with the teachers is critical, and we recommend planning trips at least 12 months in advance. Health and safety is also a top priority for us, so we make sure we cover off all those areas as well."
School trips usually take place in the holidays and one of the biggest challenges is fitting a range of worthwhile experiences into a two-week window, Mr Gillingham says.
"Senior students, especially, are looking for more enriching experiences, and they can be quite critical. So it's about finding a balance between relaxation and those valuable experiences."
World Challenge
The student-led expeditions organised by World Challenge follow a programme that reflects the company's ethos of Challenge, Participation and Environment, Alice Rowe says.
"This facilitates ownership and responsibility within the individual student to achieve a successful expedition. We provide them with a unique opportunity to experience diverse cultures and develop a more global perspective on life."
Schools have the choice of over 50 destinations around the world, with recent additions being Fiji, Java and Myanmar. A typical expedition sees students completing four phases – acclimatisation, challenge, which includes a physical trek, project phase, in which students give back to the local community, and rest and relaxation.
"Community projects are a major focus of the expeditions," Ms Rowe says, "as they offer an opportunity for the students to learn from a local community in their chosen destination.
"The communities with whom we work possess a wealth of practical, cultural and historical knowledge that serves as an incredible potential resource for the education of New Zealand students. By allowing them the space to share this knowledge, the students have the chance to build confidence and knowledge of global issues."
Months in advance of their trip, the students are involved in planning the itinerary and raising funds.
"As a result there is no monetary cost to the school, while at the same time the students learn about taking initiative, project planning and budgeting."
World Challenge guides schools through the expedition process starting with a build-up programme that includes thorough training for students and travelling teachers with a two-day training expedition, in-school meetings and unlimited phone and email support.
When groups are in-country, even in the most remote locations, they have support from the 24-hour World Challenge operations centre, Ms Rowe says.
"This dedicated facility has the infrastructure to handle incidents of any size and is staffed full-time by people who pro-actively monitor events. We also have dedicated in-country agents at every destination, who live locally and can help with logistical queries, translation and local knowledge."
Student Horizons
A group of 31 boys from Wairoa College, along with six administrators and 12 supporters, travelled to Europe for a rugby tour in September, organised by Student Horizons. They played nine games in two weeks, which was a "huge call" for the boys, the school's youth co-ordinator Denise Eaglesome KareKare says.
"It was an amazing experience for the boys. Some will probably never go overseas again, or not in the foreseeable future. The whole experience was not just about rugby, it was about the life experience. They saw things and did things they would never have otherwise have done. They were billeted for half the trip and they gained an amazing reputation. The locals wanted to help the boys. It was a first-hand cultural experience for them.
"One word of advice for schools going on rugby trips to Europe – find out what their rugby rules are first."
Earlier this year a group of students from Waikato Diocesan School for Girls travelled to Europe for a Religious Studies Pilgrimage organised by Student Horizons.
"The recent European Religious Studies Pilgrimage was certainly a highlight for our 19 students and three Religious Studies teachers," chaplain and leader of the school's European Religious Studies Pilgrimage 2015 Jill Clark-Olson says.
"The aim of the pilgrimage was to find and experience places in Italy and the UK which have held spiritual significance for Christians for at least 1500 years. None of these experiences would have been possible if we had not had the provision and guidance of Student Horizons.
We felt very well looked after in all our travels and certainly enjoyed the company of the tour guide who accompanied our group.
Our tour leader was fun, well-organised and a pleasure to travel alongside. All of the organisation that had occurred prior to our departure was also a solid and dependable foundation on which to build our adventures. I would have no hesitation in recommending Student Horizons as a future travel provider if you are also thinking of planning travel with your school students."
Defining Moments
At the end of term 1 this year a group of years 12 and 13 students from Riccarton High School in Christchurch went to Vietnam on an 18-day social sciences trip organised by Defining Moments. They started in Hanoi and travelled the length of the country to reach Ho Chi Minh City (Saigon). This involved four internal flights, a train and buses. Places the students visited included Dien Bien Phu, where the French were defeated by the Vietnamese, and a fishing village near Ho Chi Minh city.
Teacher Chris Stoop says the trip was "absolutely brilliant". Riccarton High students have been to Vietnam previously and Defining Moments gives them back-up and support, she says. "Their communication is good and that takes the worry out of the trip. The stress levels aren't there."
The trips to Vietnam always includes a visit to an orphanage, and a couple of the students have gone back to help, they enjoyed it so much, she says. "Their horizons are broadened and their eyes are opened."
World Challenge
In December 2014 eight year 11 and 12 students from Cambridge High School went on a three-week expedition to Sri Lanka, which consisted of cultural trips, a week-long trek, a week working in a hill country school and some R and R. The key feature of the trip, teacher Gareth Manis says, was that while in country, the students made all the decisions regarding transport, food and accommodation. They were guided by an outdoor education specialist from World Challenge and a teacher from the school, who provided pastoral care and support. The trip was not based around any single curriculum area but crossed over multiple areas – outdoor education, geography, history, accounting etc. The standout was helping turn a concrete block hut into a fully weather-proofed and resourced classroom for a hill country primary school, Mr Manis says. "World Challenge was a fantastic organisation to work with. The group had multiple planning meetings with World Challenge staff to prepare for the expedition. The expedition leader was both fully qualified in student safety and very experienced in running expeditions in-country."
Travel to Learn
Susan Hart, head of languages at Chilton St James School says Travel to Learn was "really good" to work with when the school's educational trip to France was being organised. "They focused on what we wanted. It was a language trip, not just a tour."
Travel2Learn organised home stays for the students, which gave them a lot of exposure to French, she says. "With the home stays, there was not much English spoken as they were staying with elderly women. The girls had to use their French and they loved the challenge of it.
"They went to Paris as tourists and focused on language acquisition there and that went really well."
In late September a group of students from Fraser High School in Hamilton went to the United States for a 10-day trip – six days in New York, two days in Washington and two days in Los Angeles. Head of faculty social sciences Rueben Healy says the students went to wall Street in New York as he wanted to see a country where there were different ways of doing business, and that it was a lot bigger than in Hamilton, New Zealand.
"It gave them a broader view and the chance to experience and understand that it's a lot bigger out there."
"Travel to Learn were fantastic. They have obviously done this before and they have links with companies there, so they were careful to look after us and were helping us all the time."