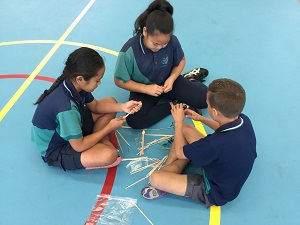 Science, technology and innovation are increasingly important to our economic well-being and quality of life. According to the Prime Minister's Science Advisor, Sir Peter Gluckman, New Zealand needs to focus on producing quality scientists in order for New Zealand to stay economically viable.
"There is an international consensus that a strong science education system in the school years is a necessary prerequisite to having an economy based on knowledge and innovation."
To achieve this, quality science education in primary and secondary schools is essential. And not just for those who see their careers involving science but as "an essential component of core knowledge that every member of our society requires," Sir Peter says.
"There is no doubt that the role of science in modern society is changing. It is very different to that of a generation ago. Increasingly the challenges we face as a community – be it at the global level such as dealing with climate change or at the local level such as the problems of an ageing population, of environmental degradation, or of enhancing our economic productivity through science and innovation – all depend on science. There is no challenge affecting our society which does not have science and technology associated."
Today's teachers talk about science literacy, a broad definition that includes science, technology, engineering and mathematics (STEM). Rather than been taught as four separate subjects, STEM integrates them into lessons based on real-world situations.
And the pressure is on for technology to keep pace with the trend towards STEM learning. At Crescendo Enterprises Ltd, suppliers of science learning products, orders for traditional lab equipment are being matched by demand for Amazing Science teaching tools – items such as Fun Fly Sticks, Water Rocket Launchers and World Energy Balls, which demonstrate scientific principals in an engaging, hands-on way.
Manager Janeen Tunnicliffe says this is in response to the gap that has emerged between children knowing how to use digital devices and having basic understanding of the electronics and science behind them. Schools have been investing in computers, but not the teaching of computer science and programming.
Ms Tunnicliffe has also noticed that many primary teachers, especially those whose strengths are language-based, lack confidence in leading science lessons. Crescendo addresses this by supplying kits to make the task easier. At primary level, Ms Tunnicliffe recommends 10 kits for each class, each comprising an invention kit, light bulbs and batteries.
"The lessons need to enthuse the kids. Science is about doing stuff, not listening to theories," she says.
Popular products include the Makey Makey, an invention kit that can be used to turn everyday objects such as bananas or pasta shells into touchpads to be connected to the internet. In the process, children learn how to make a circuit and explore concepts of engineering.
At a very basic level is The Lighthouse Challenge, a collection of sticks, leads and battery supplies, which children assemble into a lighthouse, competing to build the tallest. This was developed by primary teacher, Nick Pattison, who leads the country's first primary-level STEM class at Rongomai School in south Auckland.
"I based it on an existing challenge of building a structure with spaghetti and marshmallows and added a circuit and called it 'The Lighthouse Challenge'," Mr Pattison says. "This gives the tudents a more realistic yet fun reason for the challenge. In the process, children learn to identify a problem and engineer a solution well as develop teamwork and communication skills."
Robotics programmes continue to sprout up in schools and after-school clubs, too. Once seen as exotic, robotics is now considered to provide meaningful, problem-based learning and hands-on learning in co-operative groups. Robotics engages students in complex, strategic problem-solving and higher-order thinking – a set of skills that is a high priority for 21st-century education.
For younger primary children, the Bee-Bot can be sufficient. This simple robot responds to commands to go forward, back, left and right, at the touch of directional keys. Bee-Bot blinks and beeps at the conclusion of each command and children are challenged to enter ever-more creative and complex command sequences.
At a more sophisticated level, there are Lego Mindstorm kits, a range of robots for children to build and program.
There are two major competitions for students to channel their competitive instincts; Kiwibots New Zealand hosts VEX competitions in which robots play against each other, while the RoboCup Junior New Zealand invites entrants in Robot Theatre, Rescue or Soccer.
Traditional science, however, has taken a hit. Ms Tunnicliffe reports that schools are struggling with increasingly tight budgets, which makes it challenging to keep up with demands for consumables. Some schools allocate no budget at all for science. Capital items in the lab often require funding to be purchased and teachers that have the vision are applying for funding for kits like the STEM-approved STELR range. STELR is a science education module themed on renewable energy.
Safety equipment is a must, however, and school budgets are under pressure to accommodate new HSNO codes of practice in science labs.
"Historically, the rules around safety were a bit lax but this has sensibly been addressed. Chemicals need to be handled appropriately," Ms Tunnicliffe says. "High schools need good supplies of gloves, safety goggles and masks."
There is also increasing demand for resources to teach environmental and earth sciences. Resources such as rock and mineral sets are in the lower price range, depending on the size of the set, and at the other end are models such as Orbit Tellurium. Assorted charts on carbon cycles and energy sources are sought after too.
For life science classes, Crescendo supplies assorted skulls and skeletons of animals, humans and hominids, demonstrating the differences and similarities between them. Models and charts of life cycles and of processes such as mitosis and meiosis depict how life transforms and changes.
Science teaching resources
Online
The government-provided website for science-teaching resources, both primary and secondary, is www.scienceonline.tki.org.nz which guides teachers on how to weave the Nature of Science strand and key competencies into science teaching and learning.
Kiwi Kids Science www.kiwikidsnews.co.nz/science offers articles as wide-ranging as why dogs sniff bottoms and why people sleepwalk, guides to simple experiments, and facts about the living world.
Auckland University hosts the Incredible Science website for students to explore all sorts of fascinating topics such as encryption, whale poo and the world of fossils. www.incrediblescience.co.nz
The Science Roadshow
The Science Roadshow is a mobile, science discovery centre for primary children. Annually, it travels the length of the country in a 15m truck and trailer, taking a range of interactive and technology exhibits into communities. Current themes include astronomy, real chemistry, and light and sight. www.roadshow.org
CREST (Creativity in Science and Technology) is an international awards scheme designed to encourage years 0-13 students to be innovative, creative, and to problem solve in science, technology and environmental studies.
For primary children this could be studying volcanoes or finding out what weather is, while secondary students are invited to problem solve – how to keep a bicycle secure or investigate the water quality in their local stream, for example.
CREST projects can also help provide the evidence for NCEA assessment and be used as entries to regional science and technology fairs and other such competitions. www.royalsociety.org.nz/teaching-learning/crest