News
Māori board game for geography learning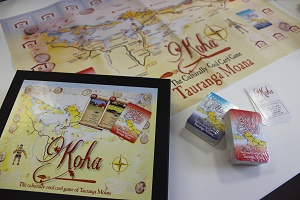 A simple board game is bringing local history alive for Kiwi students. Books have been put aside in 60 Tauranga schools in favour of the hands on Koha: The Culturally Cool Card Game of Tauranga Moana.
Koha is the brainchild of Tommy Kapai Wilson (Ngāti Ranginui/Pirirākau) and is designed to strengthen player's knowledge of local sites, historic locations and the meanings of Māori place names.
"I think it's important for all Kiwis to know what's in their own backyard," says Tommy, who has authored more than 30 children's stories.
People always want to know 'Why is that place significant?' They're places we often drive past and don't know what the name means.
"Koha breaks down barriers about what's important in our own backyards."
Tommy says Koha is an interactive and hands-on teaching tool that has been needed for a long time.
"The resource and the knowledge has never been there," he says. "There's a definite thirst to engage by Māori teachers and others with students on these things."
Kaimai Primary School principal, Dane Robertson, says his school has received five copies of the game and the students are enjoying it.
"The children like it and have really gotten into it," he says. "We started off with the senior students playing it and they then taught the younger ones."
"It has been great to hear the children and even staff members making an effort to pronounce Māori words and break down te reo as they look for clues as to what things mean."
Dane says children learn best through play and Koha has been good for them to learn things about their local areas that they would not have known otherwise.
The Ministry of Education supported Tommy and three Bay of Plenty iwi – Ngāti Ranginui, Ngāi Te Rangi and Ngāti Pūkenga – on the project.
"It's great the Ministry worked with three iwi on this. It is a really amazing resource," said Tommy. "We can be very grateful for what we've created."
200 copies of Koha: The Culturally Cool Card Game of Tauranga Moana have been distributed to 60 schools in the Bay of Plenty.
Tommy says one day he would like to develop an Aotearoa-wide game to include rivers of significance, marae and much more.
"It would be a wonderful resource of what is in Aotearoa."