Education
Thread of digital learning woven through uLearn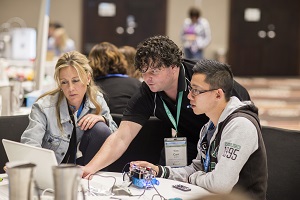 The fundamental message at uLearn15 was that the role of educators has shifted from the transfer of knowledge to teaching students how to learn in a digital world.
CORE Education's annual conference was held at Auckland's SkyCity, October 7-9, and was a sell- out. More than 1600 delegates signed up to listen to speakers and take part in workshops, and a further 200 attended the pre-conference, Permission to Play.
Keynote speakers were Grant Lichtman, a recognised thought leader on education transformation in the United States, Dr Ann Lieberman, Professor Emeritus of Education at Columbia University, and local author and educational trust chairman, Pat Snedden.
"Children have instant access to the internet and any amount of knowledge," Mr Lichtman said. "They don't need teachers for that."
He likened the teacher's role to that of a farmer's, saying, "The teacher has to clear the land of obstacles and lay out the fence lines so they can nurture the crop and animals, the learner."
He also stressed the importance of teachers being active in the learning with the students, not being "a guide on the side with a degree of detachment".
Dr Lieberman spoke about the changing role of teacher leadership, and Mr Snedden spoke about the transformational journey to improve student achievement through public good partnerships.
CORE spokesperson, Meredith Noonan, said the thread of digital learning was woven through all aspects of the conference.
"Re-imagining classrooms, teaching and leadership were the main themes woven into uLearn15. Technology is a huge part of future-focused education. It was an opportunity for teachers to get up to speed with a range of technologies and practices to help guide our learners into the next era of teaching."
The pre-conference event, Permission to Play, was a collection of hands-on workshops about digital tools and games that literally gave educators the chance to play and engineer, and take ideas back to their classrooms.
Kiwi ingenuity was on show in a workshop about Gamefroot, an online game creation tool, which was designed with schools in mind. Teachers can use Gamefroot to teach basic skills in programming and code, making game creation accessible to those without coding ability.
At another, teachers were shown how to use 3D printing as a teaching tool by designing bottle rocket fins, 3D scanning the kids for stop motion animation and how to print prosthetic hands for the 3D world.
Then there was Minecraft – for grown-ups. Delegates learned to play Minecraft "like a nine year-old" and find out why it has become a world phenomenon. They discovered how the game inspires children to create, code, program, design and engineer, as well as work collaboratively and engage in community.
The Minecraft topic was extended in a workshop about Mineclass, an international shared learning project in Minecraft.
Students from around the world collaborate and create in student-devised challenges, with teachers facilitating design thinking, computational thinking and global project management.
For teachers wanting entry-level skills in teaching technology, there were workshops on how to code a website, how to use iTunes U to customise their courses for students to access on iPads, and Robotics Made Easy. Attendees used a 3D printer to make parts for a little robot, assembled him, and were shown how to code to make him move, dance and even drive. There was even a workshop called, Ask Me Anything, for anyone who wanted support with e-learning such as using iPads, iBooks, blogging and apps.
Perhaps nowhere was the focus on digital learning more evident than as presented by US teacher, Marianne Malmstrom, an internationally recognised leader in the innovative use of virtual environments and digital multimedia in the classroom. In short, a thoroughly modern teacher.
Her virtual classroom, Knowclue, was born out of the constant refrain she heard from educators discussing technology – "I have no clue!"
"It is my journey to find a clue. As with everything in life, it is work in progress," Ms Malmstrom says. Her current work focuses on exploring the use of multiplayer online games to support social-emotional growth and foster healthy norms in online communities.
Another expert on digital learning was Spotlight presenter Jim Sill, who teaches how to update story-telling techniques in the classroom. Mr Sill has a 10-year background in the video and television industry and is a Google-certified teacher, a Google Education Trainer and specialises in workshops on Cinematic Narrative Techniques, Encouraging a Creative Student, Google in the Classroom, and Instructional Video Production.
"Self-produced content is causing a sea change in film and TV, but in education we have the tendency to still tell our stories in the same ways that we have for decades," he says.
A digital and connection theme was also evident in the line up of sponsors: Microsoft, Toshiba, Samsung and Noel Leeming, and Educational Business Partners Ruckus Wireless, HP, Sitech and Allied Telesis.
Wireless internet was available to all delegates, with many tweeting their feedback throughout the conference. For those who didn't know how to connect on Twitter, a dedicated "connected educator" lounge was set up to help them get started.
There was a strong focus on Māori and Pasifika learning, too, with workshops and tasters delivered in te reo, including Māori language workshops, and a Spotlight speaker about Re-imagining Māori language acquisition in schools. Dr Ruakere Hond has been at the forefront of revitalisation efforts for Māori language spoken in Taranaki and the revival of language-based identity resources. His work focuses on linking language revitalisation efforts with better health outcomes for Māori.
In the breakout, Te Reo Māori in any classroom, teachers were introduced to apps and tools to strengthen their knowledge of Māori language and their confidence in using it.
Presenter Gemma Stewart: "Although Te Reo Māori is our indigenous language, often we are very nervous about teaching and using it because we are worried about getting our pronunciation wrong or not knowing enough. We can therefore miss out on the joy of participating in one of our national treasures. We may also unwittingly deprive our students of an opportunity to display an unknown strength and capability.
South Auckland primary school principal, Wayne MacGillivray, spoke about the importance of transforming leadership in order to raise all aspects of Māori and Pasifika achievement.
"Leadership within the New Zealand school system continues to be modelled on a Eurocentric hegemonic model steeped in exclusivity and centralised power. To change the landscape of Māori and Pasifika learners, there must be a shift from this model to a culturally responsive ideal that fosters a more holistic approach to leadership and governance."
Meanwhile, staff from Tahatai Coast School, Papamoa, shared the school's journey of an almost complete rebuild which they refer to as MLE – Mostly Leaking Everywhere to Modern Learning Environment.
The initially devastating news turned out to be exactly what was needed, they say, as it also presented an opportunity to reconsider all aspects of school life. As it turned out, "2015 has been the year that the school took things to the next level".
It's the second year running that uLearn has sold out; next year it will be back at the Rotorua Energy Events Centre, a bigger venue.