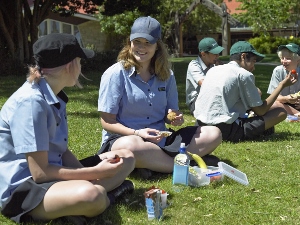 Over recent months, concerns have been increasingly raised about the foods New Zealand children are eating. Questions are being asked by experts in the field about whether children are getting too much of the unhealthy variety and not enough of the high-nutrition foods they need both to grow and develop, and to enjoy good health in adulthood.
In addition to inadequate nutrition, it is recognised that lack of exercise is also creating health issues for our young people. According to Ministry of Health statistics (2011/12) one in 10 children is obese, with the obesity rate for children aged five to 14 being stable between 2002 (nine per cent) and 2006/7 (eight per cent) but increasing to 11 per cent in 2011/12.
Those same statistics showed that one in five children had drunk fizzy drink three or more times in the previous week, that children who are obese in childhood are more likely to be obese in adulthood and overweight and obesity are major risk factors for type 2 diabetes, heart disease, stroke and common cancers.
The Ministry of Health chief advisor on child and youth health Dr Pat Tuohy has recently highlighted the issue.
"A concerning finding from recent research was that many children are eating treat foods most days. These are empty calories, which fill children up but don't nourish them."
Mr Tuohy's comments were made in conjunction with the Ministry's release of a new handbook in early August. The new Food and Nutrition Guidelines for Healthy Children and Young People (Aged 2-18 years) provide evidence-based recommendations about food, nutrition and physical activity for this age group.
"These guidelines provide advice about how to improve children's nutrition and keep them healthy, which includes keeping high fat, sugar or salt food for occasional use only," Dr Tuohy said.
The New Zealand Heart Foundation notes that childhood is a time when lifelong eating habits are being formed. It sees schools as playing an important role in creating a culture of healthy eating and in helping children to develop the healthy food behaviours that will support them to grow into healthy adults.
The Heart Foundation's strong focus on healthier foods for young people is promoted in schools and early childhood education services through its Fuelled4life initiative. Currently 1411 schools and 1939 early childhood education services are signed up to Fuelled4life. This free tool is based on the Ministry of Health's Food and Beverage Classification System (FBCS). It aims to increase young people's access to healthier food and beverages, to inspire food services to provide tasty, nutritious products and to encourage the food industry to produce and supply healthier foods and beverages young people will want to consume.
Products registered with Fuelled4life are classified into 'everyday' or 'sometimes' according to the FBCS nutrient criteria and are listed in the Buyers' Guide, which schools receive when they register for Fuelled4life.
The FBCS nutrient criteria is based on levels of energy, fat, salt, sugar and fibre.
David Chapman, operator of the website-based lunch ordering service Lunchonline, also sees obesity as a "huge issue" for New Zealand, but says if children are given healthy food at home, as well as at lunchtime, they at least have a good chance of avoiding the problem.
He says his online ordering service is about taking the hassle out of organising children's lunches for busy parents, and also providing good-value, everyday meals. When considering what "everyday" meant – was it fish and chips and pizza – and what food providers should be involved in the service, Mr Chapman spoke to a nutritionist colleague.
"What she said was that food is a holistic issue, and eating does not need to be totally focused on healthy food items. If most things children are eating fit into the range of a healthy lifestyle, one pie a week is not an issue."
However, as the nutritionist also pointed out, if children were not active, and not eating well at home (breakfast and dinner) then lunch food has little impact.
So what was the solution for Lunchonline?
"We decided it was to provide a good cross-section of foods and leave it to the parents or other decision makers to decide what the children would have," Mr Chapman says.
"After being in business two years we sent out over 5000 questionnaires to parents and got around 38-42 per cent response. We were thinking of introducing the traffic light system for classifying the foods we offered, and the response was scathing, with parents saying they knew what was healthy and did not require any assistance when selecting lunch items.
"So our philosophy now when bringing new providers and new schools on board is that schools are offered a good range of products, with many items having been reviewed by the Heart Foundation for its Fuelled4life initiative.
"Some schools were like the 'food police' and were taking out items like muffins etc. We spoke to the schools and they saw different ways they could identify foods that were not for everyday, like pies. And we put the responsibility for making the choices back to the parents."
Products are kept on the menu according to demand and if they are not being sold they are removed. Sushi, for example, is there because it is very popular, especially in primary schools, Mr Chapman says.
"We sell very few whole apples and bananas, but if the fruit is cut up it sells well. It's about presentation."
Gluten-free has now become a more prevalent issue and a number of providers offer gluten-free products, as well as nut-free and dairy-free, he says.
"It comes back to having a good range so parents can choose."
Sanitarium has identified another solution for providing healthy options when it comes to food choices for children – with its UP&GO Vending Partner Programme where Sanitarium supply vending machines in schools allowing students to get UP&GO when required. UP&GO is a liquid breakfast option that is hydrating and nutritious, containing 10 essential vitamins and minerals, while being 98.5 per cent fat fee.
The first vending machines were rolled out in the North Island in early August 2013, and from the beginning of 2014 they have been distributed into Auckland, Wellington and Christchurch. Next year they will go into Dunedin and Invercargill.
Sanitarium's national key account manager – vending, Fitu Ah-Young, says Up&Go is being very well received by school children.
"The good thing about it is that as healthy options like this become available, it influences the choices of other foods. Hydration and nutrition are a very important part of making healthy choices and as users grasp the reasons behind the need for eating well, they are more likely to make informed choices at other times."
Mr Ah-Young says Up&Go has three important benefits for schools, viz. that it is nutritious and convenient, it is easy for children to access and that with the partnership programme, a portion of the payment for every unit sold goes back to the school – a valuable fundraising option.