News
Fertiliser company and farmers support rural schools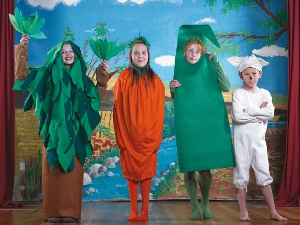 Rural primary schools throughout the country have been given a welcome boost to resources, thanks to the support of farmers and fertiliser company, Hatuma Dicalcic Phosphate Ltd.
Farmers throughout New Zealand were invited to support the Hatuma 'Growing Minds' fund by nominating a school and in return Hatuma donates money to that school.
Over the last five years the company has donated over $25,000 to rural schools through the programme.
Porangahau School in Central Hawke's Bay attracted huge support from farmers, who chose to nominate their local school. Principal Doug Hales says the 40-children school relies heavily on fundraising.
"Every little bit helps in a small school like ours. We really appreciate the support of our local farmers and Hatuma Dicalcic Phosphate."
The extra money has enabled the school to purchase more sports gear.
"We have got some new indoor hockey sets, so we can enter two teams in the local competition. Without this type of funding we wouldn't be able to resource things like this.
"The support comes in the way of a cash donation, which really helps us. As a small school we still have a lot of the same overheads as a bigger school but we generally have less money to operate. So the fact our local farmers are getting in behind us is the type of boost we need."
Porangahau farmers Richard and Piri Galbraith have four children. Their oldest goes to Porangahu School and Mrs Galbraith says their other three will also go through the local school.
"It's vital that we support our local school. They are the centre of any rural community. Both Richard and I went to Porangahau School and back then there were six classrooms and over 150 kids. The roll has dwindled since then so we need to ensure our local school stays strong. The Hatuma 'Growing Minds' fund is a good initiative because it means farmers who don't have children at the school can also support their rural school," Mrs Galbraith says.
One of Otago's oldest primary schools, Five Forks Primary near Oamaru also attracted a lot of support from its local farming community.
Five Forks School principal Cate Bole says the help provided by Hatuma and farmers gives a welcome boost to country schools, which are faced with many challenges.
"We are a small country school so we rely on community volunteering and donations, which are the school's life support. We wouldn't be doing half the activities we do now without the donations and fundraisers and the constant support of our rural community."
Working bees and fundraising events at Five Forks usually consist of chopping firewood or putting on soup days.
Recently a motorbike trail ride was made a permanent fundraising fixture and the senior pupils are even getting their hands dirty helping local farmers dock their lambs.
With a roll of 40, and just two Government-funded classrooms, Five Forks punches well above its weight, providing 21 computers and four tablets for the pupils. But it isn't easy.
"Without donations, the whole culture and livelihood of our school would deteriorate, we would struggle to operate on Ministry of Education funding alone. For example, we couldn't afford our five day school camp which is tailored for everyone, not just those who can afford it," Ms Bole says.
"Hatuma's Growing Minds Fund illustrates what can be done when companies have a moral compass and a willingness to invest in our future generations coming through small rural schools."
North Otago farmers Conrad and Tania Sim have been more than happy to get in behind the Hatuma Growing Minds Fund.
"I think it's important to support our country schools through these kind of initiatives. Five Forks School is at the centre of our community and brings us all together. Education is critical for our future generations so we need to support schools on our back door step," Mrs Sim says.
The Sims have one child at Five Forks Primary School and have had two other children go through the school.
"It is critical to help our rural school which plays a leading role in our community. The Hatuma 'Growing Minds' fund is a really good initiative because it also attracts donations from farmers who don't have children at the school. As a parent at the school I often feel we are asking the same people to donate money, but this way fundraising efforts are opened up to the wider community," Mrs Sim says.
Hatuma Dicalcic Phosphate field representative Melinda Turner says the feedback from customers and schools has been very positive.
"Rural primary schools are the centre of our country communities and farmers have enjoyed providing support. The Hatuma 'Growing Minds' fund has been set up in a way that farmers can carry on business as usual and their local school benefits.
"With traditional funding for rural schools lessening, we feel we have a role to play as a rural business. It costs farmers nothing extra and it's Hatuma's way of giving back to the community."