News
Classroom seismometer installed at Christchurch school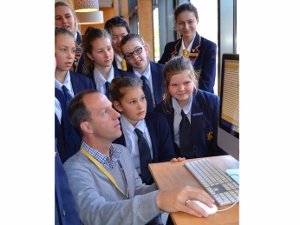 An earthquake monitoring device for schools has been installed at Rangi Ruru Girls' School in Christchurch as part of a University of Auckland outreach programme to show high school-aged students the wonders of science.
The monitoring device, called the TC1, was designed and developed by Department of Physics senior lecturer Dr Kasper van Wijk in collaboration with Boise State University in the US.
The vertical seismometer sits within a glass case so that its inner workings can be clearly seen and it registers earthquakes of 4 and higher locally, and 6 or higher worldwide. It follows the principle of open hardware and software so that schools can install them themselves.
Dr van Wijk says the beauty of the seismometer is its simple and sturdy design, joking that it is suitable for "kids of all ages, from five to 80.
"More traditional seismometers are horizontal while the TC1 is vertical but we needed a device that could withstand a bit of rough and tumble in the classroom and this one is simple and robust while also having a meaningful level of detection."
Seismic activity is displayed on a large screen, with vertical lines jumping suddenly to show earthquake activity. Groups of people jumping in unison are able to watch the screen register violent motion.
The seismometers are being installed in schools nationwide through the University of Auckland's Seismometers in Schools programme.
"This device is able to give students a real sense of how data works in real-time and is really valuable in teaching the geophysics behind earthquakes and the sensors that detect them," Dr van Wijk says.
Rangi Ruru principal Julie Moor says the partnership with the university is an exciting one and important in encouraging girls to see science as a viable and exciting career.