News
$11M funding for sign language announced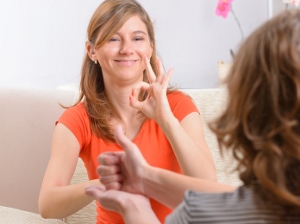 The Government is investing $11 million over four years to help support deaf children, their families and their schools, Education Minister Hekia Parata says.
There are currently around 400 deaf children in New Zealand aged between 0 and five years old, and another 1400 aged between five and 18 years old.
The funding will primarily go towards two initiatives:
First Signs, which involves facilitators working with families of newly identified deaf children aged 0-5 to help them learn sign language
.
More sign language support for schools, including more sign language tutors.
The funding will also be used to develop more learning resources for deaf children, including those available online.
"[This] announcement will make a big difference for families with newly identified deaf children and for students already in the education system," Ms Parata says.
"For most students this will be the first time they have had regular access to sign language tutors. It will also help teachers and teacher's aides improve their sign language skills and provide more support to deaf students in the classroom.
"With the right support, deaf children can grow up to be confident and attain the same levels of educational achievement as their peers."
The initiatives were developed with the support and guidance of an advisory group involving Deaf Aotearoa, members of the deaf community, deaf educators, principals of regular schools and the principals and board of trustees representatives of the two Deaf Education Centres, alongside the Ministry of Education.
"This investment will support one of our three official languages and is one of several initiatives the Government is supporting to encourage a more bi-lingual New Zealand," Ms Parata says.