News
Students set taste buds a-tingle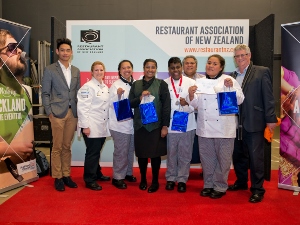 Forget Masterchef and My Kitchen Rules – when it comes to culinary creativity Manurewa High School is where the action is.
Students from the school won a pilot Auckland Council 'What's Your Flavour', youth cooking competition.
The competition involved teams from five schools delivering a fresh, healthy and culturally inspired take on the common burger.
Manurewa's entry was their Mediterranean Burger, a succulent turkey pattie drizzled with cacik (a traditional Turkish dish of seasoned yoghurt), sundried tomato pesto matched with crispy, flavoursome onion rings between toasted pita pockets.
The final cook-off was held last Tuesday at the NZ Culinary Fare with a panel of industry experts from the NZ Chefs Association. The pilot competition was endorsed by the council's Youth Advisory Panel and may become an annual event.
Youth Advisory Panel member Tony Su'a said it was great to see a new, youth-targeted event on the Auckland calendar.
"We are always up for more youth events! Cooking is not only fun, but leads into a great industry and is the future career of choice for many young people," Mr Su'a said.
The competing schools were Manurewa High School, Sancta Maria College, Macleans College, Lynfield College and
 Onehunga High School.
The judges were Cr Alf Filipaina – Arts, Culture and Events Committee chair,
 Graham Hawkes – New Zealand Chefs Association Inc. national president, Louise Abbott – New Zealand Chefs Association Inc. Auckland branch president
and Geoff Slack – New Zealand Chefs Association.
The winners' prize package was a Samsung Galaxy tablet each and a $1500 Southern Hospitality voucher to go towards their school kitchen.
A decision will be made later this year as to whether 'What's Your Flavour' will become an annual event in the Auckland Council events calendar.