News
Head of the Waikato rowing challenge coming up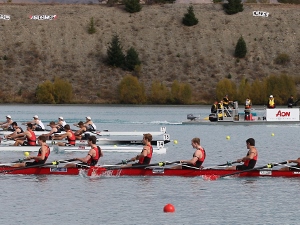 New Zealand secondary school rowing teams will descend on Hamilton this month to compete in the 'Head of the Waikato' rowing challenge on Waikato River as part of the Gallagher Great Race Festival of rowing.
Once again, top crews from Auckland and Waikato will contest the coveted trophy on the 2.7km upstream river course.
Reigning champions Hamilton Boy's High School will be back to defend their title. The local boys' school has won the trophy every year since the event's inception – except in 2011 when they lost to Auckland Grammar.
Sacred Heart Girl's College will defend last year's title against fierce rival Waikato Diocesan School for Girls, which had previously won the race every year up until 2013's epic showdown, which ended seven years of consecutive victories.
The public is encouraged to head down to the river bank to support the crews on race day.
The Gallagher Great Race is a free community event held from September 12-14 on the Waikato River in Hamilton. Finals are on Sunday, September 14.
Boys
Local: Hamilton Boys' High School 1, Hamilton Boys' High School 2, St John's College, St Paul's Collegiate
Auckland: Mt Albert Grammar, Auckland Grammar
Girls
Local: Hamilton Girls' High School, Waikato Diocesan School for Girls, Sacred Heart Girls' College, St Paul's Collegiate, St Peter's School Cambridge
Auckland: Glendowie College, Epsom Grammar, Baradene College
Gallagher Great Race Waikato University rowers who have been involved with this event in the past are Shaun Kirkham and Caleb Shepherd (Hamilton Boys' High School) and Anthony Allen (Saint Kentigern College).
For more information visit: www.thegreatrace.co.nz