News
Teachers to make youth employment their business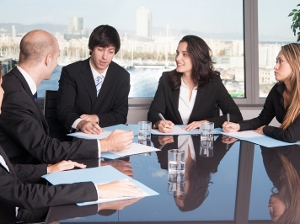 Hundreds of New Zealand teachers will trade classrooms for boardrooms next month to boost students' job prospects during Teachers' Workchoice Day – a unique workplace education initiative.
Launched as a proactive step in the fight against youth unemployment, the programme promises to connect educators and employers – the key stakeholders in young people's futures.
And, with latest quarterly statistics revealing an 18 per cent increase in New Zealand's NEET rate (young people not in employment, education or training), youth employment charity, Workchoice Trust, is urging educators to sign up for the programme.
"It's tragic that so many of our young people continue to be lost in the transition from school to work," Workchoice CEO, Amanda Wheeler says.
"There's a distinct gap between what employers want and what educators think they want, and our young people are paying the price. We need to get both parties on the same page to help today's youth – who are ultimately tomorrow's employees – become better work-ready."
Organised by Workchoice Trust, in conjunction with industry training organisation, The Skills Organisation, Teachers' Workchoice Day, takes place in Auckland and Christchurch. While Auckland and Canterbury are the country's top performers in terms of employment growth, both regions are marred by rising NEET rates.
The events follow a successful pilot programme in 2013, and promise to arm teachers with the tools, confidence, knowledge and experiences to become 'career advisors' to their students in the subjects they teach. Themed, Mind the Gap: Connecting education with industry, they will offer fresh content, engaging new speakers and current labour market information.
"When you put representatives from the country's top businesses together with a group of passionate, motivated educators, and encourage ongoing, open dialogue, good things will happen. The ideal outcome is a generation of motivated young people equipped with relevant workplace skills, entering industries that require staff," Ms Wheeler says.
The Skills Organisation chief executive, Garry Fissenden, says initiatives like Teachers' Workchoice Day are vital in giving educators accurate information on skills shortages. A good example of this is the demand for trained tradespeople set to rise by an average three per cent per annum for the next five years. Trades, due to the technology and opportunities involved, are now an attractive alternative to university and can no longer be viewed as a plan B by schools.
"It's important to remember that only 29 per cent of students go on to university. We would hope schools use their influence accordingly. Wise schools will present all options equally to students, so young people – and their families – can make informed decisions about the future," Mr Fissenden says.
He says those considering entering trades have the added incentive of pathways to business ownership. Plus, they can avoid a debt hangover of tens of thousands of dollars because apprentices have no student loan and are earning from day one.
The trades and apprenticeships are a focus of Teachers' Workchoice Day. The full day's programme features morning conference-style sessions, including two panel discussions; NZ Apprenticeship Pathways and Let's Future-proof our Growth Sectors. Experienced business leaders will share insights into recruitment trends, successful models of transition and talent needs. This targeted discussion will give educators good perspective on the careers and skill-sets their students should be considering, and where employment will be most likely.
The afternoon session gives teachers a real-world experience of business through their chosen industry visit. Most importantly, the day gives educators a fresh perspective and new knowledge that can be shared with students back in the classroom.
Teachers' Workchoice Day 2014 – MIND THE GAP: Connecting education with industry
• Auckland: Friday, August 15, AUT University
• Christchurch: Friday, August 29, Addington Events Centre
Registrations are now open. To register visit www.workchoice.co.nz
• Auckland experienced a 4.3 per cent annual increase in employment to March 2014 but the city's NEET rate rocketed by 63 per cent in the last quarter.
• Canterbury experienced an 8.9 per cent annual increase in employment to March 2014 but the region's NEET rate rose by 22 per cent in the last quarter.
Source: Statistics NZ Household Labour Force Survey, national NEET rate (15-19 years) 2014 Q1, against 2013 Q4 and MBIE Quarterly Labour Market Report, May 2014.