News
Students inspired by Dream Team leaders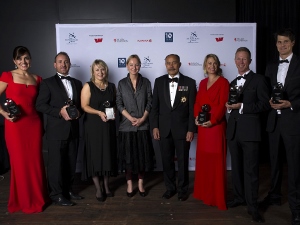 Around 16,000 New Zealand school students are being inspired this week, as 2014 Sir Peter Blake Trust Dream Team leaders visit local classrooms to share their inspiring stories and lessons in leadership.
Led by New Zealand's Governor-General, Lt Gen. The Rt Hon. Sir Jerry Mateparae, close to 300 New Zealand leaders will be speaking to schools, throughout the country, in a bid to inspire young Kiwis to 'make it happen' – the theme of this year's Leadership Week.
Each leader will be sharing stories from throughout their various careers and what they have learned along the way, as well as the importance of having goals and dreams that you want to achieve, and the drive to make those dreams happen.
Joining the 2014 Dream Team are a number of high-profile leaders, including business leaders, Sir Eion Edgar and Sir Ron Carter; television psychologist Nigel Latta; scientist and inventor Sir Ray Avery; Lanzatech's Dr Sean Simpson; TVNZ presenters Rawdon Christie and Toni Street; Newstalk ZB radio host Rachel Smalley; and ZM breakfast presenters Carl Fletcher, Vaughan Smith and Megan Sellers; singer-songwriter Jamie McDell; former Prime Minister Dame Jenny Shipley; Air New Zealand chief pilot Capt. David Morgan; sporting greats Hamish Carter, Beatrice Faumuina, Jenny-May Coffin and David Tua; TV fishing personality Matt Watson; Blake Leader and 2014 Kiwibank New Zealander of the Year Dr Lance O'Sullivan; and a wide-ranging list of New Zealand adventurers, CEOs and business leaders, doctors, politicians and community champions.
"The response each year from leaders who are keen to be the involved in the Dream Team is simply amazing," Sir Peter Blake Trust CEO, Shelley Campbell says.
"Their passion for the Dream Team programme ensures more than 16,000 Kiwi students will have the opportunity to be inspired by their stories and learn how they can achieve their dreams too."
Sir Peter Blake Trust Leadership Week began with the trust's annual Leadership Awards on Friday, where the prestigious Blake Medal was presented, along with six Sir Peter Blake Leadership Awards. Leadership Week concludes with Red Socks Day this Friday.
The full list of Dream Team members is available on the Sir Peter Blake Trust website -http://www.sirpeterblaketrust.org/get-involved/dream-team