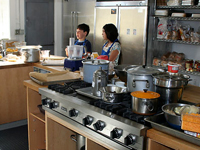 If you're looking to give your school kitchen a boost then pay close attention to these industry pointers.
Smart commercial kitchen design can only be fully appreciated after having worked in a badly designed space. A well-designed kitchen with great appliances can help work flow more effortlessly, help you avert bottlenecks and improve safety. The size of your kitchen sometimes determines how you plan it out but, whatever the amount of available space, you need to make the most of it without sacrificing creativity, speed and safety.
A well-planned commercial kitchen should be configured for ease of movement so that your students can navigate the area smoothly and safely. This is essential, especially during busy periods. The ergonomics of your kitchen should ideally ensure that employees complete tasks in the fewest steps possible; they should be able to stand in one spot, operating with minimal bending, reaching, walking or turning, you need to ensure that all your equipment is accessible and usable.
A well-designed kitchen has the potential to be more energy efficient. As such, the prime consideration for any commercial kitchen should be saving money on utility costs. In order for your kitchen setup to be more energy efficient, you should ensure that any refrigerated appliances and any cooking equipment are kept as far apart as possible while still being practical. Cooking equipment should be strategically placed to maximise the efficiency of the exhaust hood. There is no definite rule regarding how to configure your commercial kitchen equipment, as it all depends on the space available to you and your particular needs.
When planning your commercial kitchen here are some valuable tips:
Consider your space and the configuration that fits your particular requirements. An ergonomic configuration takes into account the comfort of the students and teachers but this may not be the most energy efficient. For example, an ergonomically arranged kitchen might have an under counter freezer located directly beside the commercial deep fryer. Although this is not energy-efficient, it allows for easy transfer of items from freezer to fryer. A better and more energy efficient solution for you might be to have a freezer away from the main work zone.
Your kitchen may need to be zoned in blocks: for food preparation; for cooking; for refrigeration; for cleaning. This configuration ensures that refrigeration and cooking equipment be kept as far apart as possible. This is the most energy efficient way to configure your kitchen because every time the door is opened on a commercial refrigerator or freezer the cold air will rush out and hot air will rush in, If the freezer equipment is situated in the hot cook zone it poses a definite problem.
When designing your space remember to keep all of your worktops at the same height as the countertop or the top of your range, griddle or other piece of cooking equipment. By having everything at the same height you ensure good ergonomics and you will easily facilitate an assembly-line process.
Make the most of your wall space with the creative use of wall shelving. Store important, regularly needed ingredients and utensils above the cooking appliance and prep area. Then store heavy items, like bags of flour, close to the floor using racks. Hangers, hooks and racks are perfect for hanging oven mitts, cookware and large kitchen utensils in useful places. Word of warning though: be sure to keep all food items off the ground by at least six inches and be very careful not to block air vents.
Always buy new commercial equipment from reliable suppliers, this way you know that the equipment you are purchasing is dependable and will give you years of trouble-free use. Always ensure that you routinely maintain and clean your equipment as per the manufacturer's recommendation as this is the best way to enjoy years of service, particularly for items such as commercial deep fat fryers.
When shopping for items like a commercial deep fat fryer, make sure that you choose a power source that matches the utility hookups in your kitchen. Try to purchase the most advanced models that you can afford as this will save you time and money in the long run. For instance, with deep fat fryers the more advanced models come with computer controls – this is a huge bonus because they provide accurate temperature controls and can be programmed to cook different menu items. Also advanced commercial deep fryers have built-in filtration systems that allow you to filter the fryer oil while it is still hot. This helps maximise food quality and oil life while maintaining employee safety.
Planning and organising a commercial kitchen is not an easy task and it is a good idea to get help from people who specialise in their design and layout for the best result possible. You can also ask your local restaurant equipment supplier as he or she may have experience with commercial kitchen layouts, remembering that every kitchen is different.
To get the best long-term results from your commercial kitchen you need to determine your priorities and choose a design that is well equipped to work within your space.