Profiles
Growth brings new learning facilities to Mapua School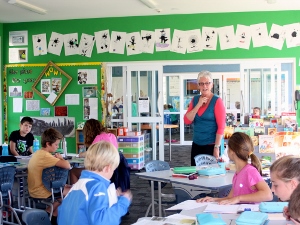 Mapua School, a primary school with a current roll of 270 pupils, is located in the heart of the coastal township of Mapua on the Tasman coastline, about 40 kilometres west of Nelson by road. One of the oldest schools in the region, it will celebrate its centenary in 2015.
Principal Neil Chalmers has been at the school for about five and three-quarter years, and has been in the education industry for more than 30 years. Teaching wasn't his original career choice, however. Mr Chalmers first trained as an accountant at Otago University, but after a few years, felt it wasn't what he wanted to continue doing.
"After working in this career for a few years I decided I wanted to work in a profession that had people, especially children, at its core, and whose intent was the betterment of society," he says.
He entered what was then the new B.Ed programme at Otago University, after which he taught at a number of smaller schools, moving up through the ranks of teacher, deputy principal and principal. His experience included almost 20 years as the principal of Marlborough's Tua Marina School.
"I was then keen to get involved with a larger school and when Mapua was advertised I jumped at the opportunity. This region – the Ruby Coast, Motueka and Nelson – has a special place in my heart for a whole range of reasons. Mapua Village and its surrounds are a stunning part of New Zealand and a fabulous place to bring up children, our own included."
Mr Chalmers says managing and developing a school within a community that collectively has a very positive outlook on life is very rewarding.
"People come to live here because of the lifestyle this area, and Nelson in general, offers. They come from a range of backgrounds and careers and many of them have entrepreneurial interests. They also enjoy the many recreational opportunities on offer.
"Over the past decade or so, Mapua School has developed a culture that allows children, families and staff to grow and develop. This culture is not dominated by the personality of any one person, but rather is a sum of all its parts, all the individuals involved. This shared leadership, management and creativity allows everyone to play a part, and for the school as an entity to flourish.
"New initiatives are allowed to fly and individual passions are given space to grow. The combined energy of all concerned – children, staff, families, and the wider community – can, and do, grow and contribute to the greater good of the school as a whole. Such an approach also allows for the sustainability of the school and its culture."
The growing popularity of Mapua as a place for young families to live, and the subsequent growth of Mapua School, means over the last five years, the roll has been growing at the rate of about 25 pupils, or one classroom, a year.
"As the school continues to grow, I see one of the biggest challenges as being maintaining the school's family-focused atmosphere," Mr Chalmers says.
"We believe we have been proactive in managing this growth and ensuring that the school has retained its warmth, friendly manner and family-orientated focus. The children are well-known by everyone and they and their parents feel a part of all that happens here.
"For me, the most rewarding aspect of being the principal at Mapua School is that they are such a delightful group of children to work with. They are an immensely positive and enthusiastic group of kids, and keen to learn. We don't need to spend time on discipline issues – the kids are all right into their learning."
The growth at Mapua School has meant the school facilities have needed to expand.
"While this has produced its challenges," Mr Chalmers says, "it has also led to some exciting developments, especially in the provision of attractive and user-friendly learning spaces."
Four classrooms have been built in the last five years, the latest being the two new learning spaces that opened earlier this year.
"These new spaces were designed with MLE (Modern Learning Environment) features in mind. They were purposely designed to include flexible use of space. Two of our staff members visited the brand-new Stonefields School in Auckland and they reported back with some interesting ideas."
Nelson company Ian McCully Builders constructed the new learning spaces for the school's year 7 students.
"They worked magic to have the facility built in a matter of weeks and were able to hand it over to us at lunchtime on Wednesday, February 5," Mr Chalmers says.
"The two teachers taking up these spaces had only that afternoon and Waitangi Day to have them up and running for day one of the new school year and they managed it with style.
"We're now looking forward to bringing in the right furniture, things like bar leaners, low tables, bean bags, wobble stools with rounded bases – we're looking at all the options. The idea is to create areas where the children can work in groups co-operatively. The teaching team is working with the students to consider what will best serve their needs.
"We could have pre-purchased a range of new furniture but the consultative approach we are taking as programmes develop is proving valuable."
The new facility is linked to the year 8 and senior learning team – year 5 and 6 classrooms, which provides opportunities for a range of shared and interactive learning activities. Facilities include an interactive whiteboard and TV, with the addition of Apple TV allowing for new and creative uses of the Apple platform IT devices, Mr Chalmers says.
"As a board we have been proactive in providing high-quality resources for everyone – students, staff, specialists and families. The board has a seeding fund of $50,000 for property projects, which allows us to have our planning, tendering and consent processes well underway as the ministry comes on line with funding.
"This reduces the time lag associated with building and helps ensure resources are in place when needed."
Schools are allocated funding every five years from the Ministry of Education for property-related projects. Mapua School used some of its most recent allocation to install heat pumps/air-conditioning in all the classrooms, which Mr Chalmers says has made a "huge difference" in improving the environment for teaching and learning.
Future developments at the school will include more classrooms as they are needed, improved play areas, landscaping and signage. Mapua School is also keen to establish a new 25-metre pool and gymnasium-size hall facility.
"Despite the provision of swimming pools and multi-purpose spaces being low on the ministry's list of priorities, these are desperately needed to enrich our programme, so the school and the community are keen to progress this in whatever way possible.
"A box, or multi-purpose hall/gymnasium/art/technology facility, committee has been formed to investigate the viability of such a facility and they are at the stage of having an architect prepare concept drawings ready for costing."
The crucial aspect now will be raising the funds, Mr Chalmers says.
One of the school's main fundraising events is the annual Mapua Easter Fair, held on Easter Sunday. It is organised by the Mapua Easter Fair Charitable Trust and raises funds for Mapua School and the Mapua Playcentre. This year's fair raised an estimated $25,000 for the school.
In 2013, the Mapua Community Cookbook was launched as a school fundraiser and they've sold like hot cakes, Mr Chalmers says. Funds have also been raised through sales of Mapua 'experience' T-shirts, and other significant ventures are being considered.
"Having a clear goal in mind means raising the money simply becomes a hurdle to overcome. If we can get the momentum going, we can show that we're serious and make applications to charitable trusts and other organisations."
As well as providing well-designed, multi-functional facilities, Mr Chalmers says they also want to celebrate the school community's openness to a richer bi-cultural element within the school culture by reflecting this through art in the school environment.
He acknowledges the role of school principal is varied and challenging, and establishing systems that allow him to focus on the real issues, especially those related to teaching and learning, are crucial to his effectiveness.
"It's easy to allow oneself to be drawn into the details of property, finance, personnel and legislative requirements. However, while these are important parts of the whole, they are not what we are here to do.
"Whenever schools, and in particular principals, can employ systems or specialists to do these jobs, then such opportunities should be taken up. Principals are there to lead the school and schools are about educational opportunity. If we rise above the details of pay issues, the sewerage plant and whether funds are earning the best interest rate, if we get out of our offices and leave data crunching and bean counting to those who thrive on those things, and instead get into our classrooms and around the playground, we will begin to do those things that will best contribute to the growth of our students.
"And the reality is, the services of the providers we employ should cost less than we as principals are being paid per hour for those same hours worked."