News
Young Kiwis show their inner All White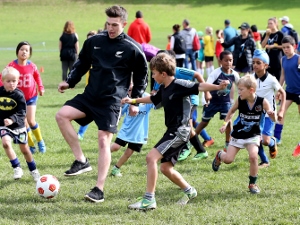 Thousands of Kiwi kids turned up to McDonald's® Skills Zone Day in Auckland, Wellington and Christchurch on Sunday to win the chance to walk a player onto the pitch at the FIFA World Cup Final in Brazil.
The events were hosted by McDonald's, New Zealand Football, and football federations to improve Kiwi kids' ball skills and ignite their football passion in the lead-up to the world's biggest football event.
By attending the McDonald's Skills Zone Day, kids and their parents could enter the competition where McDonald's will fly a Kiwi kid and their guardian to Brazil, and the child will walk a player onto the pitch at the FIFA World Cup Final.
The child and their guardian will enjoy 'money-can't-buy' experiences, joining 21 other children from around the world for football's biggest day. For children who couldn't make it to one of the main centres, parents or guardians can enter on their behalf by uploading a video on www.skillszone.co.nz showcasing the child's football skills. The competition is open to children aged six to 10 years old.
"We were really pleased with the turnout at all three events," McDonald's New Zealand managing director Patrick Wilson said.
" Over 4,000 people, including parents and siblings, attended the events and around 2,000 kids participated in the Skills Zone which qualified them to enter the competition.
"We'd like to thank the 174 staff and volunteers that helped out at the events. All three Skills Zone Days were a great success and show the number of Kiwi kids who are passionate about football."
The youngsters enjoyed practising their football skills and participating in challenges in the Skill Zone, along with challenges in the Fun Zone including a speed gun measuring the velocity of shots and the McDonald's inflatable football pitch.
"It was fantastic to see so many Kiwi kids out practising their football skills and having fun at the Skills Zone Day. McDonald's has supported junior football in New Zealand since the Small Whites programme launched, and it's great to be able to help inspire a new generation of future All Whites and Football ferns. On top of that, for one child to have the chance to walk onto the pitch with the players at the FIFA World Cup final in Brazil is a once-in- a-lifetime opportunity."
New Zealand Football is responsible for leading, governing and regulating football in New Zealand. The organisation is passionate about developing young football talent and increasing the number of participants in the game, NZ Football chief executive Andy Martin said.
"The McDonald's Skills Zone Day was a wonderful opportunity for young people to be introduced to football and be coached in a range of football drills, including passing, ball control and shooting. The fact children who attended, or upload a video to the website, have a chance to represent this country on the football world stage at the final is a remarkable opportunity."