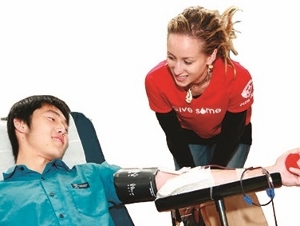 New Zealanders who donate blood to the New Zealand Blood Service (NZBS) provide blood and blood products for more than 45,000 people in need of transfusions every year. However, those generous donors represent only four per cent of the population, and NZBS is keen to raise awareness of the service and encourage more people to donate blood.
One of the major ways it is doing that is with school visits and blood drives at secondary schools around the country. As well, in conjunction with Lift Education, NZBS has created a range of resources for teachers to incorporate into the school curriculum. They are designed to help students understand how their blood system functions, how to keep it healthy, and how donating blood can help save lives.
The first resources were developed for secondary students at levels five to seven. They include teaching units, with curriculum and NCEA achievement standard alignment and inquiry-based learning experiences; interactive online ebooks, fact sheets and graphic organisers and resource links. For level five students the resource is used in science, social studies and English classes. For level six students the resource is incorporated into science, health and physical education classes and for level seven students it is used in science and social studies classes.
A new Google Slides presentation, Maintaining Healthy Iron Levels, is now available for use with all secondary resources. These engaging slides help students understand the importance of iron in their diet and what foods will provide it.
Complementing the secondary resources, the newly developed primary resources are for levels three and four students and are designed to meet health and physical education and science achievement objectives from the New Zealand Curriculum. They include fun classroom activities, fact sheets and graphic organisers. The three sections are, Let's Learn About Blood, Healthy Me, Healthy Blood and Save Lives – Give Blood.
These primary and secondary teaching units were written by teachers with input from curriculum and subject experts and reviewers. They are all free to download from http://www.nzblood.co.nz/Education. In addition NZBS has provided a database of further resource links for teachers to integrate into their learning programmes.
Students can start donating blood from the age of 16. NZBS believes that by gaining greater knowledge of blood and how it contributes to life through these resources, more young people will be inspired to become regular blood donors.