News
Musicians' daughter rewrites their song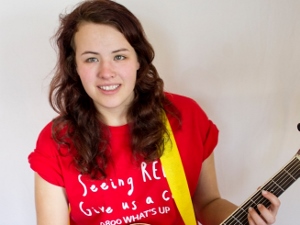 Barnardos New Zealand 0800 What's Up is celebrating Music Month with the release of a new theme song.
Maude Morris, a 19 year-old musician from Hawke's Bay and daughter to New Zealand musicians Ian Morris (Th'Dudes) and Kim Willoughby (When the Cat's Away) has written and composed the new song for the 0800 What's Up youth counselling service called We'll be around.
Maude's parents wrote, produced and sang the original 0800 What's Up music jingle back in the 1990s. It was recorded in her dad's studio (downstairs in their family home). She remembers the song being played over and over when it was being mixed and mastered and her mum singing it round the house because it was stuck in her head.
Maude said that inspirations for her song came from the lyrics in the chorus of the original song, "I thought they were great and had good meaning and didn't need to be changed that much, the "what's up is listening" part was a huge part in the last song and a very important part."
Maude feels that she has a big connection to the song, "I think it's awesome that we can keep it in the family."
Music has always been a huge part of Maude's life, "I grew up around it and my parents lived by it. I think music really connects people together. And it lasts forever so I can still have a connection to my dad through his music. I really don't know what I would be doing without music. I wouldn't have any direction and my days would be so boring. It's also the best way to meet people. A lot of my best friends I have met through music it's a great way to bond."
The music video for We'll be around, which Maude has kindly gifted to 0800 What's Up can be viewed on YouTube https://www.youtube.com/watch?v=Q6nFCB8A1Ug&feature=youtu.be
Maude is joining What's Up as the service's newest ambassador. 0800 What's Up Manager, Rhonda Morrison says she is thrilled to have such young talent on board.
About 0800 What's Up
0800 What's Up is a free, national phone counselling service for five to 18 year-olds run by Barnardos New Zealand. It's open 365 days a year from 1pm-11pm, and in an average year answers more than 100,000 calls – it's the most accessed professional telephone counselling service for children and young people in New Zealand. More than 95 per cent of the helpline's funding comes through the generosity of New Zealanders who want to make a difference to children's lives.